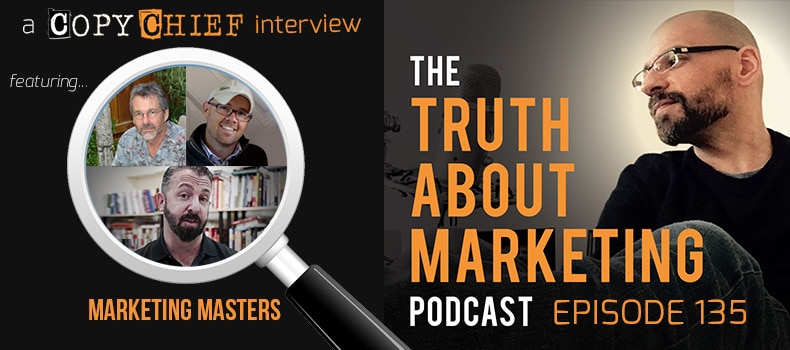 In This Episode
We're only a week away from our first ever Copy Chief Live event. On top of some of the most prolific copywriters sharing the secrets behind their most successful campaigns…
… we've also got top-of-the-heap marketers gracing the stage and sharing insider tactics that'll multiply your sales faster than you ever imagined possible.
And for today's episode, you're getting highlights from our most popular episodes featuring some of the marketing masters present at Copy Chief Live…
… including John Carlton, Todd Brown, and Joe Schriefer. Here's a bit about each…
… and why you'll wanna take a listen if you're looking to shoot up your sales, fast— regardless if you're showing up to Copy Chief Live or not.
John Carlton
Among the greatest copywriters ever, and to me, the greatest copywriting teacher on the planet. There's a reason John's known as the most respected and ripped off copywriter alive. He's helped thousands of business owners, entrepreneurs, and freelancers rise from obscurity to prosperity.
Come find out the ONE thing you absolutely must inject into your sales copy so you can get that big sales surge for your business. (There's a dozen ways you can do this wrong… so follow John's lead so you can nail it right outta the gate.)
Todd Brown
The industry's top marketing funnel expert, creator of the E5 C.A.M.P. method, and master of Big Idea copywriting. Todd only has one speed… and it's GO GO GO. It's no surprise for you to see top entrepreneurs such as Andre Chaperon and Jack Born glued to their seats at a Todd Brown event.
Todd reveals his unique "E-C (P-P+U-M) I-I" formula you can use to unearth the big idea for your business. (Todd charges twelve grand for a private day teaching this… and he was super generous in giving this stuff away. So don't miss it.)
Joe Schriefer
The Copy Chief at Agora Financial, and creator of the copywriting process called "Copy-Boarding". It's Joe's secret weapon for crafting all that juicy copy pulling in more than $170 Million this year (up from $140M in 2016).
Come find out how Agora Financial will shatter sales records this year. (And it's all because of a simple change to the way the company markets its products.)
"Can't Miss" Moments:
The ONE skill every copywriter

must

master if you're serious about the craft and wanna bring in the big bucks. (Even if you're writing stellar copy… ignore

this

and your sales message will fall on deaf ears.)
Why you're bludgeoning your prospect with "Mental Opt-out" without even knowing it… and how to flip the script and get him going "DAMN you! I couldn't sleep until I ordered…"
The "UM" method for wiping out every single competitor from your prospect's memory… and installing cultist-like devotion in his greedy little brain for YOUR offer ONLY.
You're welcome to come work at Agora…but can you handle hell week? (Joe outlines the Navy SEAL inspired training that you must first survive.)
Let's hope you have this one intangible trait for long term success. (It's what's propelled a former accountant into becoming Agora's top performing copywriter.)
Resources:
Go here to check out Copy Chief Live
Listen to John's full episode here
Listen to Todd's full episode here
Listen to Joe's full episode here
Show notes written by Max Hamm. You can reach Max at maxhammcopy.com. 
[podcast_optin]
Disclaimer: Every effort has been made to accurately represent our product and it's potential. Any claims made of actual earnings or examples of actual results can be verified upon request. The testimonials and examples used are exceptional results, don't apply to the average purchaser and are not intended to represent or guarantee that anyone will achieve the same or similar results. Each individual's success depends on his or her background, dedication, desire and motivation. As with any business endeavor, there is an inherent risk of loss of capital and there is no guarantee that you will earn any money.