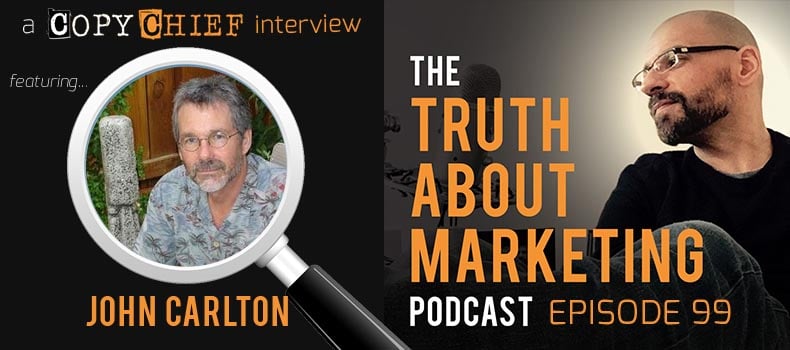 In This Episode
A long overdue episode with the world's most ripped off and respected copywriter alive, John Carlton.
I've had the privilege of hosting a podcast with John called Psych Insights For Modern Marketers. It's an amazing show that I describe as "hosting John's brain". Listeners of the show can't get enough, and are very vocal about their frustration about there being so few episodes.
Hey, they happen when they happen and they're always worth the wait.
John is my personal hero in copywriting, and I've had the incredible fortune of calling him friend and mentor for almost a decade.
For those who are new to John's world, he is a legend in our industry and a grizzled veteran of direct response copywriting. He started his copywriting career at 33 and became a hot-shot "secret weapon" freelance copywriter for ad agencies in Los Angeles.
After a few years in the game, he gave up a million dollar career to enter into a mentorship with Gary Halbert, working for years as the "man behind the throne" for Gary.
He eventually made his own name as one of the most respected writers and teachers in the industry, and today, he's the proud founder of the renowned copywriting course, "Simple Writing System."
In this episode, John reveals how to teach yourself the one skill you MUST master as a copywriter… empathy. You'll also learn how to use it to make your writing connect with your readers at a level most writers wouldn't come close to.
Can't Miss Moments:
5:14 – What John does to keep his "empathy" game sharp (and how you can use it to better understand your audience)
19:34 – Two simple, yet fundamental rules every freelancer and business owner must master if they want a decent shot at success

25:05 – How to get anything (and everything) you want in life even if you don't know how or don't want to make mistakes
What's the one thing John's done that's produced the most surprising result?
The one thing John's done that's produced the most surprising result is about John's rise into become a "guru."
As Gary's right-hand man, he had seen what a guru was like, how they acted, and what was required to be a guru. What he didn't expect was how it would be for him.
Check out how his world turned upside down when he found out the truth about what it means to be a "guru" at 31:08.
Resources:
Psych Insights For Modern Marketers (Kevin & John's podcast)
Show notes written by Tim Woo. You can reach him at timothyhwoo.com.
[podcast_optin]
Disclaimer: Every effort has been made to accurately represent our product and it's potential. Any claims made of actual earnings or examples of actual results can be verified upon request. The testimonials and examples used are exceptional results, don't apply to the average purchaser and are not intended to represent or guarantee that anyone will achieve the same or similar results. Each individual's success depends on his or her background, dedication, desire and motivation. As with any business endeavor, there is an inherent risk of loss of capital and there is no guarantee that you will earn any money.