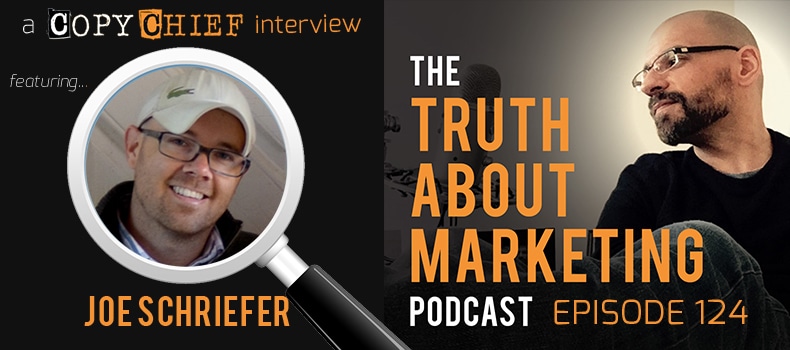 In This Episode
The most important thing in marketing today is emotion. If you don't stir enough emotion in your prospect, your message is as good as dead.
One of the most powerful ways to hit the emotional hot buttons of your buyers is coming up with fresh, new, even dangerous ideas worth testing. Ideas your perfect prospect just CANNOT ignore.
So… how do you whip up money-making ideas that'll catapult your sales copy from meek to mighty?
The Copy Chief at Agora Financial, Joe Schriefer joins me on the show.
He's the creator of a process called Copy-Boarding. It's Joe's secret weapon for crafting all that juicy copy pulling in more than $170 Million this year (up from $140M in 2016).
Joe recently shared his unique Copy-Boarding method in a live training for Copy Chief members… for the first time ever outside Agora Walls.
In this episode, Joe takes you behind the curtain of the "Navy SEALs" inspired "copy camp" at Agora Financial. It's the training system they use to on-board writers of all levels… … turning them into all-around direct response bad asses─in only two months. (Even if you're a raw rookie who has never written a single sales letter.)
Take a listen and find out what it takes to write at the "Navy SEALs" level of direct response marketing…
… and how you can nurture the traits of a top level copywriter commanding eye-popping fees.
If you're a freelancer dedicated to the craft of copywriting─and you've got the desire to kick it with the best of the best─you'll want to hear what Joe is offering you during this episode.
"Can't Miss" Moments:
3:50 'How lucky I was to take that job I didn't want!'. Joe was certain his college degree was a fast track to riches…but life wasn't that straight forwards
6:30 After 2 years at Agora, Joe hated his job. Can you guess how he found a dream role he didn't even know existed?
12:20 Everyone dreams of a boss who'll let them just get on with things. Yet, this subtle oversight meant their new copywriters would all be fired within a year.
14:00 It's not just about the words. If you want to become an 'A-list' copywriter, here are the extra aspects you need to learn.
15:40 You're welcome to come work at Agora…but can you handle hell week? Joe outlines the Navy SEAL inspired training that you must first survive.
18:20 Let's hope you have this one intangible trait for long term success. It's what's propelled a former accountant into becoming Agora's top performing copywriter
21:30 'I've been working on this theory…I think it's the most important element right now in all of marketing…'. Without Kevin's crucial element, he reckons you're roadkill waiting to happen.
27:10 With a twist to the usual question, this is the biggest business move that's surprised Joe, allowing Agora to jump to $51 million 3yrs ago, to on course for $160m+
30:30 'This shows how much I don't know about writing copy'. His campaigns pull in 7 figures…yet by forgetting this fundamental rule Joe missed out on creating a record-setting campaign.
33:10 'I don't care if you've beaten controls'. Do you meet Joe's two criteria to go join the big guns at Agora and fast track your career?
What's the one thing Joe's done that's produced the most surprising result?
Agora Financial did one simple thing to shatter sales records. Joe and his team are on track to hit $170M in revenue for 2017… … and it's all because of a simple change to the way Agora Financial markets its products. Check out how Agora Financial experienced explosive growth, fast at 26:50.
Resources:
Do you have what it takes to write for $170M Agora Financial? Email Joe now Download the episode here Show notes written by Max Hamm You can reach Max at maxhammcopy.com. Bullets written by Zach Goldie. Reach Zach at https://www.zachgoldie.com [podcast_optin]
Disclaimer: Every effort has been made to accurately represent our product and it's potential. Any claims made of actual earnings or examples of actual results can be verified upon request. The testimonials and examples used are exceptional results, don't apply to the average purchaser and are not intended to represent or guarantee that anyone will achieve the same or similar results. Each individual's success depends on his or her background, dedication, desire and motivation. As with any business endeavor, there is an inherent risk of loss of capital and there is no guarantee that you will earn any money.