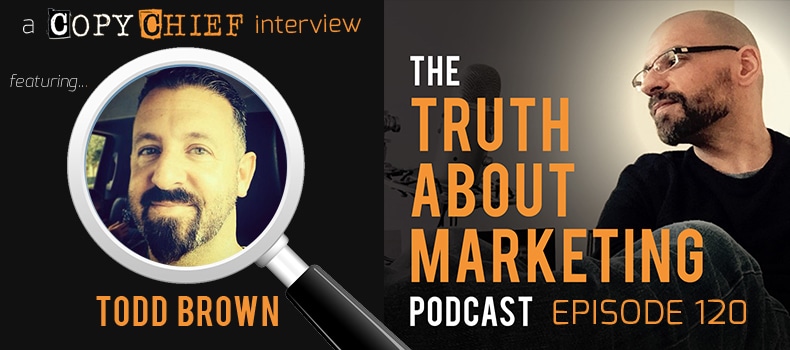 In This Episode
Here's the reality: if the ONE thing distinguishing your business from the other guy is that "you're better at it"…
… it's only a matter of time before you're dead in the water, unless you quickly get hip to the single biggest profit multiplier for your business today. In fact—your sales copy, funnels, and emails are NOWHERE near their sales potential without it. (When you get this right, your prospects won't so much as glance at your competition.)
So… what is this critical ingredient that'll explode your business in ways you've never imagined possible?
Today I've got Todd Brown on the show. He's a 15-year decorated veteran of direct response marketing. Todd helps clients unleash the money-making power of their big idea. It's no surprise for you to see top entrepreneurs such as Andre Chaperon and Jack Born glued to their seats at a Todd Brown event.
As Todd explains in the interview, most marketers fail to focus on the things that scream, and they burn cash on things that'll NEVER double or triple sales…
… so you absolutely must unlock the power of your big idea to finally get a taste of that business-transforming sales surge.
In this episode, Todd reveals his unique "E-C (P-P+U-M) I-I" formula you can use to unearth the big idea for your business. (Todd charges twelve grand for a private day teach this… and he was super generous in giving this stuff away. So don't miss it!)
If you're a freelancer, come find out how you can put yourself in the jetstream of high level gigs, and book yourself solid using the power of the big idea.
"Can't Miss" Moments:
4:30 – The ONE thing Todd discovers in a smoky cigar bar in Delray Beach that hurls him down a rabbit hole to cool cash land. (This is also what catapults Agora from a few million a year to a BILLION dollar company.)
8:00 – Are you still sweating your sales page button colors and fonts? (Why this lights your cash on fire and murders your time… and what to focus on instead to TRIPLE your sales.)
17:50 – Why you're bludgeoning your prospect with "Mental Opt-out" without even knowing it… and how to flip the script and get him going "DAMN you! I couldn't sleep until I ordered…"
19:55 – Todd's trick to making your offer so close to what your prospect craves that he can't help but think you're his personal genie… without ever setting off his BS meter.
20:40 – The "UM" method for wiping out every single competitor from your prospect's memory… and installing cultist-like devotion in his greedy little brain for YOUR offer ONLY.
23:50 – Is your lead magnet missing a whole lot of sizzle? (Kevin's simple tweak to your "ethical bribe" that'll practically force your prospect to download, devour, and respond.)
28:20 – Why you're likely gift-wrapping your profits and donating them to Google. (Hear Todd's advice so you NEVER fall prey to the sales-killing "Google Slap Trigger.")
35:20 – Do you have a persuasive answer to the typical buyer's question: "why YOU?" (And the counter-intuitive reason you're dead in the water if you just say "I'm better at it…")
40:20 – What creativity REALLY means in business… and why you're only moments away from being more "creative" than you've ever dreamed possible using Todd's tip.
41:45 – The "End Of America" Secret to scoring 750,000 NEW paying subscribers to the SAME newsletter already on the market for years. (It's got NOTHING to do with better copy, or overcoming more objections.)
Resources:
Sign up for Todd's E5 CAMP here
Show notes & bullets written by Max Hamm. You can reach Max at maxhammcopy.com.
[podcast_optin]
Disclaimer: Every effort has been made to accurately represent our product and it's potential. Any claims made of actual earnings or examples of actual results can be verified upon request. The testimonials and examples used are exceptional results, don't apply to the average purchaser and are not intended to represent or guarantee that anyone will achieve the same or similar results. Each individual's success depends on his or her background, dedication, desire and motivation. As with any business endeavor, there is an inherent risk of loss of capital and there is no guarantee that you will earn any money.