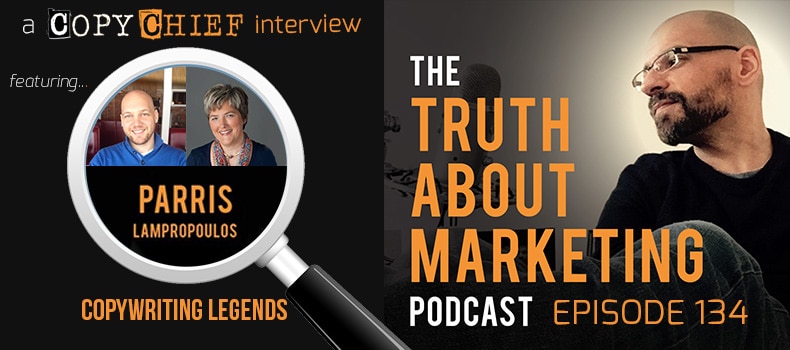 In This Episode
We're doing something a little different for this week's episode.
As you may know, our first ever Copy Chief Live event is just around the corner. And we've got some of the most accomplished and respected copywriters and marketers in the game taking the podium…
… and sharing insider secrets and tactics they've never taught before.
In this episode, you'll hear highlights from previous episodes featuring some of our speakers at Copy Chief Live…
… including Henry Bingaman, Parris Lampropoulos, and Marcella Allison. Here's a little bit about each…
… and the why you should lean in and listen to what they're sharing if you're serious about your freelance career or your business. (Whether you're attending Copy Chief Live or not… you'll wanna hear their unique insights on persuasive copy, unforgettable hooks, and going deep into your prospect's head.)
Henry Bingaman
Seasoned copywriter, and Natural Health Sherpa Creative Director. Henry helped Agora's Money Map Press sell over $100 Million in products─including a 12 Million dollar control─with his knack for injecting persuasive visual language in copy.
Take a listen and find out how you can add visual language to your writing that'll take your copy from bland to BAM!… without sacrificing the sale.
Parris Lampropoulos
Parris Lampropoulos is one of the best living copywriters today. It's no surprise he's a face on Brian Kurtz's "Mount Rushmore of Copywriters" for his record number of controls at Boardroom.
This is a rare opportunity to peek inside the mind of a world-class copywriter…
… as he tinkers with subtle word changes that'll catapult your copy from meek to money-making.
Come check out how a top-of-the-heap "A-list" copywriter generates big ideas…
… and how he lands his first 4 clients in just 48 hours—with no internet, no industry contacts, and no reputation.
Marcella Allison
Marcella is a high-level "A-list" copywriter with multiple million-dollar financial and health controls under her belt. She has worked shoulder-to-shoulder with top-of-the-heap writers like Parris Lampropoulos, David Deutch, and Clayton Makepeace.
Come find out Marcella's secret for honing-in on your customer's exact language. (You'll get so deep inside their head they'd swear they did the writing themselves).
"Can't Miss" Moments:
The "foreplay" trick to seductive copy that'll close the sale faster than you imagined possible…

without

using yucky "clickbait" tactics.
The ONE sales-killing mistake most writers make that almost instantly severs the connection with the audience… and what Marcella advises so you can write as if a REAL human was right there in front of ya.
The "awareness" secret to creating profitable products

without

waging claim wars… or burning your cash testing uncertain ideas. (

This

is how you'll launch products your perfect prospects actually

crave

.)
How Parris lands his first 4 clients in just 48 hours … with no internet, no industry contacts, and no reputation.
The "grocery store" trick to discovering your customer's single biggest buying trigger… and it won't even cost ya a dime.
Resources:
Listen to Henry's episodes: 7 Stories (CCR014) and Visual Language (CCR063)
Listen to Parris's episodes: Part 1; Part 2
Show notes written by Max Hamm. You can reach Max at maxhammcopy.com. 
[podcast_optin]
Disclaimer: Every effort has been made to accurately represent our product and it's potential. Any claims made of actual earnings or examples of actual results can be verified upon request. The testimonials and examples used are exceptional results, don't apply to the average purchaser and are not intended to represent or guarantee that anyone will achieve the same or similar results. Each individual's success depends on his or her background, dedication, desire and motivation. As with any business endeavor, there is an inherent risk of loss of capital and there is no guarantee that you will earn any money.