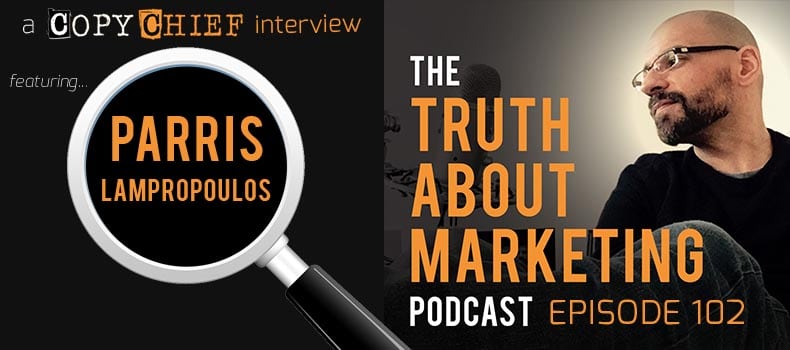 In This Episode
If you missed Part 1 of the rare interview with Parris Lampropoulos listen to that first for the full context of the interview and to get the backstory about the bullets (edited by Parris) that accompany these episodes.
Enjoy Pt 2 right here.
Can't Miss Moments:
4:30 – Why most people read Gene Schwartz over and over and still miss the Big Secret.  You'll be one of the select few who "get it" when you listen to this.
6:20 – How to use a 30-second Google hack to predict in advance whether your campaign will be a knockout or a failure.
7:52 – When putting benefits in your headline can lower your response.  And the 9-word headline that proves it.
8:34 – How to succeed in any market where ads don't pull like they used to.  (Hint: making a bigger promise will backfire on you!)
12:53 – Why testimonials are the most overrated, ineffective type of proof you can use in an ad.   What you should do instead if you want your prospects to believe everything you say.
17:36 – The creativity secret that Parris stole from Steve Jobs.  And how to use it to generate headlines, sales hooks, and even multi-million-dollar product ideas.
19:04 – How a joke in People magazine resulted in one of the strongest headlines Parris has ever written.  And how you can use the same technique to get ideas from anywhere.
22:48 – The sacred ritual Parris follows when he faces writers block that lets him write winners in his sleep (works for writer's block, too)
30:13 – "This is a freaking suicide mission!"  How Parris found himself going up against an A-list copywriter early in his career … and the step-by-step process he used to beat that writer's control.
31:30 – How to tell if your headline or hook is good enough — or if you need to keep working to find a better one. This advice alone can catapult you to the top of the copywriting profession.
39:08 – When using a Gary Halbert "A-pile" envelope can backfire on you.  And the "sleight of hand" technique you can use to overcome this problem so you still get your piece opened and read.
41:16 – The technique that puts your readers through an emotional roller-coaster and leaves them in a buying frenzy.  Case study of a 7-year control.
41:53 – What you should never, ever put in the P.S. of a sales letter – yet it's what most writers do!  Do this instead and watch your conversions go through the roof.
43:53 – The type of business you should never go into unless you want to lose money.  And why the greatest copywriters have all served time there!
Resources:
[podcast_optin]
Disclaimer: Every effort has been made to accurately represent our product and it's potential. Any claims made of actual earnings or examples of actual results can be verified upon request. The testimonials and examples used are exceptional results, don't apply to the average purchaser and are not intended to represent or guarantee that anyone will achieve the same or similar results. Each individual's success depends on his or her background, dedication, desire and motivation. As with any business endeavor, there is an inherent risk of loss of capital and there is no guarantee that you will earn any money.