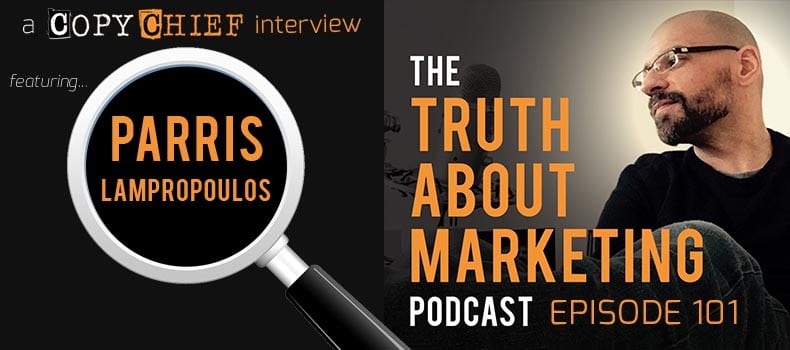 In This Episode
Parris Lampropoulos is universally regarded as one of the best living copywriters. He's a face on Brian Kurtz "Mount Rushmore of Copywriters" for the record number of control ads and revenue generated at Boardroom. His list of winners is mind-boggling.
Parris credits his incredible success solely on the bullets in his sales letters. He's notorious for torturing his copy cubs with bullet-writing technique and marathon review sessions chasing the one elusive tweak that makes the bullet sell.
In Copy Chief we hold a monthly contest called "Bullet The Podcast", where our members (both writers and biz owners) listen to a pre-release episode of this show and write bullets around what they hear. It's a great exercise for sharpening your bullet chops – a critical element to powerful copywriting.
Normally I critique the bullets and offer constructive feedback on how to make them stronger. For this episode, I was able to pester Parris to take over my role and work his magic on the hundreds of bullets submitted on our interview. He showed up in full force.
It's a rare opportunity to see inside the mind of a world-class copywriter as he thinks through seemingly subtle word changes that shift the bullet 180 degrees and make the persuasion pop off the page.
The recording of Parris's "bullet chiefing" is only available to members of Copy Chief (consider yourself teased), but what you see below is the result of the bullets submitted by CC members and polished by Parris.
It's appropriate that this episode is #101 because the lessons Parris shares serve as the foundation of next level persuasive copywriting, the never-ending pursuit of this show.
Enjoy the bullets, and the interview. This is a rare all access dive into the minds of one of the best in our business. And a helluva good guy, too.
3:35 – Does your copy pass the "forehead-slapper" test?  The #1 secret to writing copy that stands out from the clutter.
11:23 – The 14 words that convinced Parris to drop his real-estate career and become a copywriter.  (Even though he was broke and deep in debt.)
12:20 – How to make every outlandish promise you can think of in your sales copy and not go to prison.  (Totally legal … totally ethical … and it will make your customers love you.)
12:28 – The secret to creating better info products than your competitors.  Hint:  just do the opposite of what most people do.
13:25 – How Parris took a direct mail package from 0% response to 3% – just by deleting a few paragraphs! (Will this secret work for your copy?  Listen and find out.)
15:52 – What you can learn about copywriting success from Harry Potter.  (And no, it doesn't have anything to do with storytelling.)
16:41 – A trick for boosting your confidence and eliminating self-doubt.  (Parris and Kevin say it's like changing yourself "at the cellular level.")
19:10 – How Parris landed his first 4 clients in just 48 hours … with no internet, no industry contacts, and no reputation!
26:28 – "I can talk about penises and stuff, right?"
26:38 – What "drinking from the Jade fountain" is.  And how understanding the principle behind it can make you a boatload of money.
29:03 – The 3 essential things clients expect from a copywriter.  And how you can get away with having only 2 of them.
32:11 – Which deadlines copywriters can safely blow-off.  (Yes, really.)
33:38 – Why "doing right by the client" is not enough.  If you really want to get great results, you have to do this additional thing, too.
37:00 – What to do if your computer crashes and you lose the copy you were working on.
38:03 – How to learn and retain reams of information — even if you have a lousy memory.  Use this secret to become an expert on any topic you choose.
39:00 – How the Pimsleur Language Method can make you a better copywriter.  Even if you don't want to learn a second language.
Resources:
[podcast_optin]
Disclaimer: Every effort has been made to accurately represent our product and it's potential. Any claims made of actual earnings or examples of actual results can be verified upon request. The testimonials and examples used are exceptional results, don't apply to the average purchaser and are not intended to represent or guarantee that anyone will achieve the same or similar results. Each individual's success depends on his or her background, dedication, desire and motivation. As with any business endeavor, there is an inherent risk of loss of capital and there is no guarantee that you will earn any money.