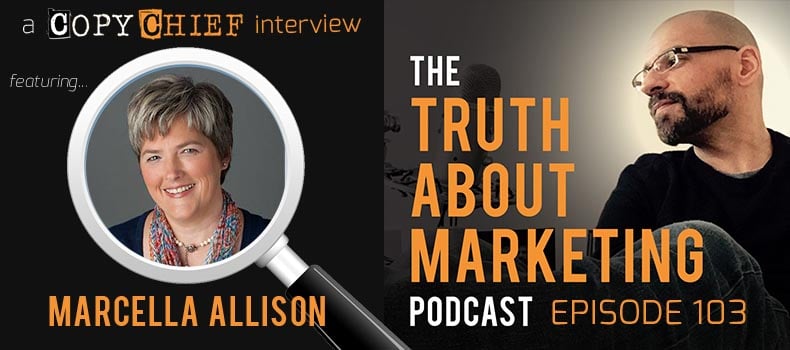 In This Episode
Today you're in for a treat.
My guest is Marcella Allison and she's the perfect guest to follow two epic episodes with Parris Lampropoulos.

Why?
Because she is one of the few writers that top-of-the-heap A-Listers including Parris, and David Deutsch look to team with first when it's time to beat another control.
With 20-years of deep-in-the-trenches experience and a long track record of crushing controls, Marcella reached celebrity status within the walls of AWAI with her knack for understanding customers on the deepest emotional level.
She's also living proof you can bag all the success you dream of AND still be a great human being.
In this episode, Marcella reveals her secret for honing-in on your customer's exact language (You'll get so deep inside their head they'd swear they did the writing themselves).
"Can't Miss" Moments:
Marcella reveals the ONE mistake writers commit over and over guaranteed to kill your connection with the reader
How a trip down the diaper aisle of a grocery store reveals your customer's single biggest buying-trigger
Three critical questions every copywriter must ask themselves before writing a single ad (and why you simply cannot ignore any of them)
Are you making this common connection-killing mistake when networking? (Marcella also reveals ONE simple trick to effortlessly land clients and find profitable partnerships)  
Marcella's biggest secret to booking droves of clients (so many she's forced to turn some away) without even a website to her name
What's the one thing Marcella's done that's produced the most surprising result?
Marcella credits her rise to copywriting and marketing hall-of-fame to something completely counter-intuitive to most of us.
Her choice to focus less on self-promotion turned out to be her pocket-ace. Choosing instead to center her career on genuine human-to-human relationships.
Right now, Marcella is so booked-up even the biggest names in the industry have to wait to get on her schedule (and they do). Check out how she built her stellar reputation and attracted boat-loads of success at 31:00.
Show notes written by Max Hamm. You can reach him at maxhammcopy.com.
[podcast_optin]
Disclaimer: Every effort has been made to accurately represent our product and it's potential. Any claims made of actual earnings or examples of actual results can be verified upon request. The testimonials and examples used are exceptional results, don't apply to the average purchaser and are not intended to represent or guarantee that anyone will achieve the same or similar results. Each individual's success depends on his or her background, dedication, desire and motivation. As with any business endeavor, there is an inherent risk of loss of capital and there is no guarantee that you will earn any money.