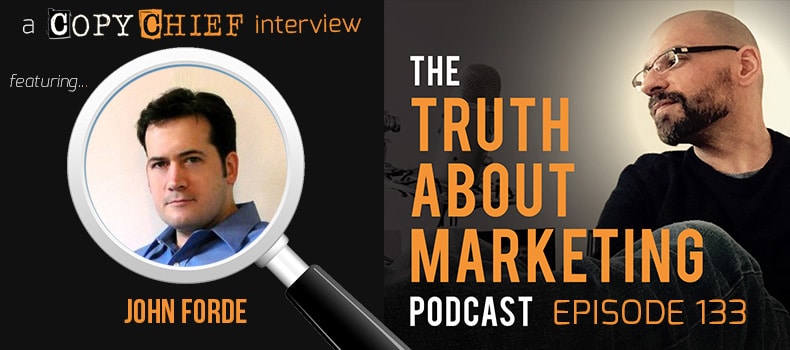 In This Episode
"Copywriting isn't exactly a writing gig…" John said to me during our interview. "Once you start thinking of it as just 'writing ads'… you risk writing stuff that sounds good… but isn't persuasive."
Former $15/hour article writer turned prolific copywriter John Forde joins me on the show today. John is one of the most accomplished copywriters and copy teachers in the world…
… selling millions of dollars for clients in the financial, health, and travel industries.
He's also the co-author of Great Leads with Michael Masterson (who you may know as Mark Ford. And by the way, the two are not related… but John did mentor with Mark at Agora.)
John was instrumental in creating the model for nurturing and developing new writers at Agora…
… and is currently working on a sequel to Great Leads with "copyboarding" creator and Agora Financial Copy Chief, Joe Schriefer.
In this episode, John reveals his unique process for writing a promo package…
… and shows you how you can nail your big idea and your perfect avatar. (And if you're a freelancer, John tells you the ONE thing he looks for when choosing copywriters… and it's got nothing to do with your knack for words.)
"Can't Miss" Moments:
Are you still trying to apply every new tip and trick in the biz? (Why this'll likely backfire and kill your sales… and what John advises you focus on instead to score winning promos.)
John's "conversational flow" tactic to birthing big ideas… and why you absolutely

must

schedule regular chats with your best clients that have nothing to do with the "work."
Do you play an instrument… or think you're funny? (John shows you how to use those skills to hone your copy chops, and what you likely share with great copywriters.)
The "cynical prospect" trick to quickly know if you've got all your research ducks lined up. (If you're feeling some good ol' "writer's block"… you'll wanna hear this.)
The ONE thing John would update in his seminal copywriting book

Great Leads

if he wrote it again today

…

and why this is something you'll wanna

memorize,

not just read.
What's the one thing John's done that's produced the most surprising result?
Few people ever shared a warning story in this segment…
… but hard lessons are some of the most valuable. John reveals the ONE mistake he made in a promo that cost him the campaign. (And 6 weeks of grinding research, writing and rewriting.)
Come check out John's hard lesson from the trenches at 35:00
Resources:
Show notes written by Max Hamm. You can reach Max at maxhammcopy.com. 
[podcast_optin]
Disclaimer: Every effort has been made to accurately represent our product and it's potential. Any claims made of actual earnings or examples of actual results can be verified upon request. The testimonials and examples used are exceptional results, don't apply to the average purchaser and are not intended to represent or guarantee that anyone will achieve the same or similar results. Each individual's success depends on his or her background, dedication, desire and motivation. As with any business endeavor, there is an inherent risk of loss of capital and there is no guarantee that you will earn any money.