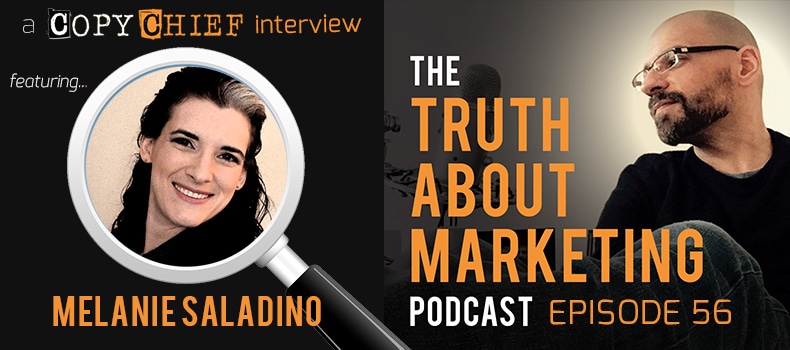 In This Episode
1:35: The copywriting cardinal rule for all marketers (and why failing to heed it is costing you a big ol' pile of money).
3:05: How Melanie discovered an obscure book that helped her build a "no fail" system for capturing the hearts and minds of only the perfect customers.
6:00: What thousands of years of research (from the world's most brilliant minds) teaches us about understanding your ideal customer better than their bartender or therapist.
7:10: Melanie pulls back the curtain to reveal her secret psych guide for copywriters. (Once you understand these 9 simple customer profiles, you'll be able to sell to anyone — anytime!)
9:40: Kevin reads a haunting love letter from a soldier fighting on the frontlines of WWI, asking his sweetheart to marry him. (This is the power of truly compelling copy)
13:10: How you your brain is murdering your sales without you even realizing it.
20:00: Does Copy Chief have an identity crisis? Melanie surprises Kevin with why he may have picked the wrong market!
21:15: Melanie shares two surprising insights on the differences in men's and women's psychology. (Whatever you think the answer is, you're wrong … and Kevin shares the story of a car salesman who surprisingly nailed this concept on the first try.)
26:30: Are you teaching valuable insights to your prospects? Or talking down to them? Why you need to stop being a dinosaur and catch up with the times.
28:30: How to make your customers relax and trust you … so they're excited to become your newest happy customer.
Show bullets written by Carolynn Ananian. You can tweet her up at @carolynnanian
Resources Mentioned
Download the 9 Buyer's report at Melanie Saladino's Site
Melanie's article: How to sell beyond emotion and logic
The Truth About Marketing podcast is produced by The Podcast Factory
[podcast_optin]
Disclaimer: Every effort has been made to accurately represent our product and it's potential. Any claims made of actual earnings or examples of actual results can be verified upon request. The testimonials and examples used are exceptional results, don't apply to the average purchaser and are not intended to represent or guarantee that anyone will achieve the same or similar results. Each individual's success depends on his or her background, dedication, desire and motivation. As with any business endeavor, there is an inherent risk of loss of capital and there is no guarantee that you will earn any money.