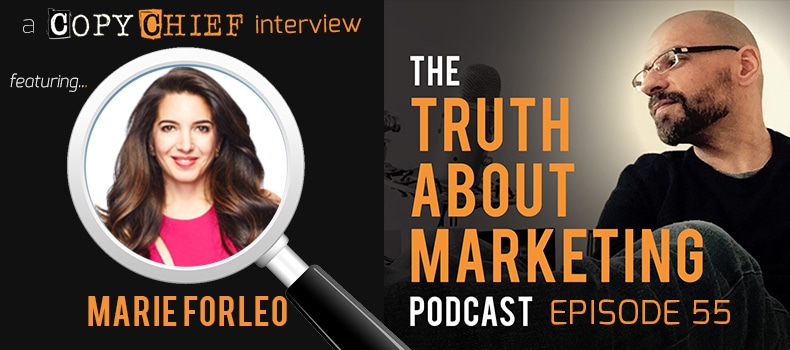 In This Episode
[ 1:30 ] The counter-intuitive approach to business site design that rendered one of the world's leading direct response copywriters speechless. (Yep, like a drooling simpleton staring up from the floor of the Sistine Chapel when he first laid eyes on it.)
[ 1:55 ] Why Marie says she's no genius (and never will be) in the creation of this "secret sauce" she uses daily to explode her online popularity (and the reason she's pledged to commit to it until the day she dies).
[ 4:05 ] How you can benefit from Marie Forleo's secret attraction to the "smarmy and sleazy" world of peddlers, pushers, and snake oil salesmen. Especially, she says, if you're in the habit of writing copy that's "as stiff as a mofo" (don't worry, this woman may cuss like a dock yard laborer, but it's somehow weirdly attractive on her, and more importantly, at the end of the day our ears didn't fall off, and yours won't either).
[ 6:35 ] A surefire strategy for layering your business with an unforgettable, unique and relatable personality (whether or not you're front and center of your business, even if you sell nothing more interesting than orthopedic shoes, cheap scented candles, or dreary wooden chairs).
[ 7:50 ] The Marie Forleo antidote to laying down copy that's as lifeless as a dead fish. Applying this little-known formula is like breaking out the direct response smelling salts (if this trick doesn't wake up your copy, nothing will).
[ 8:50 ] Polished or raw? What every female entrepreneur needs to know about "glamming it up" for the camera (and how to respond to those who pour on the hater-ade when the spotlight finally zeros in on you…)
[ 11:35 ] How to "green screen" your personality and make the world fall in love with you (even if you're a cowardly introvert who normally shuns the limelight).
[ 15:05 ] The one piece of clothing Marie secretly sheds before she ever appears on screen (unless she's interviewing, in which case she wouldn't DARE be caught without it!).
[ 16:30 ] How to convince your prospects you're FEEDING them valuable information (when really you're STARVING them of the one thing they'll be only too happy to buy from you).
[ 21:05 ] The left-field "crazy ass" antics Marie uses to POLARIZE her audience before they ever get a chance to get near her. (True, her clients may love and trust her, but they say this ONE thing she does is the reason they're willing to spend upwards of $20,000 just to hang out with her.)

Bullets written by Stephen Carter. You can reach him at redplanetcopy.com.
Resources Mentioned
The Truth About Marketing podcast is produced by The Podcast Factory
[podcast_optin]
Disclaimer: Every effort has been made to accurately represent our product and it's potential. Any claims made of actual earnings or examples of actual results can be verified upon request. The testimonials and examples used are exceptional results, don't apply to the average purchaser and are not intended to represent or guarantee that anyone will achieve the same or similar results. Each individual's success depends on his or her background, dedication, desire and motivation. As with any business endeavor, there is an inherent risk of loss of capital and there is no guarantee that you will earn any money.