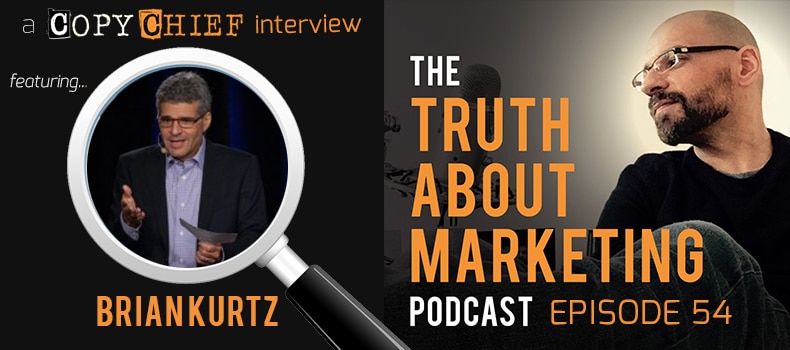 In This Episode
Brian Kurtz joins Kevin to discuss the controversy around how freelance copywriters and business owners work together.
Brian's recent article, The Next Million Dollar Copywriter, created a lot of talk in direct response circles about the problems with how companies have been hiring and compensating freelance copywriters.
Companies want teams of full-timers who consider themselves partners. They're "happy" to share the wealth with revenue share they say. What they are no longer accepting is the idea of paying large fees "up front" to a hired gun copywriter and hoping the ad converts.
Today's marketing landscape is much more complex than a decade or even 5 years ago. Copywriters have long been judged for their ability to learn and execute the classic tactics of direct response. In addition to tradition, copywriters today must embrace new mediums and pave the way forward in regards to how these mediums will solve modern marketing challenges; the attention deficit first, and then the conversion deficit.
The idea that "the only constant is change" has never been more true than in today's marketing landscape.
Is working together the best way for both companies and freelancers to maintain a strategic edge?
Should more freelancers pull up their drawers and become true business owners with their products to sell?
How could companies make it more attractive for the best talent to sell them their entire calendars?
The conversation continues now in this often contentious episode of The Truth About Marketing.
We welcome your comments and hope you'll join us when we take the conversation live to Google Hangout where you'll have your voice heard in real time.
Resources Mentioned
The Truth About Marketing podcast is produced by The Podcast Factory
[podcast_optin]
Disclaimer: Every effort has been made to accurately represent our product and it's potential. Any claims made of actual earnings or examples of actual results can be verified upon request. The testimonials and examples used are exceptional results, don't apply to the average purchaser and are not intended to represent or guarantee that anyone will achieve the same or similar results. Each individual's success depends on his or her background, dedication, desire and motivation. As with any business endeavor, there is an inherent risk of loss of capital and there is no guarantee that you will earn any money.