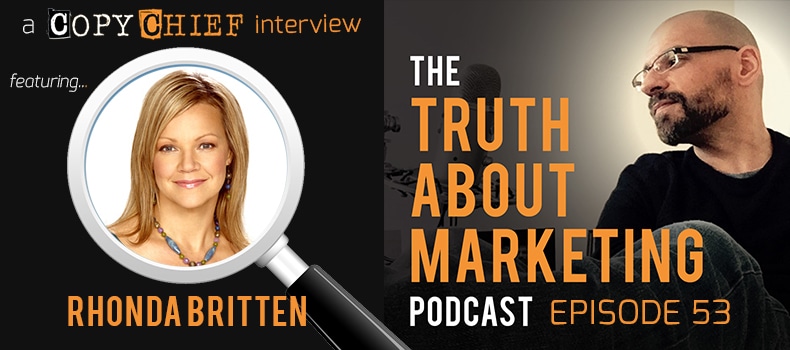 In This Episode
3:17: Rhonda reveals the secret superpower that gives her a 55% close rate in a room of strangers.
4:20: How Rhonda did 600 episodes of TV, and even became the first ever Life Coach in the world on a reality television show … without a single line of script to guide her. (And how she paved the way for everyone who followed her.)
8:15: The #1 question Rhonda asks every single person who applies to work with her, and the most common mistake you're making that prevents you from getting what you want.
12:15: "Marketing is learned!" How to become famous and influential doing anything you want, and how to do it better than everyone else.
14:55: How Rhonda wakes people up from crippling fear, and the shockingly accurate test she uses to help people take back control of their lives.
18:10: Why you NEED to bite the bullet and finally reveal your scariest personal story to the world. (Hint: It's not bitching, it's building a relationship with your audience.)
20:10: How to tell the true measure of a person and win your audience's trust as an expert. (Even if you think your story is stupid.)
21:10: Rhonda shares her most horrific story, and what sent her into a 20-year spiral of self-destruction before emerging victorious and dedicating herself to saving others from fear (if you're not moved to tears, and then cheers, you may not be human)
31:10: Why Rhonda can change your life in just one meeting, even if you never see her again. (And how she deeply touches her audience instead of coming across like a cheap gimmick.)
32:55: Every excuse you have is wrong. Rhonda explains why, once you know how to deal with fear, you can take action on the things you've avoided for years and master ANYTHING.
Show bullets written by Carolynn Ananian. You can reach Carolynn on Twitter @carolynnananian
Resources Mentioned
The Truth About Marketing podcast is produced by The Podcast Factory
[podcast_optin]
Disclaimer: Every effort has been made to accurately represent our product and it's potential. Any claims made of actual earnings or examples of actual results can be verified upon request. The testimonials and examples used are exceptional results, don't apply to the average purchaser and are not intended to represent or guarantee that anyone will achieve the same or similar results. Each individual's success depends on his or her background, dedication, desire and motivation. As with any business endeavor, there is an inherent risk of loss of capital and there is no guarantee that you will earn any money.