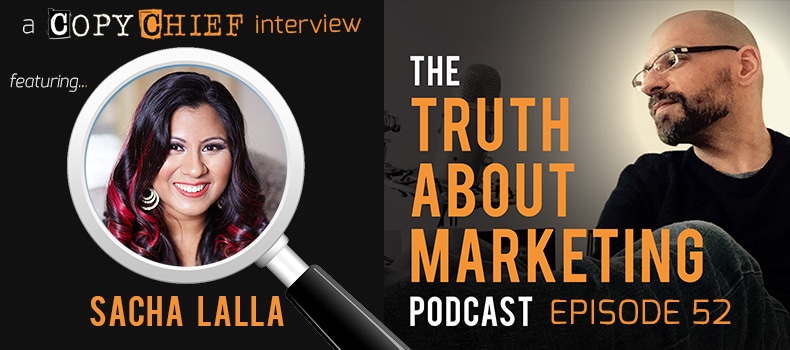 In This Episode
3.31 – Do you dream of turning your passion into a business? Sacha did. Then her passion fizzled and her business died… how answering this one question first, could have prevented a $30,000 passion business disaster
4.15 – When it's ok to regroup and get a job after failing as an entrepreneur. (Learn how Sacha leveraged her two failures into a cushy new executive job in the corporate world)
5.00 – How Sacha started her online empire while still "prostituting herself for a paycheck" at her 9 to 5 job… and what finally forced her to quit
7.55 – How does a "young punk" woman of color with a tongue piercing and red streaks in her hair win over an audience packed with stuffy old white men in business suits? You call them out! (Sacha's room-stopping opener will inspire you anytime your audience denies you respect)
11.25 – The truth about sharing, being authentic and transparent in business. If you can't bare your soul to the world, what's the alternative?
13.50  – Sacha breaks down the customer care playbook from Zappos and Google… and how they mint loyal customers eager to buy more and willing to pay more… without bribing them with free stuff
17.24 – What every guy needs to know about "female energy" and how it's winning in the trenches of marketing and copywriting. (A game changer if you struggle with being authentic, nurturing and sharing)
22.19 – How to lead a new customer up the ladder from satisfied to loyal fan to groupie, waiting on pins and needles for your next offer.
23.33 – How Sacha uses tabloid trash talk to connect with her audience, win more sales and give her followers the one thing they crave from her more than anything else
25.00 – How Sacha predicts, with surprising accuracy, if her email or blog post will win with her audience. (Disclaimer: It's not scientific, it's not taught by guru's and it cannot be outsourced)

Show notes written by copywriter, Barry Davret. You can reach Barry at: http://barrydavret.com/

Resources Mentioned
The Truth About Marketing podcast is produced by The Podcast Factory
[podcast_optin]
Disclaimer: Every effort has been made to accurately represent our product and it's potential. Any claims made of actual earnings or examples of actual results can be verified upon request. The testimonials and examples used are exceptional results, don't apply to the average purchaser and are not intended to represent or guarantee that anyone will achieve the same or similar results. Each individual's success depends on his or her background, dedication, desire and motivation. As with any business endeavor, there is an inherent risk of loss of capital and there is no guarantee that you will earn any money.