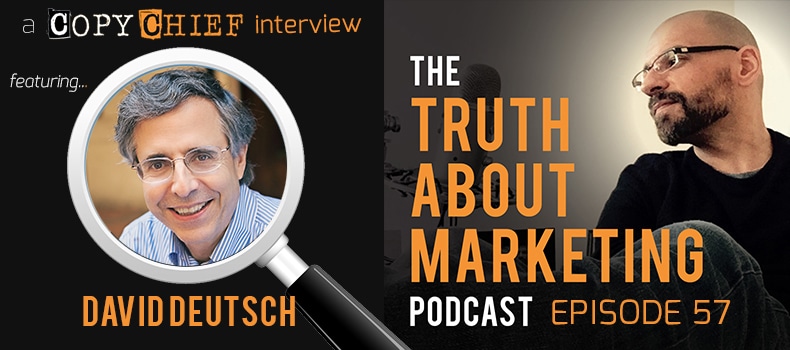 In This Episode
1.10 How David went from temp worker to A list copywriter and what he really thinks about his start at a Madison Avenue ad agency. (Did it help or nearly destroy his career?)
6.29 David's sneaky shortcut to beating his own winning ads without rewriting the entire thing. (Just two small changes can transform a tired, old ad into a fresh and new one)
7.54 What's working in marketing today? David reveals the latest fad (a fusion of science and creativity) that's kicking ass in marketing (including his own projects). But will this one last?
9.39 Could "ruthlessness" be the lost religion of copywriting? Why David thinks its disappearance left us with an epidemic of BORING copy
12.12 Forget "piling on benefits" in your ad – Here's David's secret to making your claims believable and getting prospects to think: "Hey, I can really do this!"  (PLUS: See it in action as David breaks down one of the most successful ads in history)
16.48 A shortcut to becoming a better copywriter using David's simple twist on the "problem, solution" technique. (Examples included)
21.17 How to target your market with ultra precision and force… twisting the virtual knife in your prospects back…. with your solution the only answer to his pain. (Even marketers who know this are afraid to do it. It takes GUTS)
29.20 David's two step checklist predicts if his ad will be a winner — before it's ever tested. (Plus, how to use the "rant" test to predict if your idea has a shot in hell… before you write a single word)
34.25 Hate to write copy? So does David. He shares two shortcuts to crank out long sales letters without the struggle of writing draft after draft of a 30-page sales letter or video
36.38 What works best, long copy or short copy? David shoots down the decades old rule: "It needs to be long enough to sell it" and replaces it with…
Show bullets written by Barry Davret, you can reach barry at his website: http://barrydavret.com
Resources Mentioned
The Truth About Marketing podcast is produced by The Podcast Factory
[podcast_optin]
Disclaimer: Every effort has been made to accurately represent our product and it's potential. Any claims made of actual earnings or examples of actual results can be verified upon request. The testimonials and examples used are exceptional results, don't apply to the average purchaser and are not intended to represent or guarantee that anyone will achieve the same or similar results. Each individual's success depends on his or her background, dedication, desire and motivation. As with any business endeavor, there is an inherent risk of loss of capital and there is no guarantee that you will earn any money.