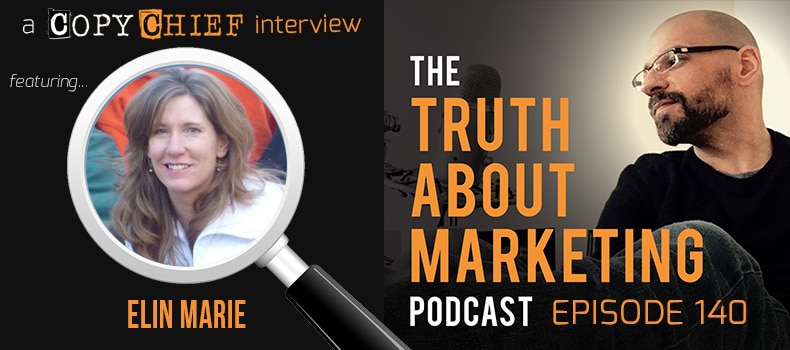 In This Episode
Reality is, copywriting IS research.
Any veteran copywriter will tell you they spend more than half a project's time just on research.
It's where you'll stumble upon all the juicy hooks, BIG ideas, and bold angles you need for a successful promo. So it's no surprise top writers make research a top priority… taking as much as 2-3 weeks just diving deep into the literature.
And if you zip through this critical step—or worse—skip it all together because you "know your market"… your entire campaign suffers. (Let's face it, we all get blindsided by the "curse of knowledge" more often than not.)
So… how do you nail the research phase of your campaign like a pro, and make sure you've got all your ducks lined up before producing your final draft?
Today Elin Marie returns to the show (who you may have known before as Elin Bullman – listen to her last episode here.) If you don't know her, she's a 15-year veteran copywriter who's worked with the likes of Jon Benson and Lee Euler.
And in this episode, Elin reveals her entire copywriting process from top to bottom… including her unique research method that's helped produce several controls in the health space. (You'll wanna hear how Elin breaks down giant projects into smaller, simpler chunks… and the ONE thing you can do to eliminate "writer's block" and start immediately—no matter the size of your project.)
"Can't-Miss" Moments:
The "raw doc" research technique that'll help you nail that juicy hook faster than you imagined possible… and why you're likely just scratching the surface in your research.
Do you feel you're "bothering your client" asking too many questions? (The surprising reason

Kevin

insists

you do this… even if you think you've already got all the info you need.)
The "small details" tactic to extracting critical product information your client likely overlooks… and how to get it all BEFORE your "discovery call".
Why it's absolutely critical you get "buy-in" from your client prior to writing your final draft… and Elin's pro tip on choosing the best lead for your ad.  
Elin: "With all the noise today, all your copy needs to be

goosebump

copy." (The surprising reason Elin has her mom reading final drafts… and the single biggest thing you can do to make your copy

sing

.)
Resources:
Listen to Elin's last episode of the Dreamweaver Sales Copy Formula

Show notes written by Max Hamm. You can reach Max at maxhammcopy.com. 
P.S Did you know you can read this content right on the Copy Chief app? Super cool. Download app for Apple users. Download app for Android users. Totally badass and totally free.
Disclaimer: Every effort has been made to accurately represent our product and it's potential. Any claims made of actual earnings or examples of actual results can be verified upon request. The testimonials and examples used are exceptional results, don't apply to the average purchaser and are not intended to represent or guarantee that anyone will achieve the same or similar results. Each individual's success depends on his or her background, dedication, desire and motivation. As with any business endeavor, there is an inherent risk of loss of capital and there is no guarantee that you will earn any money.