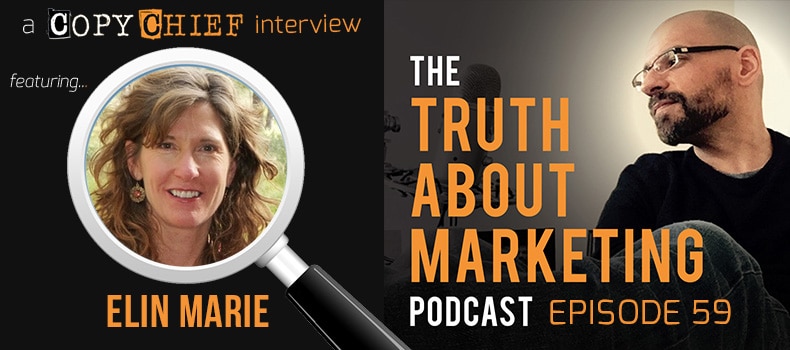 In This Episode
00.35: Kevin introduces Elin, one of the elite few writers he recommends without hesitation, and how she accidentally invented a new way to write copy so it flows effortlessly from your fingertips like water.
2.05: "I feel like you picked me up and took me there!" Elin shares her secret to writing copy that "just sings" and makes prospects reading it feel like kids again. (Bonus: it's fun for the writer,too.)
6.15: "As copywriters, we have to sneak up on our prospects." A recent Harvard study reveals how modern marketing is killing people's interest in you (and how to reignite it so you're suddenly the popular girl in the bar again.)
7.15: "We feel like we've heard it all before… what we want is to be swept away." Elin lays down some hard truth about the deadly sins of overselling.
8.10: How to build solid relationships with your customers, and ensure they get what they need… and ONLY when they need it.
10.00: "People don't like the scent of being sold to … even if they're looking to buy!" How to weave an offer into the story without the bone-jarring transition of a pitch.
11.00: The big reveal: Elin shares the actual conversion numbers her new storytelling strategy netted her client. (Kevin suddenly realizes why Elin's client refuses to give her name to anyone).
17.30: The only gunfight where the bullets never win (but the story always does): Elin leads us through the script that is converting a consistent 9% while completely ignoring traditional copy elements like bullets and headlines.
24.00: How to stop scaring the pants off your prospects and avoid shaking them down for money in a sales letter. (With Elin's method, you'll only give them exactly what they need, and it'll be so much fun that they'll thank you!)
25.30: Why storytelling works for all products across all industries, and makes it so much easier to do a 180 on your sales hook at a second's notice.
Bullets written by Caroylnn Ananion, you can reach her at http://cananian.com/
Resources Mentioned
Elin's site: The Write Effect
Elin's article about Dreamweaver Copy
The Truth About Marketing podcast is produced by The Podcast Factory
[podcast_optin]
Disclaimer: Every effort has been made to accurately represent our product and it's potential. Any claims made of actual earnings or examples of actual results can be verified upon request. The testimonials and examples used are exceptional results, don't apply to the average purchaser and are not intended to represent or guarantee that anyone will achieve the same or similar results. Each individual's success depends on his or her background, dedication, desire and motivation. As with any business endeavor, there is an inherent risk of loss of capital and there is no guarantee that you will earn any money.