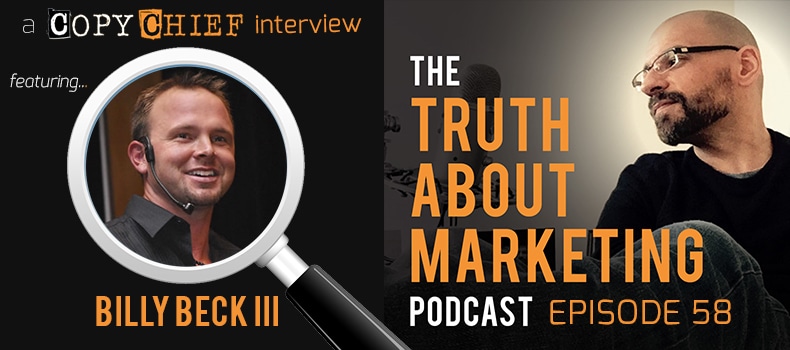 In This Episode
2.00 Why Billy never had a chance for a normal childhood with popular toys and bunk-bed slumber parties (and the shocking "gift" his Vietnam War veteran dad gave him when he was 4-yrs-old)
2.40 "The hidden bonus" of fitness. Why dedicated people show up to the gym to get ripped or lose weight, but walk away with zen-like perspective (and why this applies to marketing just as powerfully)
4.25 Why Billy's "All gain NO pain" goal setting framework guarantees serious growth, but without you collapsing BEFORE (or after) you hit the finish line
5.45 What your Facebook stalker friend knows about spotting the 2 necessary levers to pull for permanent marketing gains.
7.00 The Orgasmic Throb Effect Kevin and Billy peddle that satisfies you more than the next checklist post of quickie shortcuts.
8.20 Give your inner perfectionist a vacation with fundamentals to starting AND completing your goals. Why super-achievers love Billy's 3 Pillars of Power.
13.30 Why the best public speakers walk through cemeteries. Billy's Dead-men-Direction to becoming one of the most sought after and impactful speakers in our field.
16.25 How to create "BIGGER THAN YOU" impact with your next product launch and inspire committed and excited customers.
20:20 How to "position" yourself so legends agree to champion you even when they almost always disagree with each other. (The charismatic code to confidence.)
21:00 How to fortify your next marketing campaign with this "testimonial technique". The Real-life marketing experiment… why does Billy REFUSE to take credit for it… even after it won him the World's Best Trainer for the second year in a row (as voted by his peers)?
Show bullets written by Max Rouzier. You can reach Max at ThatManMax.com
Resources Mentioned
The Truth About Marketing podcast is produced by The Podcast Factory
[podcast_optin]
Disclaimer: Every effort has been made to accurately represent our product and it's potential. Any claims made of actual earnings or examples of actual results can be verified upon request. The testimonials and examples used are exceptional results, don't apply to the average purchaser and are not intended to represent or guarantee that anyone will achieve the same or similar results. Each individual's success depends on his or her background, dedication, desire and motivation. As with any business endeavor, there is an inherent risk of loss of capital and there is no guarantee that you will earn any money.