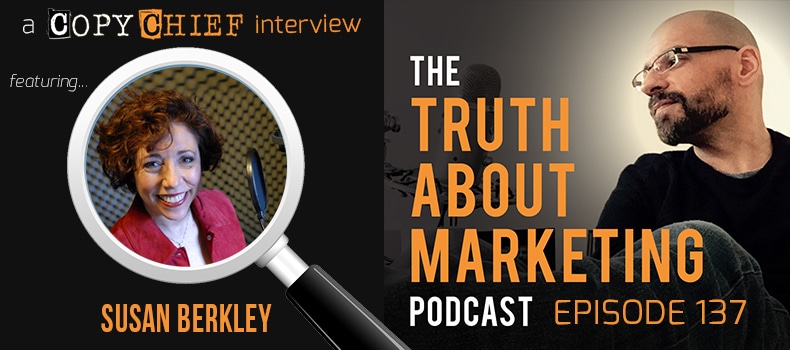 In This Episode
Believe it or not, within seconds of hearing you speak… your prospects form lasting impressions about YOU and your business based on the sound of your voice.
Your spoken image is a BIG part of your brand. This is why some of the best marketers and salespeople hone their rapport-building voice. In fact—some of the leading video sales letters in the industry got 20% boosts in conversions just by sharpening the voice component.
So… how do you beef up your spoken image so that you build unbreakable bonds with your perfect prospects?
Today I've got one of the most heard voices in America on the show. And though you may not know her name, you've likely heard her distinct vocals somewhere. Susan Berkley is the go-to voice-over artist for the likes of AT&T and Citi-Bank. She's also a world-renowned communications expert… and author of Speak To Influence: How To Unlock The Hidden Power Of Your Voice, and The Persuasion Code.
Susan helps top marketers and sales pros hone their spoken image, and boost their persuasive powers with voice. (I met Susan at Brian Kurtz's mastermind recently… and she's been working with some of the biggest names in our industry on optimizing the voice component in video sales letters.)
As Susan explains in the interview, almost no one in the business world gives proper care to their spoken image…
… and when you start paying attention to this, you're looking at big bumps in sales of almost 20% in some cases. And that's just by tweaking the marketing power of your voice.
In this episode, Susan shows you how you can tune your pipes so you'll forge rock-solid bonds with your perfect prospects… and the fastest way to rid yourself of any speech anxiety before your next conference or event.
"Can't Miss" Moments:
The ONE thing all top marketers and salespeople do when communicating with prospects… and why you're likely doing the exact opposite right now.
The "back of your throat" voice tactic to forging DEEP connections with your audience. (Susan shows you how to do it quickly live on the show!)
Did you know your "speech anxiety" or fear of networking is a slight sign of

narcissism?

(You'll wanna hear Susan's surprising take on the source of your pre-event jitters.)
The "Stern" trick to turning any webinar, podcast, or broadcast to an intimate, one-on-one conversation with your prospect. (You'll connect with your perfect prospect so quickly they'll feel you're talking ONLY to them.)
Are you still counting your "ums" and "ahs" in your speeches and talks Toastmasters style? (Follow Susan's much simpler suggestion instead and you'll never have to worry about all that.)
Resources:
Get Susan's Million Dollar Voice Mastery Secrets here

Show notes written by Max Hamm. You can reach Max at maxhammcopy.com. 
[podcast_optin]
Disclaimer: Every effort has been made to accurately represent our product and it's potential. Any claims made of actual earnings or examples of actual results can be verified upon request. The testimonials and examples used are exceptional results, don't apply to the average purchaser and are not intended to represent or guarantee that anyone will achieve the same or similar results. Each individual's success depends on his or her background, dedication, desire and motivation. As with any business endeavor, there is an inherent risk of loss of capital and there is no guarantee that you will earn any money.