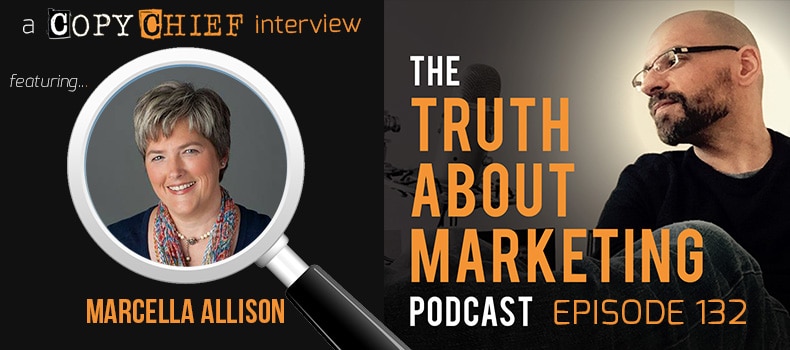 In This Episode
"This isn't about burning bras and marching on Washington.  This is about empowering more women to step up and share their knowledge and experience with the world." Marcella said during our interview. "If you want more women on the stage, don't wait for a man to ask you to speak… build your own friggin' stage."
The last time Marcella Allison came on the show, it was one of our most talked about and well-received episodes.
If you haven't heard of Marcella, she's a high-level "A-list" copywriter with multiple million-dollar financial and health-controls under her belt. She has worked shoulder-to-shoulder with top-of-the-heap writers like Parris Lampropoulos, David Deutch, and Clayton Makepeace.  
Now Marcella's on a mission to help other women break into the A-list, launch their own companies, and generally take over the entire direct response industry.  
Several years ago, after one of her mentors took serious flack for not having a single woman on the stage at his event, Marcella launched the Titanides group. It's a crazy, rowdy, passionate group of chicks who are changing the male-dominated world of direct response one stage, one control and one podcast at a time.
In this episode, Marcella reveals how a nice wholesome midwestern girl like her has survived and thrived in male dominated industries all her life… without resorting to violence!
If you're a woman living in a testosterone-fueled business world, you'll be nodding your head at this one… and if you're a man, you probably have no idea of the stuff that women deal with on a daily basis.  (This is the stuff no one likes to talk about… but these conversations are absolutely critical for profitable partnerships and teamwork.)
"Can't Miss" Moments:
How to build a "safe container" with no trolls or ugly public attacks where your members actually fight for and celebrate each other's success…
Why smart women need a room of their own to succeed and how any minority group can use this secret to empower their community.
How to avoid falling into victim mode and instead take back control with the "build the stage" strategy that allows you to dominate any field in short order.
Marcella's simple fix to avoid turning projects into "pissing contests." Works like a charm on testosterone-driven male entrepreneurs.
Have you met Marcella's "salty old broad" persona? (You'll wanna hear the hilarious characters Marcella "switches on" when dealing with some of her male colleagues and clients.)
Resources:
Get your ticket to Titanides now!
Note from Titanides: We'd like to give the women of Copy Chief a $50 discount. Enter code COPYCHIEF50 at checkout to get $50 off.
Listen to Marcella's previous episode here
Show notes written by Max Hamm. You can reach Max at maxhammcopy.com. 
[podcast_optin]
Disclaimer: Every effort has been made to accurately represent our product and it's potential. Any claims made of actual earnings or examples of actual results can be verified upon request. The testimonials and examples used are exceptional results, don't apply to the average purchaser and are not intended to represent or guarantee that anyone will achieve the same or similar results. Each individual's success depends on his or her background, dedication, desire and motivation. As with any business endeavor, there is an inherent risk of loss of capital and there is no guarantee that you will earn any money.