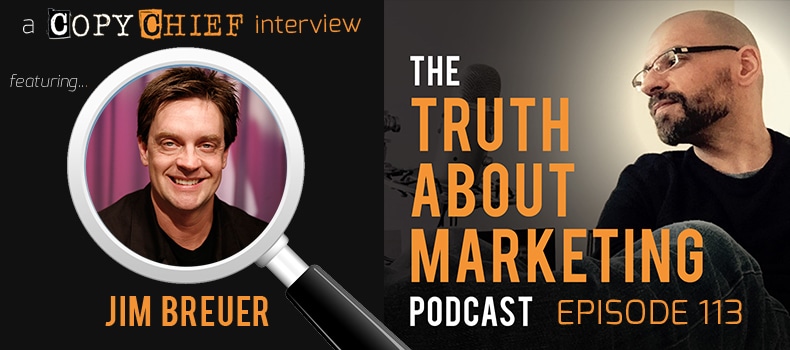 In This Episode
"I'm addicted to murdering on stage… I want to hurt you," Jim said in our interview. "Once I fell in love with doing this again and discovered my real mission, I became unstoppable."
My guest today is stand-up comedian Jim Breuer. He's famous for co-starring with Dave Chappelle in "Half-Baked" and featuring on "Saturday Night Live" for three years.
He's also worked with show biz giants like Robert De Niro, and legendary rockers Metallica and AC/DC.
What I didn't know was that recently Jim completely reinvented his image. He did it after making a shocking discovery about people's perception of him as a person…
… "I was so angry when I learned this, and I made the decision right there that I was going to control my destiny… and have nothing to hide…" Jim told me.
When you hear how Jim discovered his "persona" (one that was decided for him… not controlled by him), and how he reignited his career using the power of short daily videos…
… you'll want to put your own marketing campaigns under the microscope and answer the critical question:
Are you leading with passion and transparency… or are you too busy calculating your every move (and repelling your customers in the process)?
"Can't Miss" Moments:
Do you ever feel like you're "selling your soul" in exchange for success?(It's also the reason Jim turned his back on Hollywood and did it his way. If you've set big goals for yourself… don't miss this!)
Jim: "Talent is NOT #1…" (Why focusing on your talent will ruin your chances… and what Jim suggests you do instead to knock-out your competition and become

unstoppable

)
Is your marketing "persona" killing the REAL you… without you even knowing it?  (The single biggest trap most marketers fall prey to when growing their list… and what Jim suggests you do to effortlessly attract customers by simply being YOU!)
What does transparency

in marketing

really

mean? (The single biggest mistake most marketers make when trying to "be authentic"… and why you're likely repelling your customers when you do that)
Jim: " ________  is like having your own personal TV Show" (The marketing tactic that exploded Breuer's career and how you can use it in your business… even if you

hate

self-promotion like Jim does!)
What's the one thing Jim's done that's produced the most surprising result?
Jim went from zero videos to his name on Facebook to getting two Million views, per night…
… and he did it by changing one simple thing (he didn't even realize he had it all along… and it was his wife, during her fight against cancer, who pointed out this counter-intuitive game changer!)
Check out his secret to creating killer videos on Facebook, and how to make sure your videos aren't repelling your customers at 33:00.
Resources:
Show notes written by Max Hamm. You can reach Max at maxhammcopy.com.
[podcast_optin]
Disclaimer: Every effort has been made to accurately represent our product and it's potential. Any claims made of actual earnings or examples of actual results can be verified upon request. The testimonials and examples used are exceptional results, don't apply to the average purchaser and are not intended to represent or guarantee that anyone will achieve the same or similar results. Each individual's success depends on his or her background, dedication, desire and motivation. As with any business endeavor, there is an inherent risk of loss of capital and there is no guarantee that you will earn any money.