January 2015 — Rochester, New York
It was 11:22 AM and for the last 3 hours 22 minutes I'd been gagging on the question, "What should I do next??"
For the 13th month in a row my business was flat. No growth. No new opportunities. Nada.
I was freaking out because I'd always heard: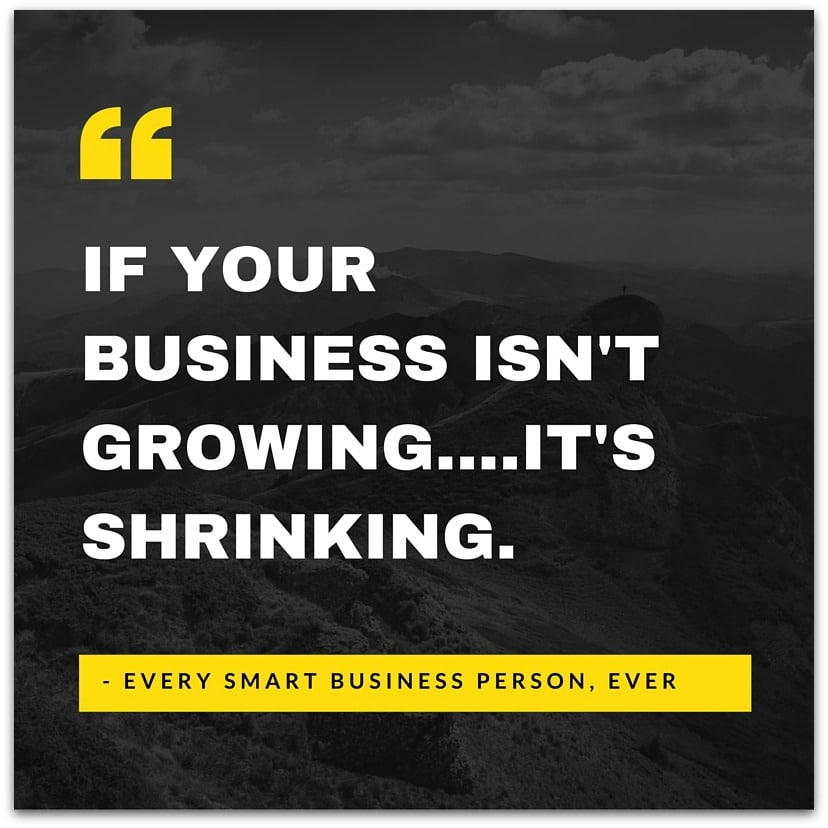 I was completely lost. At the time my idea of a "growth process" was me diving into my email inbox and getting ambushed by the 17 hottest guru-expert blog posts of the day.
Some days I'd randomly select the one with the most outrageous numbers in the title. "Want 24,173 visitors in 2 hours?" Yes please! Then I'd bury my head in my laptop for 7 hours. Other days I'd flutter with uncertainty and never lift a finger.
No surprise, things were dismal.
I hope my naivete was cute, because it fueled one of the most excruciating periods of my business. My graveyard of "pick-and-pray" tactics, and my marathon stretches of "analysis paralysis" were choking my last bits of ambition.
Luckily, on that 14-degree winter morning in Upstate New York I stumbled across a few smarter-than-me business people who changed the trajectory of my business.
After weeks of immersing myself in their genius, I'd discovered a key piece in the "growth puzzle" I was trying to solve. I finally understood what separates average entrepreneurs who jump from one mediocre idea to the next, from the world-class entrepreneurs who produce explosive growth (and earn what they're worth).
So what finally accelerated the growth of my business?
I call it The Growth Engine.
It's a 3-step repeatable process that doubles revenue in 12 months (no matter what industry you're).
And today I'm going to share the simple process, step-by-step.
(Exclusive Bonus: Download the step-by-step workbook that takes you by the hand and walks you through the entire process of building your own growth engine.)
The Secret Behind a Growth Engine That Works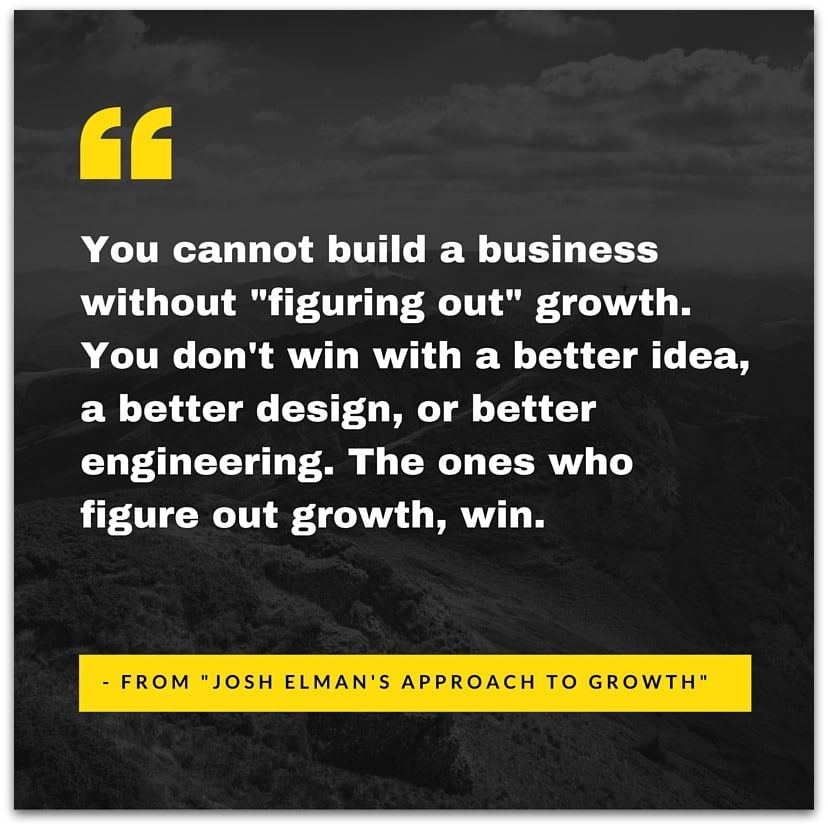 When I read those words from Josh Elman, a well-known growth expert in Silicon Valley, it was like a 500-watt halogen bulb went on in my mind.
I remembered thumbing through business textbooks and reading case studies about companies that "mastered growth" exactly how Elman described. One of my favorite examples is Google.
Google wasn't the first search engine, not by a long shot. They didn't even invent the advertising model that made them billions (they stole that too). What they did do, however, is master growth better than their competitors. They understood how to go from a few users to a lot of users by focusing on (and building) the right things.
And what was the result of focusing on and building the right things? Explosive growth.
So it was settled, if I wanted to grow my business, I just had to focus on and build the right things, too.
Sounds simple, except I had no idea how to do that. I was in the dark until I came across this clue from another growth expert, Andy Johns. He cut his teeth growing companies like Facebook and Twitter. When Forbes asked him about how these companies grew so fast, Johns answered: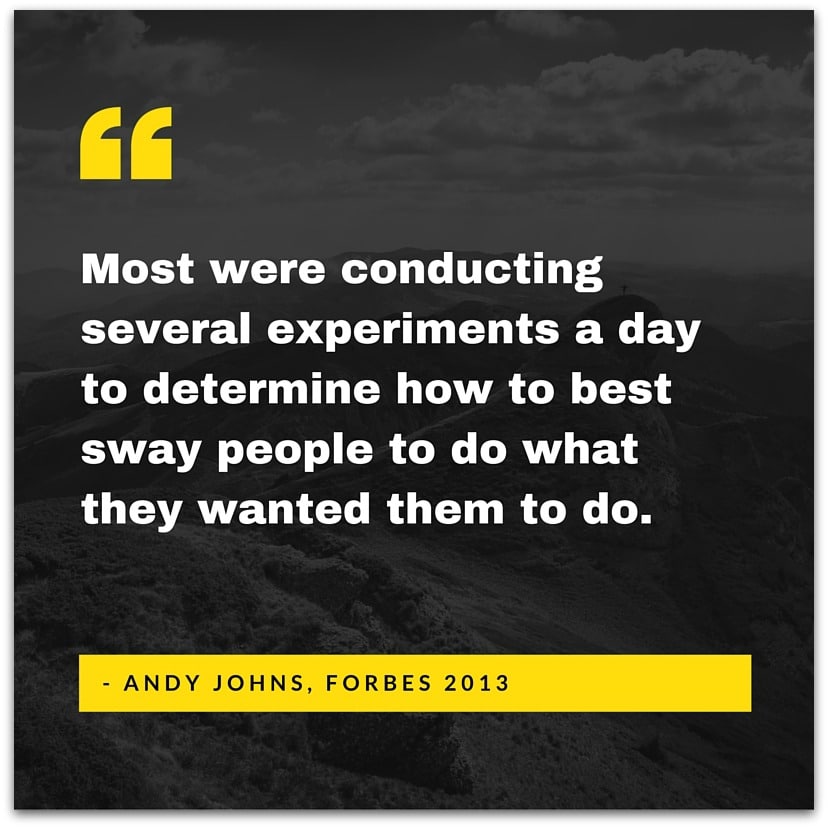 And there is the secret. The companies that were mastering growth were doing so by conducting experiments to discover what ACTUALLY works. Facebook is a great example of a company that does this well.
Facebook wasn't the first social network. MySpace and Friendster came way before it. What Facebook did better than any others is it mastered a growth process. It ran experiments and measured what influenced behavior in favorable ways.
For example, the Facebook growth team identified that new users who added seven friends were more likely to become daily active users.
Then what did they do? They ran experiments to find the best way to get a new user to add seven friends. The result? Billions of users. Literally.
Facebook's Major "Eureka" Moment
Pause and think for a second.
How many times have you met someone who just found a hot tactic for their business. If you don't know how to spot' em, their dilated pupils and quick breathe are a dead giveaway.
They spring into the details of the tactic and how it's going to blow the roof off their business.
The next time you see them, they never used it. Or if they did it was a half-hearted attempt and an immediate bust. Either way, it eventually comes out that NOW they have the key. They've finally found the new tactic that's really going to crank their business into overdrive… and the cycle continues.
Sound familiar?
That's what a business that hasn't "mastered growth" looks like. It jumps from one trendy tactic to the next, never gaining traction. There is no process that keeps them on track.
The ones who master growth have a calculated growth process. It shows you exactly what you need to do to grow, right now. That's the value of a growth engine.
The important question is, can you build a growth engine for your business?
(Exclusive Bonus: Download the step-by-step workbook that takes you by the hand and walks you through the entire process of building your own growth engine.)
So you're probably thinking…"wait a minute, I'm not Google…I'm not Facebook…I'm way smaller, how can I make this work in my business?"
I thought the exact same thing when I heard all of this.
It seemed like all this "growth" stuff was way more complicated than us solopreneurs and small business owners needed it to be. So I went to work. I adapted the model, distilled it down to it's essential parts, tested it in my own business, shared it with a few clients, and The Growth Engine was born.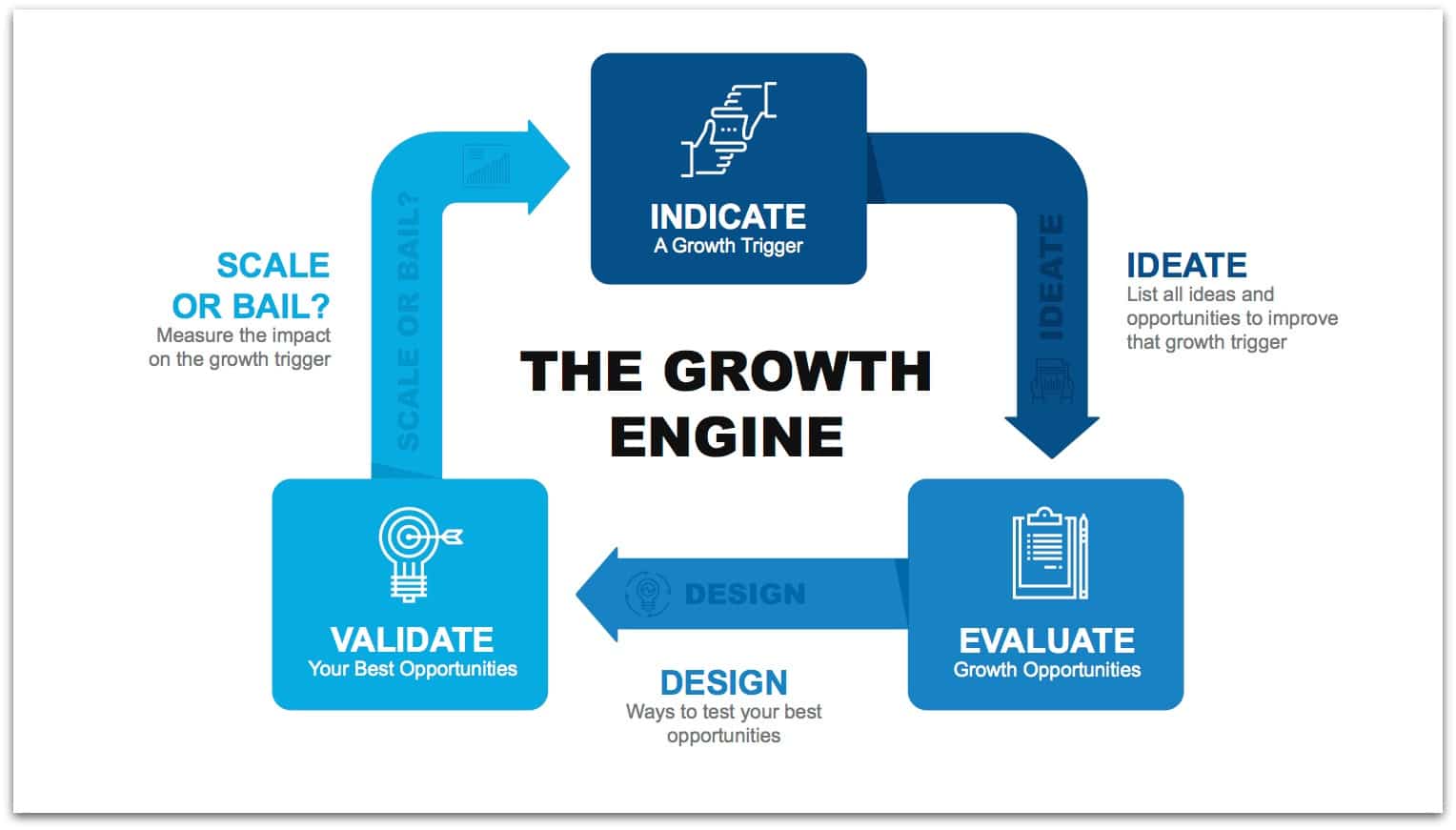 (Download this process map and more, for free, in The Growth Engine workbook)
It's a three step repeatable process that accelerates growth…
Even if you don't have a fancy tech product.
Even if you don't have wealthy investors.
And even if you feel like you've tried everything — and lost all hope.
How to Put The Pedal To The Metal With a Growth Engine
Getting started with your own growth engine is simple. It's a three step process I call, "Indicate, Evaluate, Validate." When these three steps are used in sequence, growth starts to happen.
Now, let's dive into the details of how you can build an unstoppable growth engine for your business.
Step One: Indicate
Start by indicating one metric you want to focus on improving. It should be a number that, if it improves, sends your business soaring. Some examples are new user signups, email subscribers, or even paid members.
You probably have more than one number rolling around your mind. It's imperative, however, that the first time you go through this you indicate only one metric to focus on. The singular focus puts your growth engine on a sturdy foundation.
A singular focus (for starters) is essential because, like everything, the first time we do something is always a learning experience. Having a singular focus helps you learn the nuances of the process and allows you to scale the learning curve as fast as possible.
Once you get a grip on the process (and discover its potency), it's safe to expand your focus to additional metrics.
With your key metric indicated and in focus, move to step two…
Step Two: Evaluate
Next, list every idea and opportunity you see for improving the metric you indicated in step one.
There is no shortage of tactics floating around the internet. You can probably rattle off a dozen or so right now.
For example, if you indicated email subscribers as your key metric, you might list things like, "host a webinar," "appear on a podcast," or "publish a guest post."
The problem is rarely a lack of ideas. The problem is knowing with certainty what ideas you should focus on RIGHT NOW, and which ones you should ignore.
Step two of the growth engine solves this problem.
It systematically ranks your growth opportunities, so you know with 100% certainty which opportunities are most important and which opportunities can be put off to a later date.
It creates your shortest road to accelerated growth.
How to Evaluate Your Opportunities
I created a shortcut that helps you evaluate your opportunities quickly and effectively. The way it works is, you'll score each opportunity based on a set of criteria I've laid out. The opportunities with the highest score are your best opportunities.
Here's how you do it…
Rate each opportunity from 1-3 for each of the following criteria:
Potential Impact on Revenue ($)
Potential Impact on Key Metrics
Add up each rating for each opportunity, then order the list from highest to lowest. You should end up with something that looks like this:


(Download this spreadsheet as part of The Growth Engine Workbook, right here)
These numbers will be different for every business, and in this example Facebook ads are deemed a better opportunity than YouTube ads.
Ranking your growth opportunities is critical… especially in the early days of a business.
This is exactly why Derek Halpern, in his controversial article, suggested new businesses ignore split testing, in favor of driving traffic and building products.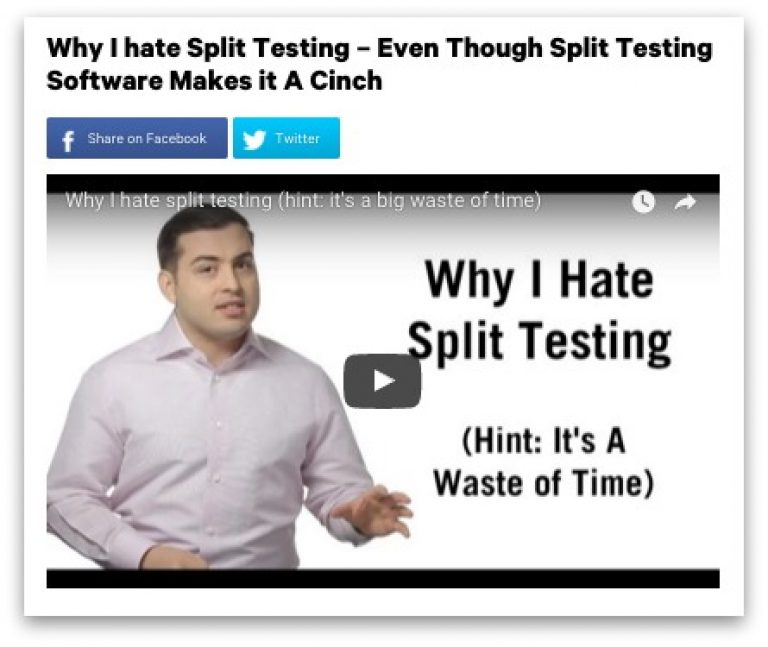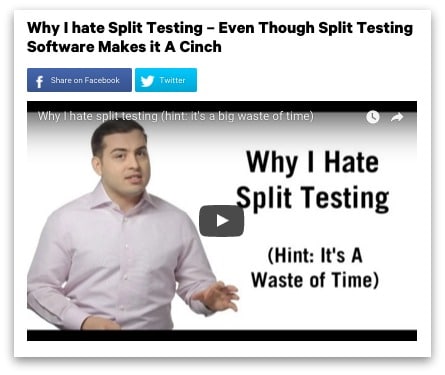 He didn't recommend ignoring split tests because he thinks split tests are useless, he recommended it because traffic and revenue are the PRIORITY in the early stages of a business.
If you don't evaluate your growth opportunities, and focus on what's best, you'll waste precious time and money on things that don't matter.
With your priority list of opportunities, step three becomes critical…
Step Three: Validate
Step three is where the world-class marketers, entrepreneurs and business owners separate themselves from the dreamers, wannabes and posers. The reason is, high-level business minds never invest more than they need to. They only invest large sums of time and money into things that work.
They do that by running tests that are just big enough to matter. Here is a four-step validation process that achieves exactly that:
Design:

What is the smallest experiment you can run to get meaningful feedback?

Implement:

Get to work.

Analyze:

What do the results tell me?

Scale or Bail?

Based on the results, what should I do next?
Keep those answers and everything you learn in a document dedicated to each experiment. Eventually you'll have a first hand knowledge base that fuels intelligent growth.
(Part of The Growth Engine Workbook includes a full-document on how to design tests that get you the feedback you need. Get it free.)
In Summary, The Growth Engine Includes:
Step One: Indicate
Step Two: Evaluate
Step Three: Validate
Simple. And each time you run through it, your business grows stronger (and gets smarter).
Need More Help? Here is a Special Bonus to Speed Up Your Progress
This is the exact process I used to grow my business, it's what I use to help other businesses grow, and it mirrors the process used by some of the fastest growing companies in world.
Now I want to help you put it to work in your business, so I put together a special workbook you can download for free:
First, you will receive a PDF of the process map that shows exactly what you need to do, step-by-step.

Second, you'll get the exact spreadsheet I use to rank growth opportunities.

Third, you'll get a list of five hot growth opportunities for this year.

Fourth, you'll get my "Speed to Validation" checklist that accelerates your experiments.

Last, you'll receive my 4-part growth engine email series that shows you:

The #1 key to accelerate growth (at any stage)

How to uncover your best growth opportunities

Behind the scenes of a growth process that 3x revenue

The top 5 tools you need for accelerated growth
For free instant access to the workbook, enter your email here.