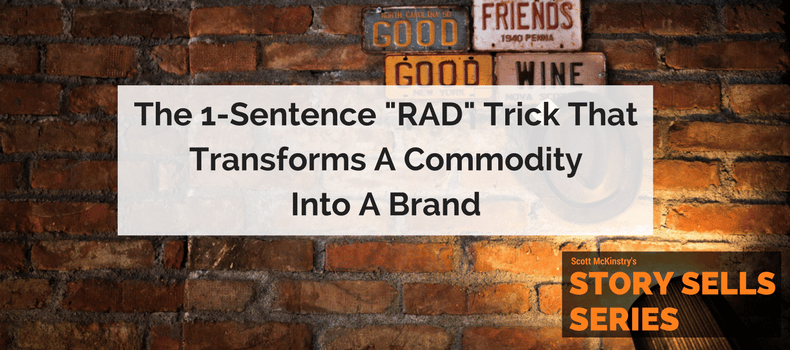 We live in the age of Branded Characters.
Leave no lunchbox unclaimed by a caped crusader or a spiffy cartoon.
Thank goodness. Who wants a boring blue box when you can have a universe of possibilities unfold every time you reach for a PB&J?
And every single character has a little "TM" next to it. Which means no one else gets to use it.
That's the legal part of having a Brand. The exclusive use of intellectual property.
But — that's not where a brand really begins.
Because no one is going to care about your tatted-up lunchbox unless the characters on it are something special.
That something special is what injects the breath of life into a Brand. I'm talking about the unique combination of storytelling elements like character, image, and plot.
And one of these elements is a One-Sentence "Trick" that we can use in our promotions to transform commodities into brands.
Because commodities sell for peanuts. As Warren Buffet reminds us: "Buy commodities, sell brands."
The one-sentence trick?
The CatchPhrase.
A CatchPhrase instantly tells us something unique about the character who speaks it.
Plus it's appealing and short – and therefore easy to remember.
For example, can you match these CatchPhrases to their characters?
"Up, up, and away!"

"Hi-o, Silver!"

"D'oh!"

"Make it so."

"To Infinity and beyond!"

"Why so serious?"

"It's not easy being green."
(Answers: Superman, The Lone Ranger, Homer Simpson, Jean-Luc Picard, Buzz Lightyear, Heath Ledger's inimitable Joker, and Kermit the Frog.)
Big commercial campaigns use CatchPhrases for their characters, too. Like in the old Verizon campaigns:
"Can You Hear Me Now?"
Unfortunately, Verizon didn't have a true branded character; the actor who made this line famous eventually defected to Sprint.
That branding no-no wasn't lost on the aforementioned billionaire Buffet. His auto insurance company, GEICO, owns an animated Gecko that can never switch clients:
"15 minutes can save 15% or more."
Now, you don't just want any ole' CatchPhrase.
Your product is something special; so your CatchPhrase needs to be special too.
Thus, you need a RAD CatchPhrase.
A RAD Catchphrase has THREE things:
R

emember-able
A single sentence or even one word is best. Like Homer's "D'oh!"
2. Appealing. Funny or fantastic or somewhere in between.
When I hear Homer say "D'oh", I get a smile on my face.
And last, a RAD CatchPhrase …
3. Distills a character into is essence.
Of all the screw-up dads in sitcom land, Homer Simpson has a shot at the title. And "D'oh" sums up his buffoonery.
So give 'er a try. Pull out a sheet of notebook paper and get to noodling and doodling. Write a RAD CatchPhrase for your product, or your character.
Here's one way to get the juices flowing:
Imagine that your Product is a "superhero."
Next, imagine that the "bad guy" (the problem that your product solves) has just attacked the "city" (your customer.)
That's when your Product jumps into action.
What would your Product say? What defiant cry will it utter that will strike terror into the hearts of the bad guy?
Your CatchPhrase signals that the Hero is ready to GO INTO ACTION. To do it's unique thing that changes the world.
Now, even if you don't actually use the CatchPhrase in your advertising, that's okay. Because the act of writing it will help you to hone in on the one special trait your Product can boast.
Think of it as another route to your USP.
The MORAL: Design a "RAD" catchphrase to transform your product into a Brand.