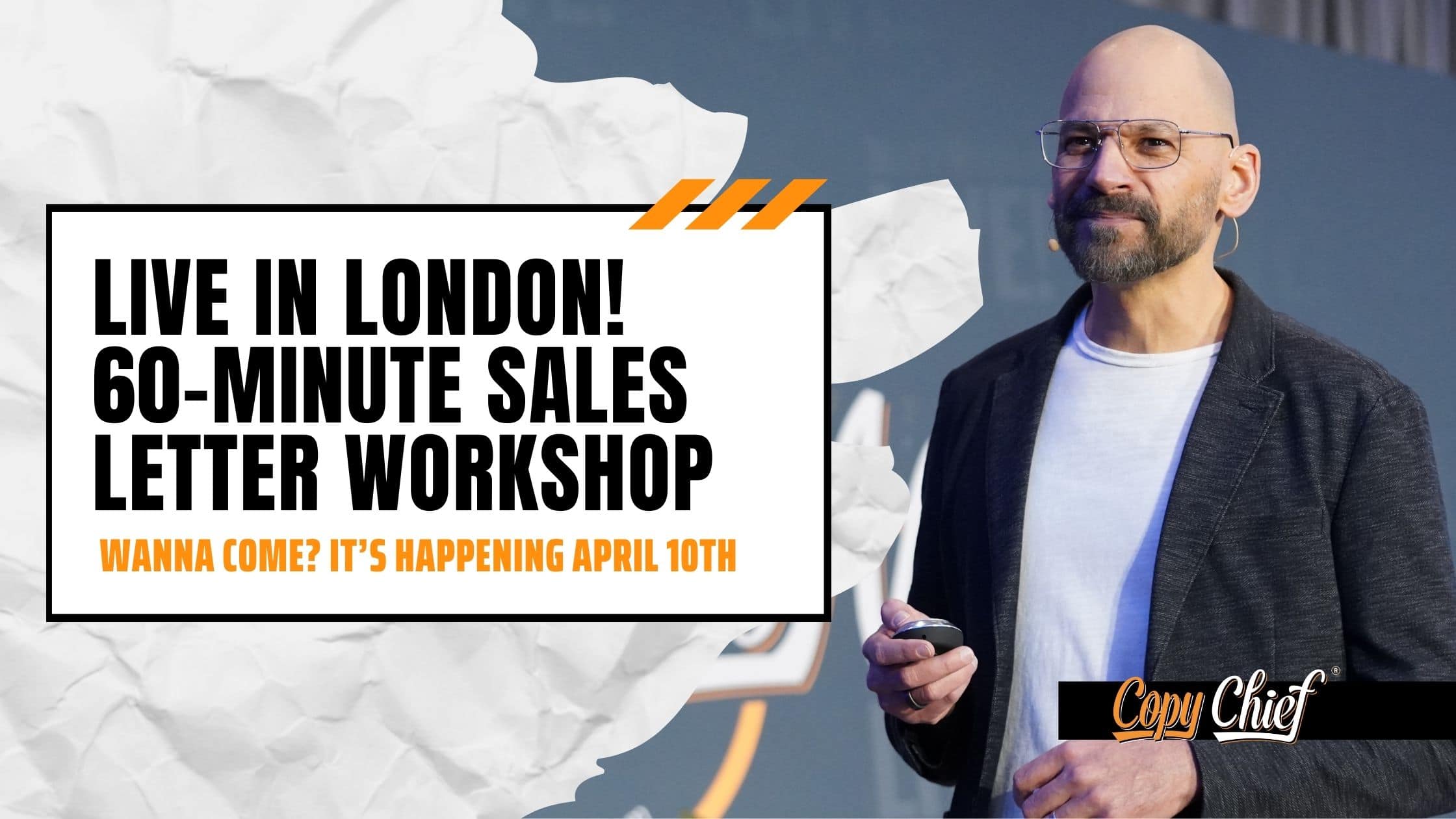 I'm headed to London for the first time next month, and I'm so damn excited that I decided to create a one-day-only COPY CONVERSION OPTIMIZATION WORKSHOP where I will work closely with a select group of marketers and teach them my method for…
Pumping out a proven to convert sales letter in 60 minutes or less.
(This is not swiping, this is YOU creating original copy that covers every critical aspect of a proven sales pitch – just WAY faster than you've ever done it before.)
I invented this system when I was freelancing and churning out entire launch copy packages on tight deadlines, and I've taught it to hundreds since…
But never the way I'm teaching it in London!
Here's the deal:
We'll spend a full day together at a nice conference in downtown London.

Part 1: I'll teach you the 60-Minute Sales Letter system (use it to write any sales copy)
Part 2: You pull up a piece of copy from any project you want to improve, and we check it against the proven system I just gave you.
Part 3: Myself and my special guest Copy Chiefs help you plug any holes in your copy.

We'll even have time for a nice lunch and an open q&a session. 
You'll leave the workshop knowing exactly where to optimize your copy, which means, if you have a live campaign, you could be increasing your conversions (and multiplying your investment) before you even leave the room.
All for less than you'd pay one for an amateur copywriter to write one piece of copy.
This is going to be a one-of-a-kind copywriting workshop, and the select few people in the room are going to have a permanent marketing advantage from that day on. 
I'm incredibly stoked to lead this workshop. It's going to be legendary.
Are you in?
Here's what to do: 
URGENT: Reserve your spot TODAY at copychief.com/london
Seats are limited due to the hands-on nature of the workshop.
Look for the welcome email with more details about times and location.

 
We'll be announcing more cool surprises, including special guests, as the event gets closer.
If you're able to make it in, I'm very excited to work with you in London.
See you there!


Questions? Email [email protected] and ask.