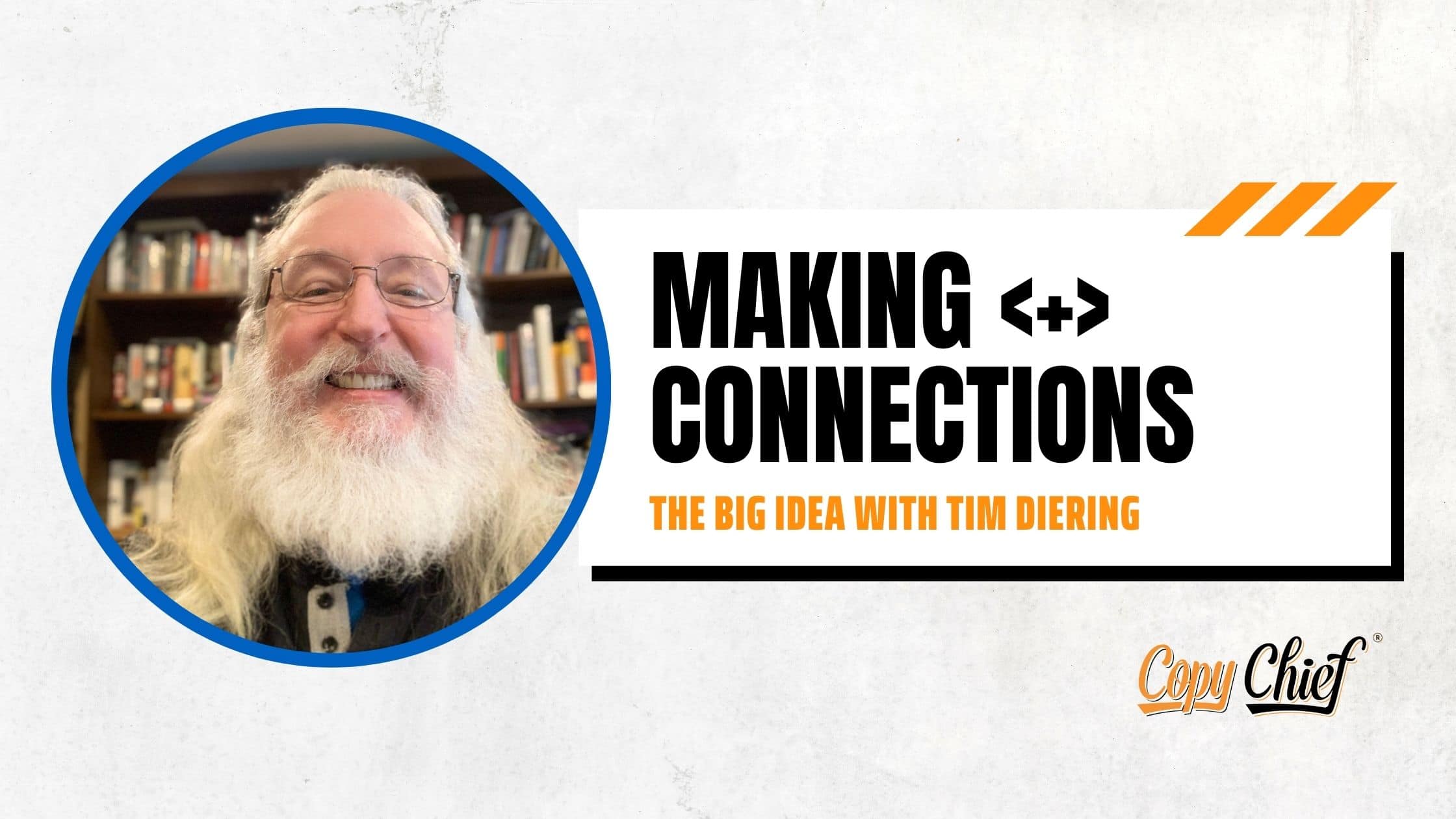 Later today (12:00 ET) my friend Tim Diering is teaching his unique system for harvesting Big Ideas in sales copy. 
Tim is not a "guru", except to his clients, which are billion-dollar publishers in the most competitive niches. 
So, I can promise that today's training from Tim will be unlike any you've seen before. 
It's all about making connections, and exactly HOW to USE THEM – and WHERE to USE THEM in your copy. 
Game-changing stuff.
(Tim's training is only for members of Copy Chief, so if you're not in yet, now is the time. Click here to get all the deets. I will be there taking copious notes.)
One of the great joys of being a copywriter is how the art of writing copy mirrors life.
This week I got to spend two days hanging out with a couple of hundred copywriters here in Tampa Bay. 
It was a blast and I made so many great connections with people.
Some I met for the first time (like Angelo from Italy, who now feels like a long-lost brother to me after one conversation over dinner.)
Some I'm seeing for the first time in years (like my friend Ian Stanley, who I mentored early in his career with both business and stand-up. We jumped right back into making hilarious sketch videos together at the event.)
And some I work with every day and cherish times when we get to hang out together in real life (like my amazing Integrator, Rachel Mazza, who is equal parts brilliant and fun as hell to be around.)
Making people connections and idea connections are both incredibly powerful for a copywriter. 
Idea connections lead to the "Eureka!" moments that fuel epic promos.
People connections lead to relationships that can instantly alter the direction of your business – in the best ways possible. 
If you practice both of these with purpose, there's almost no way to fail as a copywriter. (Unless you're like a horrible person or something… which I'm pretty sure you're not.)
So, if you're looking for a way to simplify this whole copywriting thing… PEOPLE and IDEAS!
Easy.
We've got lots of both for you today on the B*I*G (Big Idea Generator) training with Tim Diering. 
Don't miss this one!
And please hit me up and say hello in the chat!