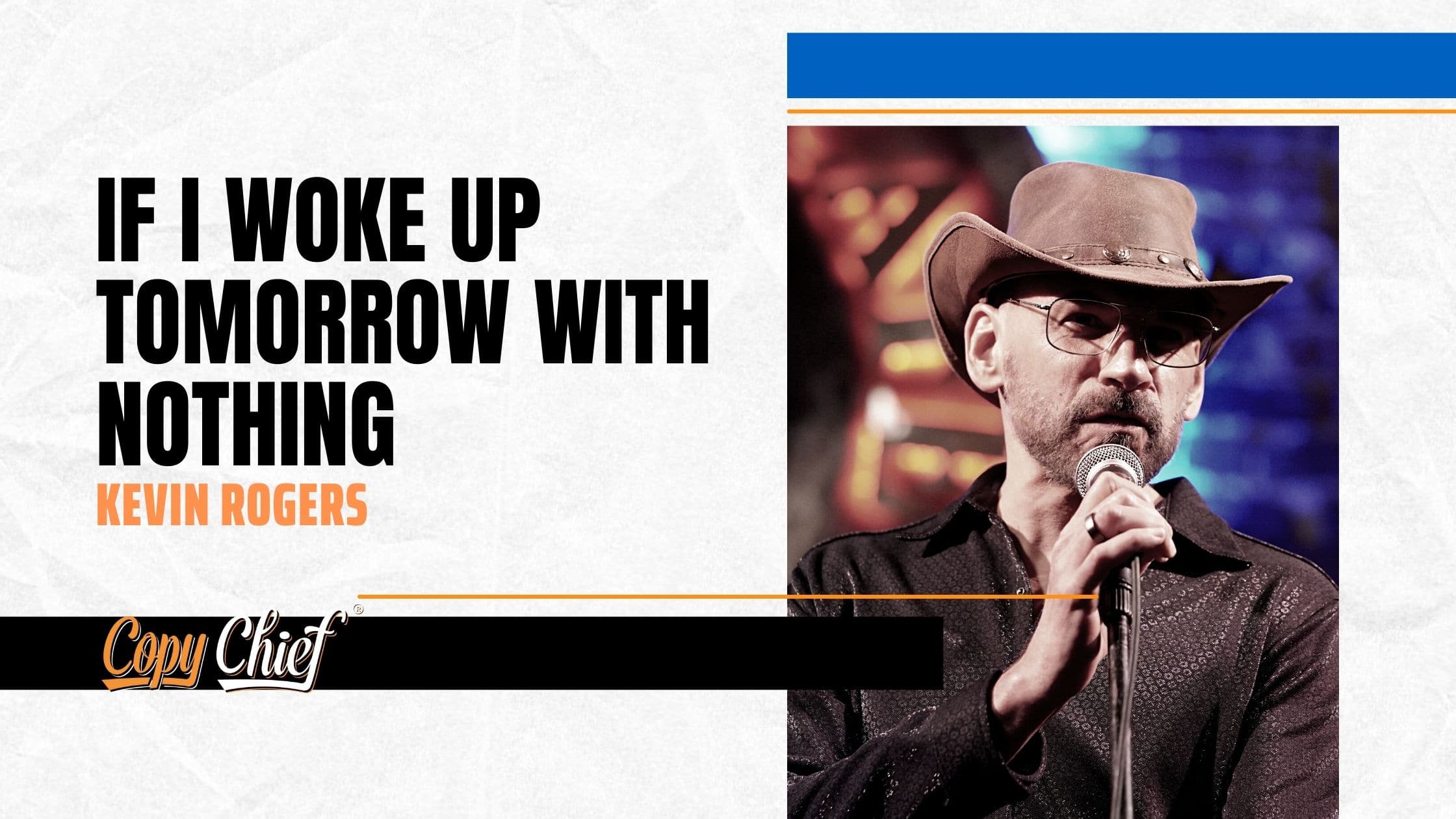 It's a really good question:
"Hey Kevin, if you woke up tomorrow with nothing; no contacts, no experience, no idea how to get paid for writing copy… what would you do to kickstart your career?"
I always like this question because it forces me to think back to when I still wore hair on my head instead of my chin (weird, right?)… 
… remember total newbie Kevin's mindset and ask…
… "would I take my own advice?"
That dude was on fire to get his career going as a copywriter, as I know you are today. 
Truth is there are several ways I coach freelancers to kickstart your copywriting career. It depends what kind of career you want, and which path you see yourself on. 

For the sake of the exercise though, I'll choose one path today and lay it out in detail.
Here's one specific plan I would use to get money coming in and some experience under my belt if I was starting from scratch today as a Path 1 ("All Around") Freelancer…
Identify the most

active markets in need of copy

and hiring copywriters.

Target the companies I like best in that niche and

get on their lists

.

Spend an hour a day for one week reading and

analyzing their sales funnels

.

"Research backward" and learn what I can about their

products, their competitors, their customer avatar

. 

Choose

one specific copy asset

they're using and focus my energy at getting good at just that. (Let's choose email for example)

Begin

writing my own versions

of the emails in a recent funnel – one per day. 

Do this every day until my versions read

as good as the ones they're sending

.

Take the best of my emails and

create a portfolio

. 

Contact the company

I've been studying, show them examples of my work, and ask if they are looking to improve their email copy.

Contact their competitors

and ask the same. 

Send the "yeses" my portfolio

with an honest cover letter about who I am, why I love copywriting, and why I admire their products and marketing approach.

Make them a "no brainer" offer for the first project. 


This entire process, followed closely, could potentially
land you a gig in about a month. 

If you didn't strike gold right away but kept at it for another month — reaching out to more companies — your likelihood of success increases exponentially. 
That's the EXTERNAL value of this plan.

>>> However, there's something even better going on INTERNALLY with this…
+ Instead of jumping around from thing to thing getting nowhere fast, you are making fast progress on developing an in-demand money skill…
+ Instead of waiting around for an opportunity to come your way, you are creating momentum (the right prospects will respond to your momentum as much as skill or experience)…
+ Instead of skimming the surface of your craft, you are immersing yourself in it…
+ Instead of reading and hand copying other people's ads, you are discovering yourself as a copywriter…
+ Instead of competing on price with freelancers around the world, you are discovering how to develop relationships where you are the prize your clients seek, and price becomes secondary…
+ Instead of publicly begging to get hired in social media groups, you are confidently conducting private conversations with clients you feel qualified to help…
+  Instead of wondering when to start your career, and hoping clients will hire you, you are deciding that now is the time!
Would hair-headed, super noob Kevin have known that momentum and enthusiasm would be the hidden secrets to starting a new freelance career? 
He would not. 
But it certainly is, and continues to be 15 years later.
So, no matter which path you're on… and what kind of markets you are instinctively drawn to…
Start with deciding what YOU like to write about, then immerse yourself in it, develop your own versions of the assets you see your best prospects using, and create proactive momentum. 
Do this and my money will be on you against any other freelancer out there.
If you want more actionable tactics for launching (or re-launching) your freelance career, check out Escape Velocity!
I'm rooting for you, always.


---
P.S. Ready for more? Here are 3 ways we can go deeper…
 
Tap into the #1 copywriting community and jobs board.
Copy Chief has everything you need to sharpen your chops as a copywriter and build your freelance business – including the #1 jobs board in the industry.




Learn how to level-up your freelance business quickly.


Simply reply to this email to ask our Freelance Coaches any question you'd like about launching or growing your business. (These are real coaches, not sales people in disguise.)





You can also

click here to learn which of the 7 "Freelancing Phases" your business is in now.

You'll get the clarity you need to avoid getting distracted, so you can stop "winging it" and focus on the crucial "right now" problems to move your business forward.




Listen to the Copy Chief Radio podcast.

Every week we release a fresh new conversation with the top producers and change-makers in the world of marketing, copywriting, and business.