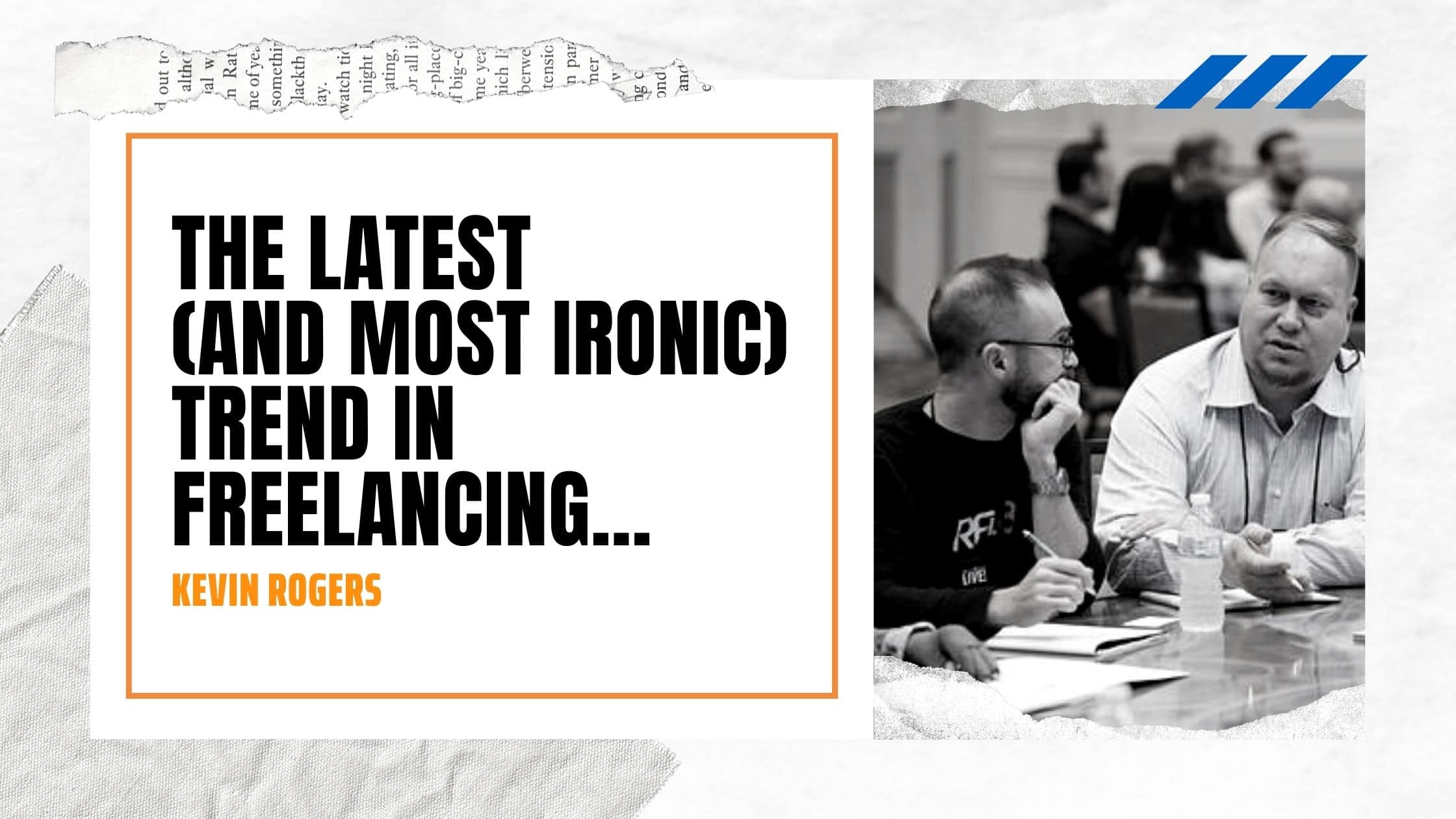 I just finished a call with one of the most in-demand freelancer's I coach…
He's got a lot going on. 
Full roster of well-known clients where he primarily consults on, rather than writes, their ads. 
A suite of training products he sells consistently for thousands in passive monthly income. 
Paid workshops that fill to capacity every time he holds them.
A reputation as the best in his field among the biggest players in the industry. 
And the thing that has him most excited right now?
Accepting an offer to go full-time as a marketing growth leader with one company. 
Seems weird, doesn't it? 
I mean, most freelancer's dream of accomplishing all this over their entire career, and here he is committing all of his time to ONE SINGLE CLIENT? 
What a waste!
Or is it? 
While it looks counter-productive on paper, accepting full-time work is actually quite common among high-performing freelancers. 


That's because, when you do it with the right company, the benefits are massive. 
Needless to say, above all, the offer has to meet your financial needs.
In the case of this latest example with my coaching student, they made an offer that exceeds his base client revenue for the previous year. 
Which means, he can go "all in" with this one client, for 6 months to a year or longer, and win back all the time and energy that closing deals and onboarding new clients takes now. 
As importantly, he will be learning next-level skills that being only part of a great team deliver. He'll be able to focus on his #1 "money skill" and get deep insights to all the other aspects of growing an innovative SaaS business in a competitive market.
Best of all, he will continue to grow his list and sell his existing products… and even create new offers using the knowledge he'll be gaining every day on the "job". 
This opportunity also happens to fit perfectly into the changing demands of his personal life right now, so it's a major win, seemingly from "out of the blue."
Of course, when you're following a game plan like you get in Escape Velocity, none of this happens by mistake. 
It's all by design. 
All you have to do is continue learning, growing, delivering, and "showing your work".
Do those 4 things and the golden opportunities will come to you. 
If you'd like to have a game plan like this guiding your freelance business, check out the brand new "at home" version of Escape Velocity.

It's the go at your own pace game plan that will shape your career for good.
Rooting for you always.
---
P.S. Ready for more? Here are 3 ways we can go deeper…
 
Tap into the #1 copywriting community and jobs board.
Copy Chief has everything you need to sharpen your chops as a copywriter and build your freelance business – including the #1 jobs board in the industry.




Learn how to level-up your freelance business quickly.


Simply reply to this email to ask our Freelance Coaches any question you'd like about launching or growing your business. (These are real coaches, not sales people in disguise.)





You can also

click here to learn which of the 7 "Freelancing Phases" your business is in now.

You'll get the clarity you need to avoid getting distracted, so you can stop "winging it" and focus on the crucial "right now" problems to move your business forward.




Listen to the Copy Chief Radio podcast.

Every week we release a fresh new conversation with the top producers and change-makers in the world of marketing, copywriting, and business.