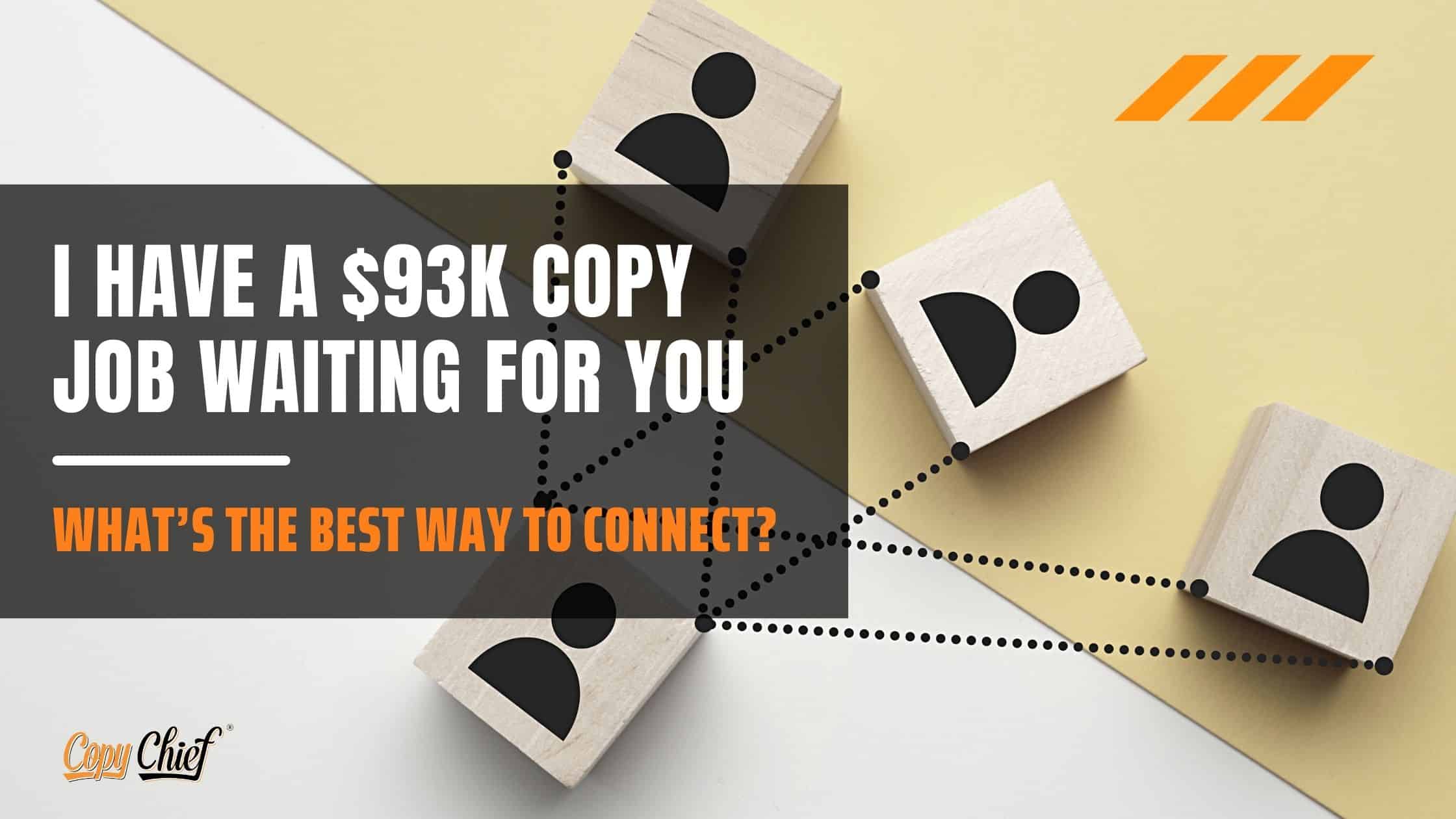 I like to say that "I can trace every dollar I've ever made to a handshake somewhere.
It's true. 
Connections ARE the fastest way to leap a few rungs on the proverbial ladder of success. 
It was that way early in my freelancing career when my friend from comedy, Vin Montello, became my friend in copywriting and helped me land my first paid gig. 
Things really took off when I met and became friends with John Carlton, who was then and will always be, my top inspiration as a copywriter. 
Soon after we met, John actually hired me to coach his program and write copy for the launch. (No pressure!)
I remember when I would show up to conferences back then. Someone would ask what I do. 
I'd say "I'm a copywriter."
They'd give me this dismissive nod. (I always read it as saying "Oh, great, an artist who wants to be a marketer.")
Then I'd say, "I work with John Carlton."
Their expression would shift in an instant. Eyebrows raised. Sizing me up in a new light. And then… 
"Oh, wow."
Usually followed by, "We should talk."
As if I'd flashed my badge to the cop protecting the crime scene and they raised the rope to let me through. 
John had a saying about how the process of becoming an in-demand copywriter works:
Get good, get connected, get paid. 
It really is that simple.
But you have to do the first two, in order to get to the money. 
The writers I work with in my Accelerator coaching group are good when they come in. 
Otherwise, they wouldn't be investing in the program.
We help them get even better by embracing a specialty that we know is in demand with our clients. 
Then we get them connected, so they can get paid better than they've ever been paid before. 
Not by "hustling" harder and stretching the truth about their abilities. (As so many teach these days.)
By "having the goods" (as John says) and using my credentials to raise the rope for them.
This is the easy part for me because I've been in this game for nearly twenty years. 
I've done a lot of projects with a lot of great people. 
I've invested hundreds of thousands in masterminds and spoken to the highest-level groups out there.
Every good marketing company needs good copywriters. 
They don't look for them on Facebook.
Not more than once, anyway. 
They come to me and Copy Chief because we've built a reputation for quality. 
And we demand the same from them.
I never recruit for a company without vetting them first. 
Do they understand the craft and appreciate good talent?
Do they foster a culture of support and open communication with their writers?
Do they swear on their lives to never ghost a writer I send them?
There's a price for quality, and it begins with respect. 
So, it's not rare for a member of my Accelerator group (not to be confused with any other program of the same name) to get a message with the subject line I used in today's email. 
The companies who come to us are serious about their marketing. 
They respect the craft and they respect the writer. 
When you have that, good money is the easy part. 
If you've been standing on the outskirts of the action as a copywriter, and believe you're better than that, then we should talk. 
I've opened up a handful of spots to my Accelerator coaching program.
I work with copywriters in six-month sprints and, if qualified, will happily guarantee their success in bettering their best month ever in earnings.
And making that your new standard. 
Needless to say, I'm picky about who gets in. 
Reputation is everything in business.
So, if you know you've got the goods, and the only thing holding you back is honing your skills that lead to the real money – and the connections to landing the gig. 
I invite you to book a call with me, or my coaching success leader, Lolita, by filling out this short application. 
Earning my badge took years of "stalking" Carton's work, and earning his mentorship.
All you have to do is fill this out and we'll book a chat.
Think about it, then do it.