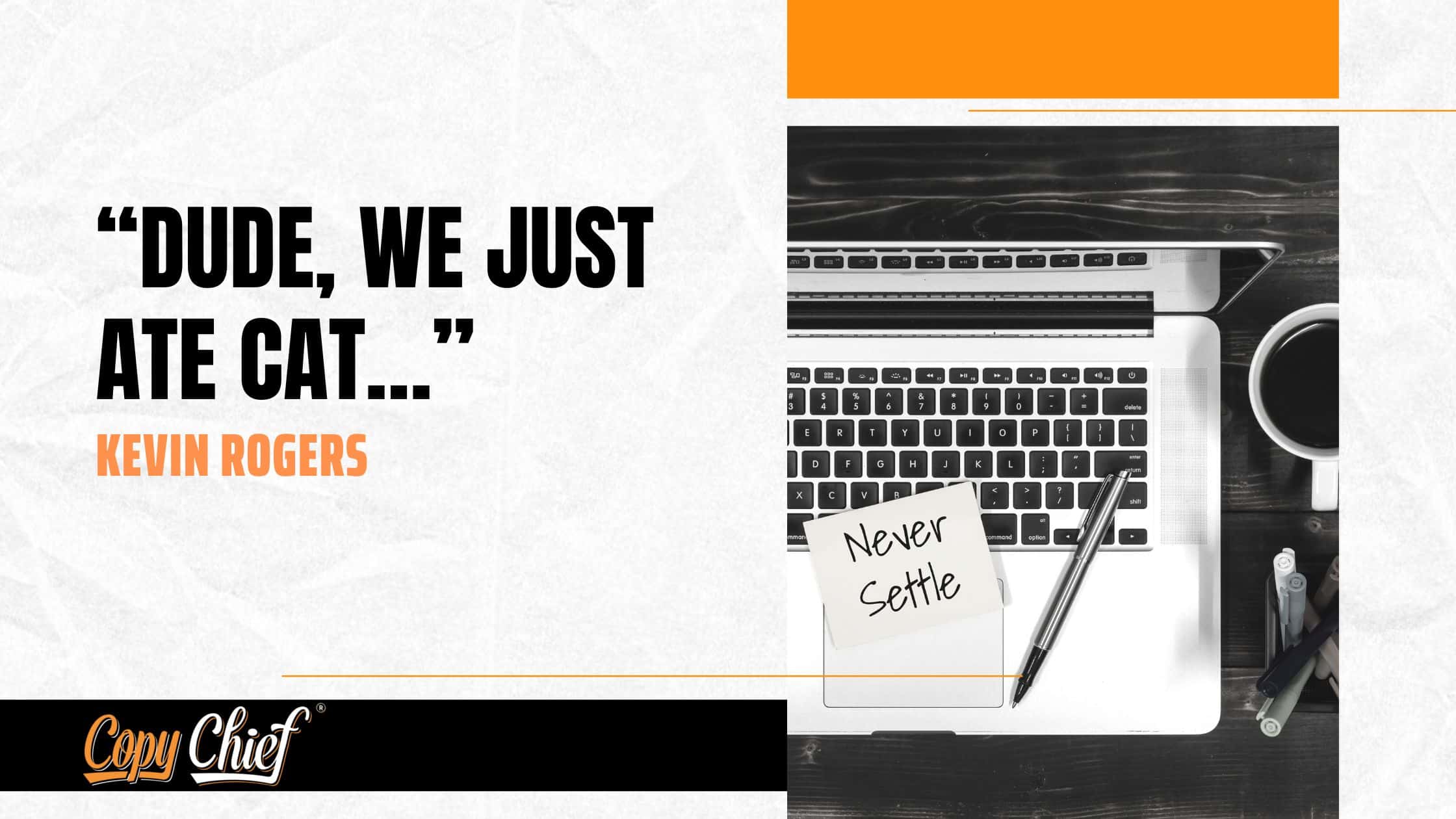 My friend Billy and I pooled our money and counted it up…
Exactly six dollars and fifty-eight cents between us for lunch, and that was it.
I don't remember where the next money was coming from, or even where we were headed next, but I remember that exact amount because we were damn hungry and wanted to make it count.
The Chicago suburbs are packed with strip mall diners with cheap menus and tasty sandwiches.
We chose one with the promise of both "cheap and delicious" painted on the window and ordered one "beef" sandwich and two "cups of water".
If you're not familiar with the Chicago Beef sandwich, then go ahead and add it to your food bucket list right now. Shaved roast beef, piled high into a special kind of bread that only exists in Chi-town, cheese optional, then loaded with giardiniera peppers and dipped in au jus.
Damn, I can taste it now. Biting into a "beef" is a special thing. Steam dancing off the top, juice dripping down your chin, that burst of pepper heat… just pray your doctor doesn't walk through the door.
But if she did, she'd likely wink and then order her own. Because if you live in Chicago, once in a while you just need to go get a beef.
So, there was Billy and me. Two broke-ass stand-up comics, young twenties, both headed out on the road separately towards our next gigs. Enough gas in our respective tanks to reach the club on fumes so we could tell our jokes, collect our pay and coast on through for another week.
We were best friends. This meal would be the last we shared until our paths and our calendars lined up again. Road dogs out road doggin'.
Some comics live their entire lives this way; just getting through to another week.
It's easy to fall into the trap because the first time a club owner offers you real cash money to tell your jokes, it feels like you're getting away with the crime of the century. And if things go well you get booked back. Then into more clubs. And before you know it, you're making your living full-time as a comedian. A strange and beautiful privilege.
At that point, all you want is for it to never end.
Your focus tends to surround a lot of "at least" scenarios.
If I can at least make a full-time living from stand-up, I'll never have to take a "real job" again…
If I can at least get in with Tony Clubbooker and get onto that other circuit…
If I can at least start headlining half my dates…
If I can at least get that agent to watch my tape, or hear my pitch, or get invited to read for that part…
If I can at least get 100,000 subscribers on YouTube I can book my own gigs…
On and on it goes.
Rarely do you meet comics with a true VISION for what they want from their career, let alone a plan to go get it?
God knows, I never had one. In my twenties, I was the poster child for at least.
Billy, however, was different.
Maybe it's because he was still a teenager when his parents split and elected himself guardian and caretaker for his younger brother and sister.
Maybe it was because when he was stealing scenes in High School theater a few adults he trusted told him he had something special.
Maybe some people just have an extra dash of faith than most of us?
Whatever it was, not long after that day at the strip mall diner where we spent our last $6.58 splitting a sandwich that was not at all like a delicious Chicago Beef… but instead tasted like what we were convinced had to be "cat"…
Billy landed a manager and made a vow never to accept at least again.
Starting with never again accepting any club work other than a headlining spot.
Then he made plans to move to Los Angeles and begin auditioning for roles. And when he showed up for those auditions, the only 300-pound guy amidst handsome Hollywood types for the same role…
He never said, well, "at least" I showed up.
Instead, he read the part his way, and he poured on the charm — making fast friends with the casting directors so that when they actually needed a 300lb guy he'd be the first one they called.
It paid off.
Running on blind faith, confidence in his calling, and never accepting at least as an acceptable outcome, Billy "made it" in show business.
First is "that guy" you see on TV all the time but don't know his name. Then, the big one; playing the lead in the show Mike & Molly opposite Melissa McCarthy. Six seasons and over 100 episodes — a rare feat for any modern television show.
And now with another successful sitcom, recently renewed for a fourth season – "Bob ♥️'s Abishola" on CBS.
I could go on for pages about how amazing Billy's life and career have been, and continue to be. We're still great friends and when we spoke today, he told me, "I got just famous enough" to have the life he's abundantly grateful for, and suits him perfectly.
We still laugh about blowing our last pennies in that nasty diner that day.
And it still blows our minds that two young know-nothing comics now have the lives we do, with happy families, healthy relationships, and much better food options.
What strikes me looking back, is how little we actually have any control over our lives.
I have the privilege of talking with all the members who join my copywriting community (Copy Chief) and I hear all kinds of fascinating stories.
Some are just beginning their first journey into their careers, others are starting over after ending long ones… with lots of scenarios in between.
The paths they take from here will look very different. They all have access to the resources they need to succeed. However, the one thing that will determine how quickly they find their version of success is vowing never to settle for at least.
No matter where your path is headed, you should consider the phrase.
Listen for it slipping off your tongue, or flying from the tongues of others. Then avoid it. Both saying it, and hearing it.
It's the simplest change that leads to the craziest results.
---
The #1 way to achieve freedom and leverage in your copy career?
Get good, then get CONNECTED, to get paid.

Connections are the fastest way to leap a few rungs on the proverbial ladder of success.
The writers I work with in my Accelerator coaching group are good when they come in.
We help them get even better by embracing a specialty that we know is in demand with our clients…Then we get them connected, so they can get paid better than they've ever been paid before.
Not by "hustling" harder and stretching the truth about their abilities. (As so many teach these days.) – but by "having the goods" (as John Carlton says) and using my credentials to raise the rope for them. (This is the easy part for me because I've been in this game for nearly twenty years.)
I work with copywriters in six-month sprints and, if qualified, I will happily guarantee their success in bettering their best month ever in earnings.
If you've been standing on the outskirts of the action as a copywriter, and believe you're better than that, then we should talk.

I invite you to book a call with me, or my coaching success leader, Lolita, by filling out this short application.
Click here to tell me more about where you currently are in your freelance journey.