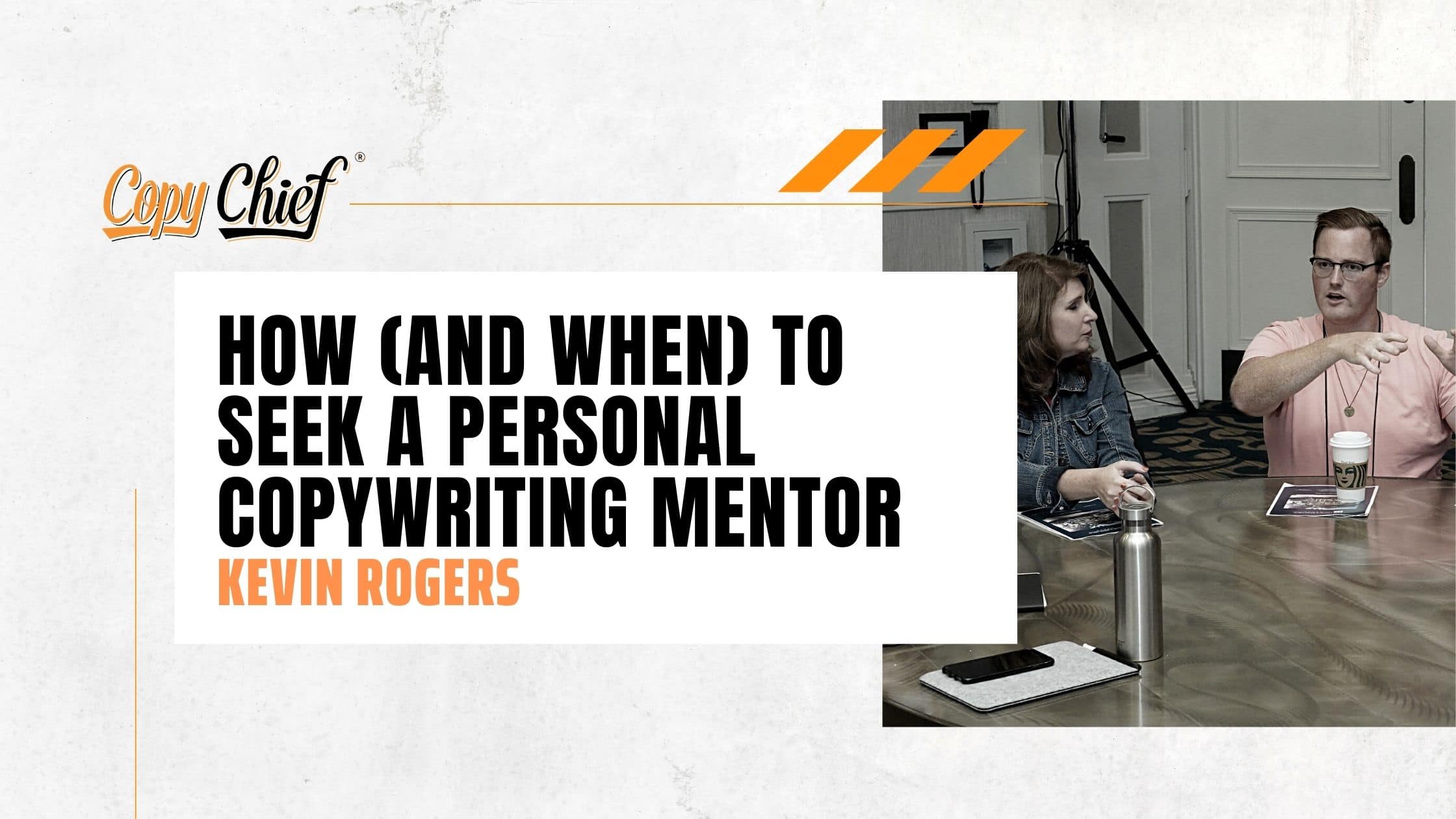 A member of Copy Chief posted a thread this week to say that they were feeling frustrated and overwhelmed.
They didn't understand why copywriting seemed to come easily to others, but felt like a cold slog through thick mud for them. 
They said they watch copy trainings but struggle to retain the information, and lack the confidence to put it into action. 
"So," they wanted to know…
"how can I hire a mentor to guide me?"


Below is my full response. 
If you've ever struggled with these same feelings, I hope you find it useful.
_______________________________

Begin response:

Hi [member's name] appreciate your openness to help, and your vulnerability. 
Copywriting can be hard, no doubt about it. If it were easy there'd be a lot less pride in the field. 
Mentoring is essential. I don't know any worthy copywriter who can't list their mentors for you. 
However, the way you're stating your question concerns me…
How can I hire a great mentor to guide me?
Stated in those terms, the question indicates to me that you want someone to come along with their magic mentor wand and erase all the difficult work of getting good. 
It also assumes that "great mentors" have only a fee as their criteria for accepting a mentee. 
Truth is, the great mentors I've had and others I know well, have an extremely high bar of entry to becoming their student. 
Among the things they'll want to see is MOMENTUM. 


Momentum you've created for yourself by practicing your ass off, studying controls inside and out, and being in the general pursuit of knowledge and ability every day, because you couldn't stop yourself if you tried. 
Now look. My goal is not to make you feel worse or "tough talk" you into working harder. And I'll get to some actionable suggestions for you in a second here… but let me say this…
If you're genuinely struggling to make sense of the trainings then you may have an undiagnosed learning challenge. Again, that's not said with even a hint of sarcasm. People go their entire lives struggling to learn in ways that just don't work for them. I've dealt with it, I see my kids deal with it. It's real and it's very frustrating to feel like the whole word finds these things "easy" when you essentially hear it in a foreign language. So, the first thing is to diagnose how you learn best and adjust your learning style to a modality more effective for you.
For instance, some people find it difficult to stay focused while watching video, but listening to audio while walking helps to keep their mind from wandering. Other people transcribe lessons and read it through with a highlighter, then revisit it several times until the key lessons stick. 
I have mixed feelings about the practice of hand copying sales letters, but one thing about it, it forces you to pay attention to the work you're repeating. In the right student that alone can lead to breakthroughs.
So…

Step 1 is to find the process that allows you to READ good copy, and APPLY the lessons into your own PRACTICE.
Step 2 is to remember that, in the beginning, it is just practice.  
I notice from your posts that you're very hard on yourself. That's going to make learning more difficult. The very first piece of copy I ever wrote was the one I enjoyed the most because I was mocking the craft to make a friend laugh (he became my first copy mentor). It wasn't until he read it and told me that it was actually quite good (and that copywriters can make a lot of money) that I started taking it seriously, and then guess what… it suddenly seemed really difficult.  
Step 3 is to RELAX and try to have a little fun with copywriting. The work we do requires that you take the outcomes seriously, but if you're all tensed up when you're writing you'll never produce your best work. Ever notice how Eddie Van Halen smiled when he played guitar? Technically he was doing "impossible" things, but internally he was doing the thing that brought him joy, and so it felt almost effortless. 
Step 4 is to WRITE something every day. Bullets are a good thing to keep practicing. I see @David gave you some good tips in the other thread. Here is a great article from one of our longtime members who used to write for me with more bullet formulas – https://copychief.com/bullets/
We also have our Bullet The Podcast series where you can see hundreds of bullets from your fellow chiefs and my commentary (as well as other top copywriters) on how to improve them. 
I suggest focusing on the Money Skills, the shorter copy that clients tend to hire out most like Email and Facebook Ads. Write 60-Second Sales Hooks for products you already own and love. 
Just write. And try to enjoy the process. 


Do this for a month, or two months and I promise things will start to click.
And through the process of doing this work, and discovering yourself as a copywriter, you'll begin asking different questions… 
Less about, "Why is this so hard?" and "How do I hire a mentor?" but instead, nuanced questions about why certain greats make the choices they do and why certain ads failed while others succeeded. Those are the types of questions that show you're creating MOMENTUM. 
And then a great mentor will be more likely to take you on. 
Because, while you'll find plenty of people willing to take your money and call it mentoring, no one but you can put in the work, and feel the excitement of breaking through the mental barriers standing in your way.
You can do it.
We're here with you.   
_______________________________
If you want this kind of personal help from me and an entire community of working pro copywriters, plus the full suite of training and templates to help you get good and get paid, then come join us at copychief.com/join


---
The shiny, new Copy Chief member community and training dashboard is live! If you're already a member, dive in and enjoy. If you're not a member, you can join here.

Whenever you're ready, here are a few other ways I can help…
Become a member of Copy Chief. It's everything you need to sharpen your skills as a copywriter and build your freelance business – all with a killer support system at your back to help you do it. To learn more, check out this page here. 

Mark your spot on the Freelancer's Journey Timeline. Moving forward in your freelance business starts with identifying where you are right now.  Go here to see the full Freelancer's Journey Timeline and mark your spot. 

Find out what the best in the business do differently with the Copy Chief Radio podcast. Every week we release a fresh new conversation with the top producers and change-makers in the world of marketing, copywriting, and business. Tapping into their minds won't cost you a thang – listen here.