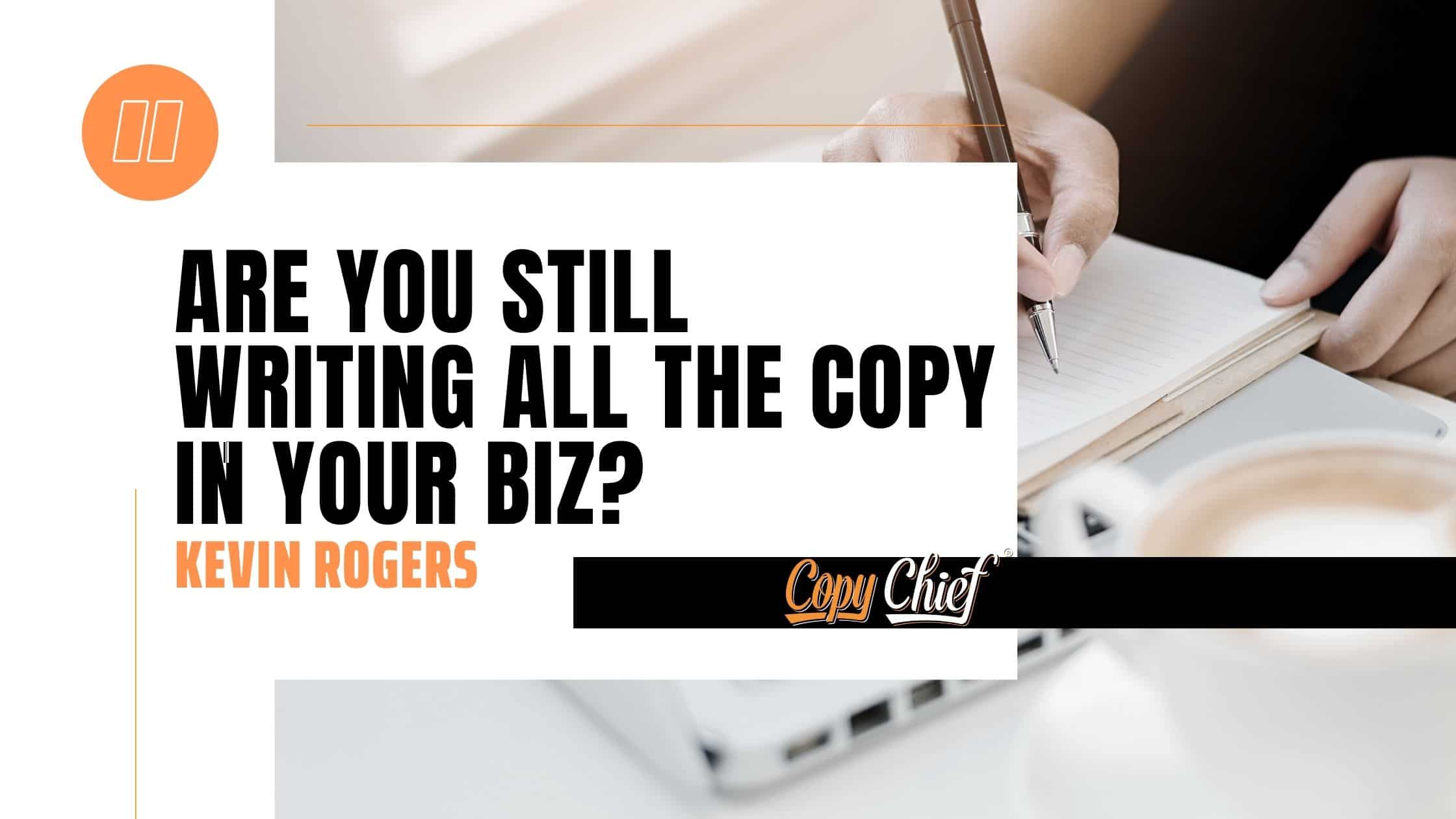 I strongly believe every business owner should be their own first copywriter. 
No one else has the passion for the product, the market, or understands WHY you created a solution to a problem, like you do. 
But, at some point, it's time to bring in a pro to take the writing of copy off your plate, and to the next level. 


In 99+% of scenarios, the CEO is too busy with tasks more relevant to growth to sit and write the copy. 
(I'd have said 100% if I wasn't sitting here writing this to you right now :))
But, letting go of the copy is very difficult. 
I get it. 
I actually hired out the writing of the copy in my own copywriting biz for a time. 
And it was NOT a fail.
I worked with some very talented writers to create a voice that wasn't exactly mine, but, in some instances was better than mine might've been. 
Sales never slowed. 
But, I missed the feeling of being connected. 
Especially with writing emails. 
Today, it's the
best of both worlds
. 


I still have a direct line to you through emails, which is – by far – the most intimate form of copywriting…
AND I get to collaborate on (i.e. "chief") the bigger campaign pieces with my team of brilliant copywriters like Rachel Mazza, Mike Rinard, and Max Hamm.
So, if you're a CEO who's still clinging on to the copywriting in your business because you're the only one you trust to write it. 
Or maybe you've tried to hire a copywriter and they came up short.
I feel your angst over it. 
Good news is, you can have the best of both worlds…
A copywriter who represents YOUR VOICE and YOUR INTEGRITY just as much as you do, who you can guide through the process – without having to do all the work yourself.
You might be shocked to discover how much better the copy can be through the power of collaboration with inspired, creative pros who're obsessed on RESULTS. 
Not to mention, not having to meet your own difficult deadlines all the time (you tyrant! 🙂
Start here with our special limited membership for business owners looking to hire a Copy Chief Copywriter.
We'll ask you a few strategic questions about what you need written, what's most important to you in a copywriter, and some details about your project timelines… 
… then instantly connect you with our network of brilliant, and super-cool-to-work-with copywriters. 
It's only 1/10 of the price of a full membership – check it out now.
---
The shiny, new Copy Chief member community and training dashboard is live! If you're already a member, dive in and enjoy. If you're not a member, you can join here.

Whenever you're ready, here are a few other ways I can help…
Become a member of Copy Chief. It's everything you need to sharpen your skills as a copywriter and build your freelance business – all with a killer support system at your back to help you do it. To learn more, check out this page here. 

Mark your spot on the Freelancer's Journey Timeline. Moving forward in your freelance business starts with identifying where you are right now.  Go here to see the full Freelancer's Journey Timeline and mark your spot. 

Find out what the best in the business do differently with the Copy Chief Radio podcast. Every week we release a fresh new conversation with the top producers and change-makers in the world of marketing, copywriting, and business. Tapping into their minds won't cost you a thang – listen here.