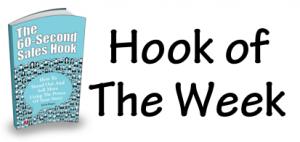 Hey, Kev here, with another fantastic Hook of the Week to delight and inspire your own 60-Second Sales Hook writing.
This one is submitted by Brenda S, who did something really cool that shows the diversity of the hook formula.
One of Brenda's superpowers is  helping job seekers optimize their resume so they stand out from the giant stack, get read and land the interview.
If you've applied for a job – ever, or even more recently than that – you know that your audition really begin and ends with your resume's cover letter. In order to even get your resume read, your cover letter needs to (tell me if this sounds familiar)…
Get Attention, Make A Connection and Inspire Action.
Hmm… sounds like a perfect job for the KLT hook formula.
Check out how Brenda masterfully wove the 60SSH into this cover letter. I particularly love the confident tone combined with the conversational style. Lots to be gleaned here.
Mucho gratis for submitting it Branda, you are a true 60-Second Superstar.
Check it out…
(Hybrid cover letter/resume. Longer identity because I had to establish more of her background.)
IDENTITY:
My name is Joyce, and I'm a lead generation consultant from San Jose. I'm applying for the Digital Marketing Manager position with your company.
Although I majored in marketing at Stanford, for years I was a Staffing Manager for early stage technology startups like Yahoo, SGI and Netscape. (If you're wondering what this has to do with marketing, read on.) The startup world requires an "all hands on deck" attitude and I often cross-trained marketing communications, product launches, trade show organization and writing marketing collateral.
Ten years later I launched an executive staffing company. The first thing I did was create a newsletter targeting 10 local companies I wanted to work for. Two of them hired me right away. For 8 years I used newsletters as a primary source of new clients and reactivating old ones. Even though I started taking a couple of months off my personal billings were never under $200K a year.
STRUGGLE:
Then the dot com bubble burst, companies started downsizing and stopped hiring. I tried reducing my fees just to stay in business but that just didn't feel good to me. Even worse, when I attempted to go back to corporate work I was deemed overqualified and too expensive.
DISCOVERY:
I realized that without some form of marketing nothing gets sold, so I immersed myself in learning everything I didn't already know about marketing, particularly online. Another discovery was the more people know, like and trust you the more sales you will make. I even wrote a book about it: It's Not Who You Know, It's Who Knows You. Turns out that was the key to my previous success at landing regular $60K+ recruiting contracts.
RESULT:
Today I use my decades of real world and online experience to generate highly targeted leads for local businesses. One direct mail piece generated a 17% response rate for a landscape construction client.
Another strategy attracted retailers like Neiman Marcus, Macy's and Nordstrom, putting no-name artisan bakery client on the map. Now they only sell to the affluent customers who expect to pay more. These weren't fluke wins. In fact, I'm confident I can get similar results for you.
To find out whether we are a fit let's set up a time to discuss your opportunity. I'm available next Tuesday afternoon at the number below.
———–
Special Offer: Work with Kevin
Want to spend focused 1-1 time with me to polish up your sales message? click here to schedule an appointment. I'll give you instructions on what to bring to the appointment and then buckle up for an action packed session of  "Oh Wow!" moments.
———