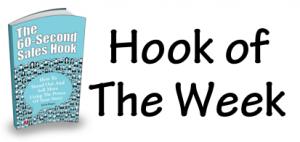 This Hook of the Week is from a real estate agent in Florida.
It's a great an example of how you can use client testimonials to introduce your product on a more personal level. I wrote this for a client who sells a service that allows real estate agents to deliver giant (12" X 15"), beautifully designed postcards to any postal service carrier route for only a buck a card. The service is called Market Dominator.
A testimonial introduction to a is a nice way to get your prospects focused on the benefits of your product, rather than the cost and logistics. Remember that we buy for emotional reasons and then back it up with logic.
Notice how I don't offer a formal report with this one and only allude to the name of the product. All calculated decisions that will present the story in a way that allows the prospect to discover the value on their own. Because that's when they will feel ownership of it.
Check it out, and see if it gets your wheels turning on how you can use your customer's experience to introduce your products or services…
IDENTITY:
Hi, my name is _____________, I'm a luxury real estate agent from Sarasota, Florida.
STRUGGLE:
For years I struggled to get premium listings in the highly-coveted Suncoast waterfront district. I wasted far too much of my time and money chasing leads with marketing tactics that were either long outdated or just too complicated to make work. Despite my dwindling ad budget, constant 12 hour days and relentless pounding of the pavement, I felt virtually invisible to the market I wanted desperately to dominate.
DISCOVERY:
Then I discovered a way that I could make an instant impact simply by showing my face in the one place that homeowners go every day.
RESULT:
By doing this consistently, I very quickly earned the trust of my best prospects and became a bona-fide celebrity in the luxury real estate market. All for far less than it costs to budget a digital ad campaign on overcrowded websites like Facebook or Google.
Today, I'm one of the top agents in the most exclusive neighborhoods of Sarasota, listing homes from one to 15 million dollars. I'm commonly featured as an expert in the local media and I'm recognized by civic and business leaders as the go-to agent in luxury real estate.
The best part is that I never chase dead-end leads anymore… and business is so good that I've begun branching out into new counties with even more lucrative listings. I even ran just one of my dominator ads to the most luxurious neighborhood in America, Park Avenue in NYC and landed a $14 million listing here in Sarasota.
If you'd like to discover how I went from stressed and invisible to feeling blessed and invincible — and how you can do the same for your business — simply enter your name and email and click the button marked "Show me the Dominator" and you'll see exactly how I do it, and how you can follow my blueprint for winning a 20% market share and potentially paying zero cost to advertise.
See you there.
———–
Special Offer: Work with Kevin
Want to spend focused 1-1 time with me to polish up your sales message? click here to schedule an appointment. I'll give you instructions on what to bring to the appointment and then buckle up for an action packed session of  "Oh Wow!" moments.
———