Kevin here with a KLT Hook of the Week sure to become an instant classic.
You don't need to be baked to appreciate this video, but it certainly will help.
OK, since you're asking (I can hear your thoughts), I'll admit that I did a bit of horticultural research back in my days as a stand up comic. In fact here's a picture of me with legendary stoner comic, Tommy Chong circa 1991.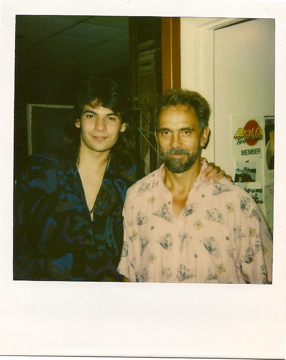 I was the opening act in his very first solo performance (sans Cheech) and it was a 19-yr-old retro-hippie's dream come true. My act was custom made to compliment Chong's audience. I was still green as a comic, but then again, my material was mostly about green, so it killed with Chong's crowds. Tommy was very kind to me, insisting I sit next to him and sign autographs after the show. What a gas.
Anyhow, one day herb just turned on me. Heart palpitations and paranoia became the norm and I gave it up for good. Lifers hate to hear that, insisting that there's "all kinds" of new flavors that are guaranteed not to cause any ill side-effects, but I'm good. For now at least. Although it would make watching cartoons with my kids even more fun.
So, enough about me… Kog is the real star of the show today. You'll see what I mean when you watch this video. The KLT runs the span 2 minutes and 46 seconds and I dare you to watch that long and not fall in love with this dude. Should go without saying that this is not safe for work or kids.
Enjoy!
IDENTITY 0:28 – 0:56
STRUGGLE 0:57 – 1:28
DISCOVERY 1:29 – 2:00
RESULT 2:00 – 2:46