Kevin here with another smokin' Hook of the Week… and man, this is a good one.
If you want to know how long it should take you to write a really good 60-Second Sales Hook, this HoW should answer that question.
If you're not familiar with Etsy, it's a digital marketplace for artists of all types. 60-Second Sales Hook subscriber, David, promotes his digital photo service there and used the formula to craft his hook and submitted it to me before creating a video using the 60-Second Sales Video Maker.
With David's permission, I'm revealing his "before and after" versions, where you'll see…
 In his original version, David follows the formula well, but uses the wrong struggle and a weak discovery and call to action.
I suggested changes, but offer very little specifics, just where to add the information I'm suggesting.
David replies, just hours later with a stunning rewrite of the hook that nails every one of my recommendations. He even got out of his comfort zone and called himself a "nerd" and created a vivid portrait of himself and what makes his work unique among a crowded field.
I get excited by action-takers like David because they prove that we do our best work by instinct… and that over-thinking and hand-wringing never improve your writing, they simply stand in the way.
So here is the private email exchange between David and I, plus a link to his new Etsy "about page. My hat off to you, David. Excellent work.
++++++++++++
Hi Kevin
I recently purchased your 60 second video sales maker and starting practising the KLT hook.
Recently I opened a wee shop on 
etsy.com
 aimed at selling digital items of vintage images to other crafters and after learning about
the KLT hook, I could see myself applying to my Etsy "about me / my shop", product descriptions, related marketing.
Created a KLT hook this morning related to my Etsy "about me" and wondered about your thoughts on it.
IDENTITY:  Hi I`m David the creator of Ye Old Digital Prints
STRUGGLE: When I discovered Etsy it felt like home, being able to create and connect
with other crafters. The problem though was "what do I create and sell from
my own Etsy shop?"
DISCOVERY: Browsing around Etsy I stumbled across various sellers of digital items and
instant downloads serving scrap bookers, paper crafters, digital artists,
jewellery makers and various other crafters. More specifically some were selling
vintage images, like old maps, photos and book illustrations, one of my own passions.
RESULT: That gave me the inspiration for Ye Old Digital Prints, where I provide digitized
vintage prints in formats suitable for scrap bookers, paper crafters, digital artists,
jewellery makers and various other crafters.
CALL TO ACTION:
So, if you're looking for inspiration for your next crafting project or product
please take a browse through Ye old Digital Prints, discover something new today.
Happy crafting,
David
+++++++++++
Hi Kevin
Thank you very much for your assistance and the idea for my hook, I really appreciate it.
I wasn't sure about using "nerd" at first to identify myself but then related it to similar words like geek, wizard, goto guy, techie
– specially techie describes my interest and skills in carpentry, handyman and computer technology. Also its a good word to
connect with other people in different parts of the world especially the USA (I`m from Scotland).
Following is the new edit I came up with:
IDENTITY:  Hi I`m David a 37 year old digital print nerd from a wee corner of Scotland.
STRUGGLE:  For a long time I struggled to work out how to transform old vintage prints into something suitable that crafters could use in their projects.
DISCOVERY: Then I discovered a whole new world of scrap booking templates and digital creation techniques that has opened up many new opportunities.
RESULT: Now I have the ability to transform old vintage prints into inspiring and useful digital craft supplies that are used by scrap bookers, paper crafters, jewellery makers, and many others.
CALL TO ACTION: So, if you're looking for inspiration for your next crafting project or product come check out Ye old Digital Prints AND discover new inspiration… or contact me about custom options
(end hook)
Actually just started the digital prints a couple weeks ago after coming across them on etsy but have been creating / editing images on computer for over the years.
A bit of a nerd with technology and tools both old and new but did struggle to find out how to create suitable digital prints at first – the web is an awesome learning tool. 
I can see the above hook in a slide video with some images of scrapbook templates and examples of digital prints.
Have a great weekend
cheers,
David
+++++++++++
Pretty amazing transformation, eh? I'd say David made excellent use of his Saturday afternoon.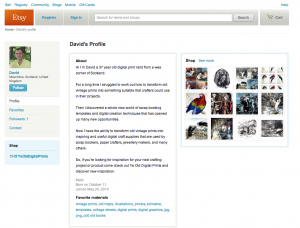 Bravo, David.
If you've got a KLT in Action that you'd like to see featured here, pop it in the comments below of send it to contact [at] 60secondsaleshook.com.
And if you know of anyone who could use help adding punch and clarity to their sales message, please share the link to my free book download at http://60secondsaleshook.com/
Best,
Kevin