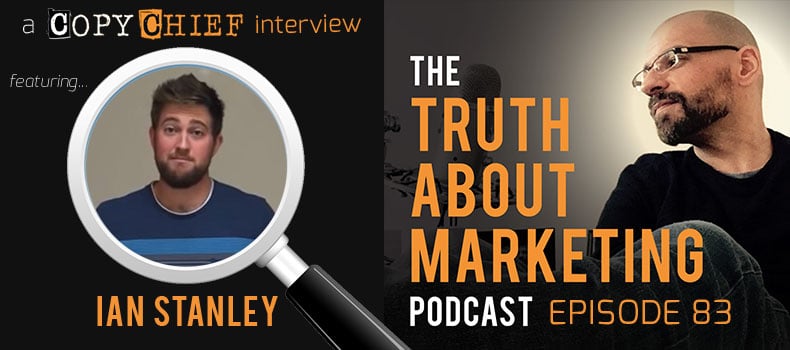 In This Episode
Proud to bring on Ian Stanley to the seat today. At 26 years old, Ian's career has been so explosive, it's hard to say he's still exclusively a copywriter anymore.
Armed with a hilarious personality and savvy marketing skills, he's known for creating hilarious parody videos about people in the Internet Marketing industry on Facebook. He's also writing emails to his list, traveling, and creating products.
Lately, he's taking his skills to do something beyond the money. These days, he's focused on fixing a worldwide crisis — lack of drinkable water.
He started a business, Fixt Water, and is on a mission to change people's lives by providing drinkable water, no matter the condition.
In today's episode, you're going to learn how to use humor and video to get industry-wide attention in your marketing. (Plus, how Ian uses it to make himself stand out.)
5 "Can't Miss" Moments:
5:35 – The #1 reason you should always ask "why" someone laughs at your jokes (and how this question is key to developing humor as a skill)
14:00 – What you should do whenever someone tells you your best work "wasn't good enough"
20:25 – Why humor backfires on most people (Plus, how to use it correctly to make your audience open up their wallet)
23:10 – The counterintuitive reason why people stop caring about your videos, even if you put out daily/weekly content
28:50 – How to create viral parody videos by being controversial and telling the "hard truth"
Bullets written by Tim Woo. You can reach him at timothyhwoo.com.
What's the one thing Ian's done that's produced the most surprising result?
Ian's answer is about an intangible result he got, rather than the traditional "flood of leads" or "raking in cash"…
Ian chose to do something different that nobody else could do, and as a result, he got the attention of people he looked up to. Check out his answer at 35:10.
Resources
[podcast_optin]
Disclaimer: Every effort has been made to accurately represent our product and it's potential. Any claims made of actual earnings or examples of actual results can be verified upon request. The testimonials and examples used are exceptional results, don't apply to the average purchaser and are not intended to represent or guarantee that anyone will achieve the same or similar results. Each individual's success depends on his or her background, dedication, desire and motivation. As with any business endeavor, there is an inherent risk of loss of capital and there is no guarantee that you will earn any money.