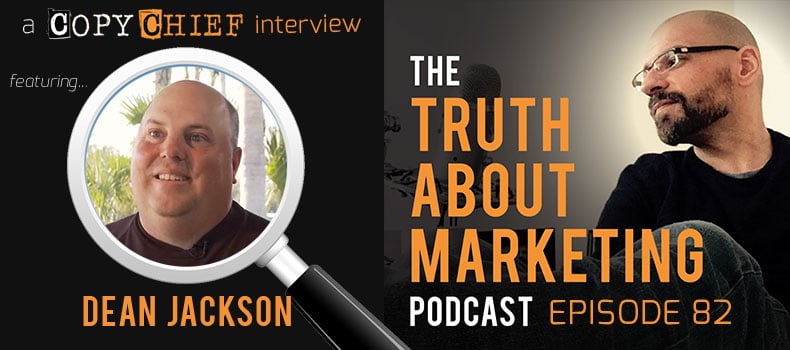 In This Episode
We're proud to welcome back Dean Jackson, our first ever guest, as our first repeat guest at TAM.
Dean's philosophy and teachings about marketing have made him a true celebrity in the industry. He is friend and "speed dial" consultant to the business elite, including Tony Robbins, Peter Diamandis, Ariana Huffington and many more.
In this episode we talk about Deans' latest marketing philosophy about how to "compel vs. convince" your audience to lean in and take action with you.
This is a major mindset shift for most marketers, especially those stuck in the old way of hard hitting direct response tactics that simply do not work longterm.
Dean hosts the I Love Marketing podcast with Joe Polish. His new podcast is More Cheese, Less Whiskers. He also hosts workshops to teach others how to use marketing in their business to turn leads into income. He's an active member of the Copy Chief community.
10 "Can't Miss" Moments:
2.30 – How our self-absorbed nature leaks out in our offers and destroys our credibility without our knowledge. Dean's straight forward guideline ensures you avoid this problem forever)
3.59 – The one hard-wired human desire that thwarts a customer's decision to BUY. (No amount of "pleasure seeking" or "pain avoidance" will overcome this primitive impulse)
6.55 – The only reason why people give you money for your product (no matter what market you're in). Get this wrong and you render the best Copywriter becomes powerless to help you
9.20 – No list. No reputation. No preparation. And you need to make money in the next two weeks? Dean offers some unexpected guidance
12.51 – Dean reveals his 9 word email template that "narrows the field" and zero's in on motivated buyers without selling or risking negative feedback from your list
19.02 – How to create a lead generator so your ideal client feels like they've "stumbled onto a goldmine" and compels them to ask for more. (Plus, two examples from a wedding company and elite hockey school you can model for yourself)
24.26 – How an arborist could have easily locked in Kevin as a future customer after his initial offer was rejected. (Instead, he fell back on the same tactic most businesses use that NEVER works)
29.48 – Deans dead simple strategy for building an empire when you're starting with nothing. (Pinpoint your expertise, market and pricing with just three questions)
34.50 – Why Michael Jordan and Tony Robbins have an irresistible aura of energy we can't resist – Can we really create this for ourselves?
36.20 – How Dean re-defines innovation for marketers (it has nothing to do with tech)… and how starting with this step takes the stress and pain out of product creation
Bullets written by Barry Davret. You can reach him at barrydavret.com.
Resources

More Cheese, Less Whiskers Podcast
[podcast_optin]
Disclaimer: Every effort has been made to accurately represent our product and it's potential. Any claims made of actual earnings or examples of actual results can be verified upon request. The testimonials and examples used are exceptional results, don't apply to the average purchaser and are not intended to represent or guarantee that anyone will achieve the same or similar results. Each individual's success depends on his or her background, dedication, desire and motivation. As with any business endeavor, there is an inherent risk of loss of capital and there is no guarantee that you will earn any money.