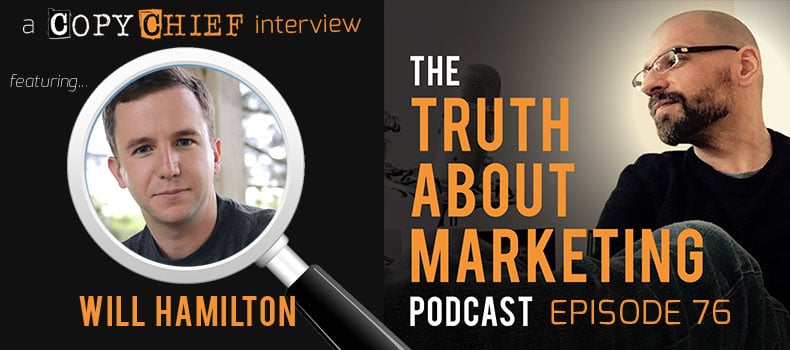 In This Episode
At 25, Will Hamilton turned down an opportunity to work inside the famous Beltway. His reason? So he could start a tennis website in his parent's basement, using a brand name that sounds dangerously similar to an "adults only" site — Fuzzy Yellow Balls.
Will started out creating videos to teach people how to play tennis on YouTube. Since then, his channel has over 55 million views and a growing community of players. Up until 2013, his business was great.
Then, it plateaued.
In today's episode, Will shares his journey from tennis coach to playing the role of emcee, and why he chose to build barriers and add friction to his entire sales process in 2013.

He purposely made it difficult for his prospects to land on a sales page, yet this simple change has made his business millions more after reaching its "peak."
5 "Can't Miss" Moments
6:31 – Why embracing the ICDIB attitude can turn an idea into a business (even if you think you're not "creative" or "innovative")
16:52 – How to make your prospects think you're reading their minds (and pinpoint their biggest problems and challenges)
20:00 – The advanced tactic every high level marketer uses to win the sale (Hint: you can't buy this anywhere)
26:14 – How to use the "radio button test" to make every word in your copy earn its place
27:10 – How to take the guesswork and research out of your routine and find the benefit your market is after by using the Ask Method model
What's the one thing Will's done that's produced the most surprising result?
While most people want a "slick sale," Will used a counterintuitive model made up of two simple concepts. In fact, he ended up adding friction to the entire sales process, and "burdened" his prospects.
Yet this counterintuitive model has proven to earn Will more money and ultimately, help more people as a result…
Check out his answer at 30:00.

Show notes written by Tim Woo. You can reach him at timothyhwoo.com.
Resources
Fuzzy Yellow Ball's YouTube channel
Want to get your hands on the exact method Will used to take sales of his Fuzzy Yellow Balls tennis training videos from "getting by" to "through the roof"? It's called the Ask Method and you can join an exclusive training until July 22nd. Check it out right here: copychief.com/ask-copy
[podcast_optin]
Disclaimer: Every effort has been made to accurately represent our product and it's potential. Any claims made of actual earnings or examples of actual results can be verified upon request. The testimonials and examples used are exceptional results, don't apply to the average purchaser and are not intended to represent or guarantee that anyone will achieve the same or similar results. Each individual's success depends on his or her background, dedication, desire and motivation. As with any business endeavor, there is an inherent risk of loss of capital and there is no guarantee that you will earn any money.