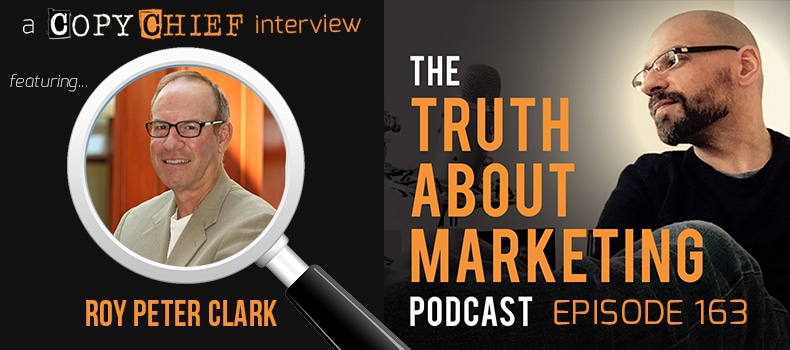 In This Episode
I'm fortunate to live in a town, and share a favorite coffee shop, with Roy Peter Clark.
If you don't know, Roy Peter Clark is "America's Writing Coach".
Best-selling author of Writing Tools (which you can listen to on iTunes for free) and several other ingestible deep dives into our craft.
I first met him while taking journalism classes at University of South Florida here in St. Petersburg.
He came to workshop our class a couple of times and blew me away…
He's the best there is at making the oft-times tortured art of writing feel fun, without compromising the credibility of his teaching.
In this episode, Roy breaks down a simple 6-word sentence from the classic Macbeth to show you the impact of the words you use.
It's incredible how he can teach such a seemingly simple lesson and make it feel like a revolution for your writing.
So, enjoy this special episode with Roy Peter Clark, and keep writing short.
We've never had less time to make a big impact…
Resources
Check out Writing Tools for free on iTunes
P.S. Be sure to download the free Copy Chief App (It's free for iOS and Android) where you can get access to all of the podcast episodes, articles and more cool content designed to help you boost your sales.
Disclaimer: Every effort has been made to accurately represent our product and it's potential. Any claims made of actual earnings or examples of actual results can be verified upon request. The testimonials and examples used are exceptional results, don't apply to the average purchaser and are not intended to represent or guarantee that anyone will achieve the same or similar results. Each individual's success depends on his or her background, dedication, desire and motivation. As with any business endeavor, there is an inherent risk of loss of capital and there is no guarantee that you will earn any money.