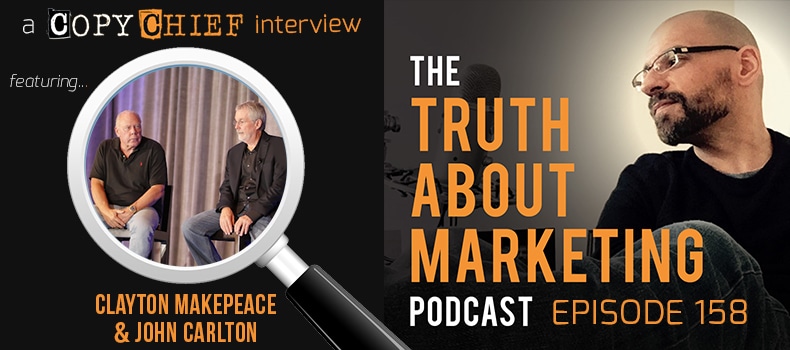 In This Episode
When Clayton Makepeace called to ask if he could attend Copy Chief Live to meet new copywriters it took me all of a second to say, "Uh, yeah!" and only 2 more to say, "And you know what would be cool…"
John Carlton and Clayton Makepeace have both enjoyed 30+ year careers at the top of the mountain among direct response copywriters. Genuine legends of the craft. But there is no recording of them speaking together.
They are, in some ways, very different people. At dinner, Clayton loves telling copywriting war stories, Carlton would rather talk rock n' roll or pop culture. But they both have a lot to say about the craft of copywriting. I wanted to find the threads that unite their seemingly elusive level of ability, and get them to go deeper into their process.
We did that onstage together at Copy Chief Live, and then opened it up to the audience for questions. This is the first time this talk is being heard outside of that room.
(Check out the line-up for Copy Chief Live 2018, both John and Clayton are attending again!)
"Can't Miss" Moments
How music influences the rhythm of their writing (they have very different takes on this)…
The one copywriter they both agree is the "Shakespeare of our industry" and what studying his bullets taught them as young copywriters…
Why copywriters must fight for their choices, and how to survive the backlash…
"I would read them, highlight them, and then cut 'em up," how Clayton assembled his swipe file long before the digital days of 'cut and paste'…
Why it's true that "all clients suck", unless they do THIS…

Resources
Visit the Copy Chief Live website
P.S. Be sure to download the free Copy Chief App (It's free for iOS and Android) where you can get access to all of the podcast episodes, articles and more cool content designed to help you boost your sales.
Disclaimer: Every effort has been made to accurately represent our product and it's potential. Any claims made of actual earnings or examples of actual results can be verified upon request. The testimonials and examples used are exceptional results, don't apply to the average purchaser and are not intended to represent or guarantee that anyone will achieve the same or similar results. Each individual's success depends on his or her background, dedication, desire and motivation. As with any business endeavor, there is an inherent risk of loss of capital and there is no guarantee that you will earn any money.