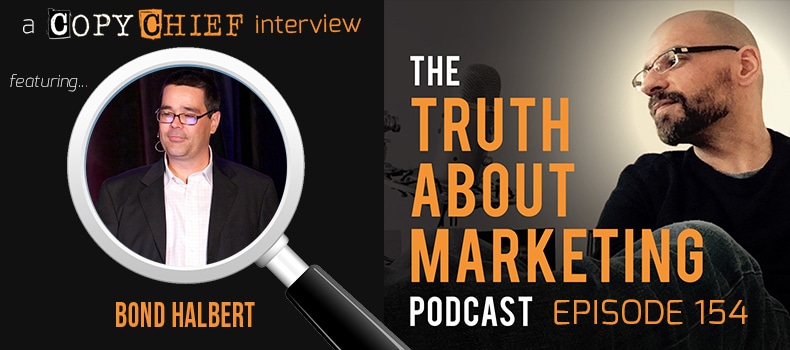 In This Episode
This man needs no introduction.
Bond Halbert is the son of the great Gary Halbert, a man who left a giant thumbprint on the direct response industry…
If Gary's name doesn't sound familiar, he probably the copywriter you started studying when you were starting out.
In fact, Gary Halbert was one of the first to TEACH people how to write direct response copy.
At the time, it was revolutionary.
And here's where the "giant thumbprint" part comes in…
I was at a Mastermind last weekend with copywriters who worked closely with Gary (John Carlton, Caleb O'Dowd) and his impact on them still reverberates very strong.
The copywriters in the room that didn't work directly with Gary still read and study his work to this day.
Luckily Bond (and his brother Kevin) are dedicated to keeping Gary's legend alive by teaching through Gary and showing us how he might've been marketing on the internet today.
"Can't-Miss" Moments
[8:05] – Discover Gary Halbert's shocking "crowd-in-an-elevator" social experiment that made people laugh, freeze, and just uncomfortable. (It's SO outrageous, Kevin bursts into laughter after hearing about it – you will too.)
[11:15] – A dead-simple strategy to perfect your next sales pitch using Gary Halbert's Big Idea Loop Technique (Use this looping technique well, and your customers will be begging you in droves, "Where can I buy?" for weeks like an addict searching for the next "fix")
[14:30] – The ONE Thing great copywriters do that seduces their readers into reading every single word of their copy. (It's so important, Gary started teaching Bond this lesson at the age of 10!)
[17:33] – Master THIS phase of the copywriting process, and you will have a goldmine of copywriting hooks waiting to be "extracted". (Skip this step, and your sales message will be as limp as a noddle.)
[20:20] – Are you a pro copywriter? Listen here for an ah-ha moment from Bond you don't want to miss, that will transform how you look at the copywriting process.
[21:40] – "I think it's a bunch of nonsense…" – Bond attacks the classic You to I Formula and explains why you should use the Worse to Better Off Formula instead to emotionally connect with your prospect.
[24:11] – A sneaky way to answer your prospect's objections before they've even had time to verbalize them (Do this, and your copy will read like a greased slide from start to finish.)
[24:45] – The Outrageous First Draft Mindset, copywriters can adopt, to write heart-throbbing copy that grabs the reader by the lapel. (And the second step you need to do to test your claims – it involves your Mom.)
[28:50] – The Humility Statement – the one lesson that Gary Halbert never taught, but Bond uncovered after years of living with him. (Apply this lesson and your prospects will be magnetically attracted to liking you from the start, and open to your message.)
[34:15] – Bond's surprising "secret weapon" to catapulting your Amazon book sales through the roof. (John Cartlon was so surprised, he called Bond, "How did you get the Amazon to send emails to people selling your book?").
"Can't Miss" Moments written by Kenneth Melo. Learn more about Kenneth at kopygenius.com. 
Resources:
P.S. Be sure to download the free Copy Chief App (It's free for iOS and Android) where you can get access to all of the podcast episodes, articles and more cool content designed to help you boost your sales.
Disclaimer: Every effort has been made to accurately represent our product and it's potential. Any claims made of actual earnings or examples of actual results can be verified upon request. The testimonials and examples used are exceptional results, don't apply to the average purchaser and are not intended to represent or guarantee that anyone will achieve the same or similar results. Each individual's success depends on his or her background, dedication, desire and motivation. As with any business endeavor, there is an inherent risk of loss of capital and there is no guarantee that you will earn any money.