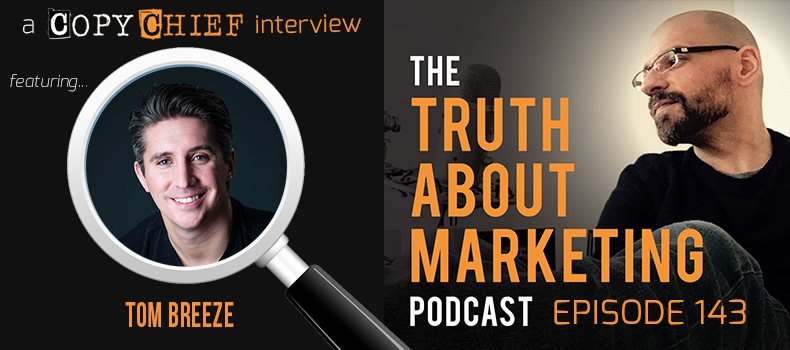 In This Episode
"YouTube is the place where the world goes to watch a video. Right now, the standard experience is we press play… and a completely irrelevant ad pops up on your screen." Tom said during our interview. "The secret to effective YouTube advertising is giving your viewer a great experience… so they don't just go: 'ughhh… another ad.'"
My guest today is YouTube advertising expert Tom Breeze. Tom helps clients multiply leads using the selling power of YouTube ads. (Which most marketers completely overlook. Truth is, the whole YouTube thing even eluded me before this conversation.) Tom also goes about his business "Dean Jackson style": He only gets paid when the client sees results. How about that for a guarantee this stuff works?
It's also a great example of removing all the risk for your best clients… opening the doors for great and profitable work together.
In this episode, Tom reveals the psychological principles behind money-making YouTube ads… and how you can quickly get hip to this business-boosting platform most of your competitors are likely clueless about right now.
Here's 10 "can't miss" moments for you to dive right into the episode:
What to say to instill clients with complete confidence in your abilities as a Youtube advertiser (and scare the bejesus out of any competitor who should overhear you).
Memorable things you can do with watermelon: How Tom leverages user psychology to create experiential video ads we just can't forget.
How to underplay ad creative and still grab the attention of your audience (if the use of brazen pattern interrupts leaves you feeling dirty, you'll love this squeaky clean alternative).
Tearing at their schema: Subtle "brainwashy" advertising tricks you can use to embed messages in the minds of unsuspecting viewers – permanently.
How to use plain glass doors to keep Englishmen out of your offices (also doubles as a source of surefire amusement for bored receptionists).
Twice the ad for half the money: How the judicious use of comedy – Burger King style – is proving remarkably effective at selling your advertisement in the pre-roll.
Why are top advertisers rushing to use ads that feature "nasty cartoons" and storytelling "mayhem"? Once you know, you'll be rushing to use them too…
Ad relevance and the Justin Bieber factor: Is your carefully targeted Youtube ad showing to users searching for something else entirely? It could be – and you'll find out why that's a good thing…
One call-to-action button – or two? The unconventional "choose your own adventure" advertising strategy that doubled the sales of one savvy guitar instructor and inspired rave reviews for his ads.
Pay for performance" is an absolutely terrible business model. Isn't it? How to know when to ditch client fees and go for a simpler but stronger performance-based partnership (this can make your business grow a lot faster too!)
Resources:
P.S Did you know you can read this content right on the Copy Chief app? Super cool. Download app for Apple users. Download app for Android users. Totally badass and totally free.
Bullets written by Stephen Carter. You can reach him at redplanetcopy.com.
Show notes written by Max Hamm. You can reach Max at maxhammcopy.com. 
Disclaimer: Every effort has been made to accurately represent our product and it's potential. Any claims made of actual earnings or examples of actual results can be verified upon request. The testimonials and examples used are exceptional results, don't apply to the average purchaser and are not intended to represent or guarantee that anyone will achieve the same or similar results. Each individual's success depends on his or her background, dedication, desire and motivation. As with any business endeavor, there is an inherent risk of loss of capital and there is no guarantee that you will earn any money.