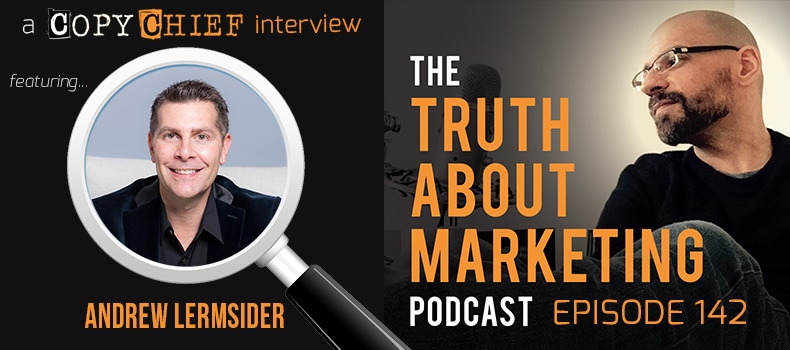 In This Episode
Most businesses make the mistake of handing the marketing reigns over to technology. And they chase the latest and greatest "shiny tools" thinking it'll move their profit needle.
Reality is, this is one of the biggest sales killers in your business… and the fastest way to burn your budget without boosting sales.
All profit-producing 7 and 8 figure businesses put marketing and testing at the helm… with tech only playing a supporting role in driving your sales home.
So, how do you hone in on what's REALLY critical to moving the needle in your business… and unleash the full potential of marketing resources available in your business?
Today I've got Andrew Lermsider on the show. Andrew's known as the chief marketing officer of Qlink Wireless, the 3rd largest lifeline provider in the country. (Lifeline is a government program providing discounted wireless phone service for low-income customers.)
Andrew's first business was in real estate brokerage, where he raised $12 million worth of venture capital… and then sold it two years later to TransUnion credit bureau for $31 million.   
Andrew then dove into the internet marketing world in 2001. And he's hooked on building high volume businesses in super competitive niches ever since.
As Andrew explains in the interview, testing is the most important thing in your business…
… and most business owners overlook optimizing site speed, customer experience, and mobile support. A small 0.5% bump in conversions in these areas can mean 25% boosts in revenues down the line.
In this episode, Andrew reveals the critical marketing and testing components you absolutely must apply in your business… if you ever wanna hit 7 and 8-figure results.
"Can't-Miss" Moments:
The "marketing wags the dog" method to grow your business faster than you imagined possible. (Most businesses stay blind to this and completely ruin their revenue growth. If you're aiming to break 7 and 8 figures… you'll wanna hear

this.

)
How Andrew bumped sales conversions more than 30% using one simple tweak to his website… and why you're likely overlooking

this

hidden sales booster.
Did you know 40% of people clicking your ad on Facebook bail before the ad even loads? (You'll wanna hear Andrew's insights on quickly turning this common cash trap around so you multiply your sales.)
Andrew: "Copy AND ______ are the most critical elements in your business today. (And how to combine their selling power to quickly shoot up revenues for your business.)
The "stalkerish, crazy" (and legal) tactic to testing your copy's conversion power,

fast…

without wasting your cash on long split tests.
What's the ONE thing Andrew did producing the most surprising results?
Andrew's company went from doing 500 orders a day to over 8000 a day… using ONE count-intuitive tweak to their funnel. (And it had nothing to do with their offer, traffic, or marketing message.)
Come check out how Andrew opened a floodgate of sales for his business at 27:30
Resources:
Get Andrew's free optimization checklist here

Show notes written by Max Hamm. You can reach Max at maxhammcopy.com. 
P.S Did you know you can read this content right on the Copy Chief app? Super cool. Download app for Apple users. Download app for Android users. Totally badass and totally free.
Disclaimer: Every effort has been made to accurately represent our product and it's potential. Any claims made of actual earnings or examples of actual results can be verified upon request. The testimonials and examples used are exceptional results, don't apply to the average purchaser and are not intended to represent or guarantee that anyone will achieve the same or similar results. Each individual's success depends on his or her background, dedication, desire and motivation. As with any business endeavor, there is an inherent risk of loss of capital and there is no guarantee that you will earn any money.