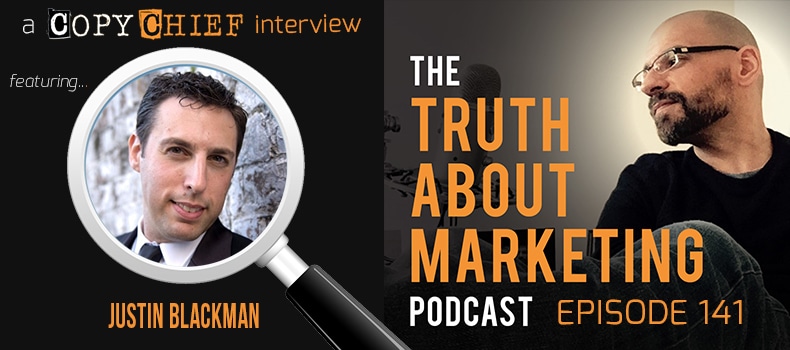 In This Episode
"I was doing a hot seat at a mastermind group to figure out what niche to write for as a copywriter. And someone goes: 'Why don't you write 100 headlines a day for 100 days?'" Justin said during our interview. "Truth is… I was too dumb at the time to say no."
Copywriter Justin Blackman joins me on the show today. Justin is the in-house copywriter for IHG (Intercontinental Hotels Group.) It's the parent company for popular hotel brands like Holiday Inn, Crowne Plaza, and Intercontinental.
Justin recently battled through a BIG copywriting challenge: Writing 100 headlines a day for 100 days. (Phew! Talk about a swipe file.)
And in this episode, Justin reveals the tips and tactics he uses to brainstorm and write dozens of headlines everyday… and shows you how you can quickly boost your headline-churning creativity. (You'll wanna hear how Justin accidentally discovers how you can write 70 headlines in just 40 min.)
"Can't-Miss" Moments:
The ONE "not so positive" thing Justin looks at everyday before sitting down to write for his 100-day challenge… that practically erases all writing blocks from his brain.
The Jerry Seinfeld "Red X" tactic to staying on top of your to-do list… and keep yourself hopped-up on a positive momentum all the way to the finish line.
Is it really possible to bang out 70 good headlines in about 40 minutes? (Justin accidentally discovers this shortcut to boosting your brain's headline-producing power.)
The "rating" trick to quickly tracking your writing progress and making sure your chops are getting sharper each session. (Justin did this after each set of 100 headlines to keep his creative juices bubbling for the next round.)
Why stuffing your brain with random facts and "irrelevant" information is a GOOD thing… and exactly how to use all that data in your noggin' to create money-making BIG ideas for your campaigns.
Resources:
Visit Justin's site (Plus, all of Justin's headlines)

Show notes written by Max Hamm. You can reach Max at maxhammcopy.com. 
P.S Did you know you can read this content right on the Copy Chief app? Super cool. Download app for Apple users. Download app for Android users. Totally badass and totally free.
Disclaimer: Every effort has been made to accurately represent our product and it's potential. Any claims made of actual earnings or examples of actual results can be verified upon request. The testimonials and examples used are exceptional results, don't apply to the average purchaser and are not intended to represent or guarantee that anyone will achieve the same or similar results. Each individual's success depends on his or her background, dedication, desire and motivation. As with any business endeavor, there is an inherent risk of loss of capital and there is no guarantee that you will earn any money.