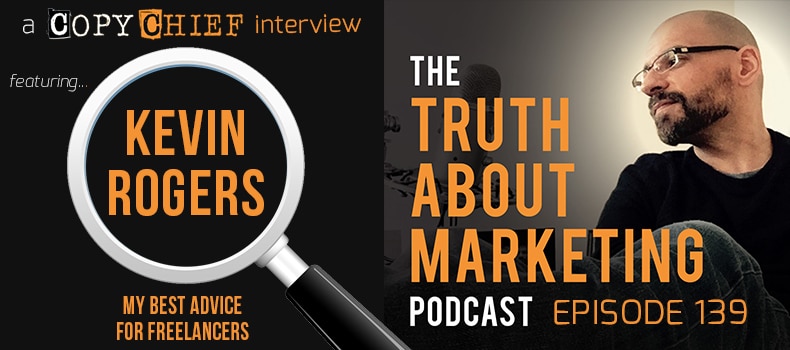 In This Episode
"The reason people wanna become freelancers is we're rebels, man. We're outcasts… we don't really fit into a regular job structure."
We're doing something new this episode. There's no guest!
It's a "one-sided" conversation plucked out of a previous interview I did about freelancing.
As you already know, the freelancer's journey isn't all spine-tingling adventure. There's a standard dose of hard knocks and uncertainty that comes with the gig.
So in this episode, I wanna share some raw truths about how I started out as a freelancer more than a decade ago… and the things I'd change If I was beginning today.
Think of this episode as my best advice for freelancers looking to beef up their career, and ride out the ups and downs of freelancing like a pro.
And here's 10 curiosity-soaked reasons to hit that play button and dive in now…
"Can't Miss" Moments:
John Carlton's "Just Do The Dirty" tactic to getting your draft done, fast. (This was a game changer for "slow writer" Kevin who couldn't help but edit as he wrote… even with his hands tied to his pants!)
Why every freelancer gotta do some soul-searchin' in the woods (yes, woods)… and how this kind of "internal team meeting" helps you hone in on what you LOVE about the gig, so you get paid to do just THAT.
Pressed for time and running low on samples for a client? Follow the "kitchen table" trick and you'll bang out a client-closing sample almost overnight… even if you've never written for that niche.
The REAL reason some copywriters command eye-popping fees when you don't… and why its got nothing to do with "writing chops." (Hint: reputation is only a small part of this bigger picture.)
Is your income model "keep cranking out copy till your brain fizzles and fingers fall off"? Why you're headed straight to burnoutville… and what to do instead to work less charging more.
The secret to steering your freelance ship towards $25,000 project shores… and the surprising reason you'll actually sink"hunting" that big payday.
How Kevin finds himself shoulder-to-shoulder with top pros on John Carlton's expert panel almost by accident. (And why finagling your way into a mentor's world will come back to bite you.)
Speak at a gig or go see Eddie Van Halen LIVE for likely the last time? Kevin consults the sage advice of his dog, follows this critical life lesson… and changes his entire career in one fell swoop.
The "pleasant surprise" stage technique that'll transform a bored-to-death audience into a howlin' bunch hangin' to your every word… even if you're a "high school dropout" following a "polished intellectual."
The ONE sign you've likely exhausted your ability to scale your current business… and what to do instead to birth a new, money-making "baby" you'd love and care for like a real child.
Resources:
How to position yourself as an expert
Free 3-Part Series on must-haves before selling anything
Show notes written by Max Hamm. You can reach Max at maxhammcopy.com. 
[podcast_optin]
Disclaimer: Every effort has been made to accurately represent our product and it's potential. Any claims made of actual earnings or examples of actual results can be verified upon request. The testimonials and examples used are exceptional results, don't apply to the average purchaser and are not intended to represent or guarantee that anyone will achieve the same or similar results. Each individual's success depends on his or her background, dedication, desire and motivation. As with any business endeavor, there is an inherent risk of loss of capital and there is no guarantee that you will earn any money.