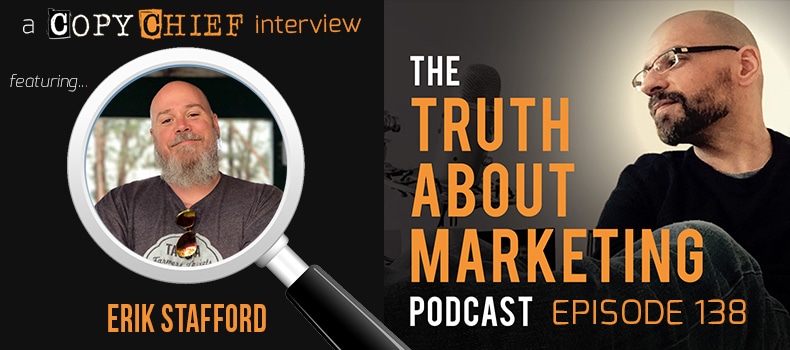 In This Episode
"For the longest time… it was always about the copy. But things are changing." Erik said during our interview. "Right now, 65% of people are visual learners. So you've gotta start paying attention to that stuff. Most businesses completely overlook that."
My guest today is design specialist Erik Stafford. Erik helps clients boost sales using the visual power of design. He's also the recipient of the prestigious AAF (American Advertising Federation) and ARDA (The American Resort Development Association) ad awards.
Erik's got a unique view on the design landscape… because he understands the value of good copy, and he's hip to all the proven direct response marketing techniques. So he focuses on combining the critical, attention-grabbing elements of design (usually missing in direct response) with the power of persuasive copy.
 As Erik explains in the interview, the goal for your design is communicating your message as clearly as possible.
If your audience cannot recall the ONE thing that comes to their mind when they think of you and your business… you're likely losing critical attention. And in today's attention-dependent markets, that'll kill your sales.
In this episode, Erik shows you how you can combine the power of persuasive copy with unforgettable design… so you can shoot up sales and forge rock-solid bonds with your audience. (You'll also wanna hear about Erik's life changing conversation with a big-name coach… flipping him from "making good money but miserable" to "happier than ever.")
"Can't Miss" Moments:
Did you know over 65% of your prospects are likely visual learners? (Why simply relying on copy doesn't cut it in today's markets anymore… and what Erik suggests you inject into your campaigns to quickly bond with your visual buyers.)
The "affinity map" trick to creating a design that'll

stick

in your prospect's brain… and the ONE question you absolutely

must

answer before signing off on a logo.
Why Erik fired 90% of his clients and pivoted into a new market even though he's banking good cash…

without

much hesitation or a whole lot of planning.
The "spooky voodoo" moments Erik experiences after plunging into a new biz direction… signalling "it's all gonna be OK." (If you're struggling with cash flow, or hesitating to pull the trigger on a project… you'll wanna hear

this.

)
The surprising reason Kevin is a "nightmare for designers"… and what Erik suggests you do before consulting with a designer. (

This

is how you avoid the painful back n' forth that'll kill your productivity.)
What's the ONE thing Erik's done that's produced the most surprising result?
Erik's business completely changed after tweaking one counter-intuitive thing about his mindset and direction. (You can be getting paid a good chunk of change and STILL feel unhappy if you're missing this.)
Come check out how Erik turned it all around and prospered at 38:30
Resources:
Get in touch with Erik at Stafford Marketing

Show notes written by Max Hamm. You can reach Max at maxhammcopy.com. 
[podcast_optin]
Disclaimer: Every effort has been made to accurately represent our product and it's potential. Any claims made of actual earnings or examples of actual results can be verified upon request. The testimonials and examples used are exceptional results, don't apply to the average purchaser and are not intended to represent or guarantee that anyone will achieve the same or similar results. Each individual's success depends on his or her background, dedication, desire and motivation. As with any business endeavor, there is an inherent risk of loss of capital and there is no guarantee that you will earn any money.