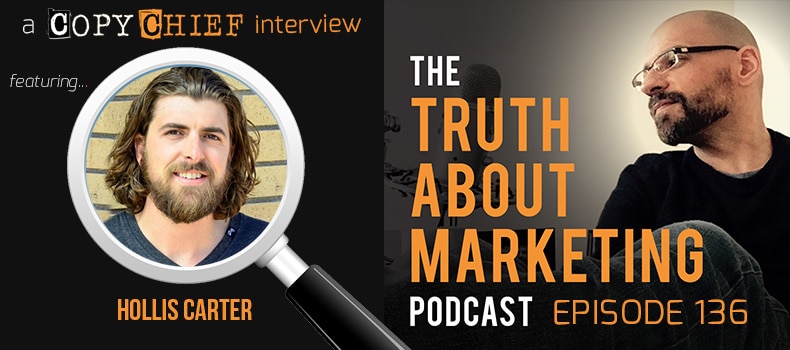 In This Episode
"What's really special about this is that there is NO model," Hollis said during our interview. "All the stuff we've done before in direct response follows someone's system or formula. It always felt too systematic."
Former rafting guide turned Baby Bath Water Institute co-founder Hollis Carter joins me on the show. His company specializes in high-level connecting of entrepreneurs, creatives, consultants, and coaches. And they do it by organizing all-inclusive, "no wallet necessary" events. (That's right. Lodging, learning, food, jams, and booze all covered FOR you.)
Top marketers like Jesse Elder and Dave Asprey rave about these events.
As Hollis explains in the interview, when it comes to high-level connections, the focus must be on genuine, deep conversation…
… and when you boost the emotional side of networking environments, you create a hotbed of fruitful relationships.
In this episode, Hollis shows you how you can connect with your dream clients and future biz partners… without slogging through boring "business conferences." (And why he takes Baby Bath Water co-founder Michael Lovitch to "marriage counseling." No joke.)
"Can't Miss" Moments:
Do you feel bogged down by rules and restrictions in your business? (You'll wanna hear about Hollis's "evolved entrepreneur" philosophy for structuring your biz.)
Hollis's secret to forging fruitful connections almost instantly… and why

this

will soon become the standard in the business world.
The "let it be" tactic to forging deep, genuine relationships with your dream clients or future biz-partners… and it's so simple you've likely overlooked its power.
Thinking of bringing on a business partner? (You'll wanna hear the surprising reason why Hollis takes his biz partner to "counseling" with a pro couples therapist.)
The "pseudo-payment" trick to grabbing your perfect prospect's attention faster than you imagined possible. (Broke "college kid" Hollis did

this

to fuel his first million dollar launch.)
What's the one thing Hollis has done that produced the most surprising results?
Hollis did this ONE counter-intuitive thing in his personal videos that multiplied viewership and leads… fast. (And he did it without spending loads of cash on expensive shoots.)
Come check out how Hollis shot up leads and sales at 35:00
Resources:
Check out Hollis's upcoming events here
Show notes written by Max Hamm. You can reach Max at maxhammcopy.com. 
[podcast_optin]
Disclaimer: Every effort has been made to accurately represent our product and it's potential. Any claims made of actual earnings or examples of actual results can be verified upon request. The testimonials and examples used are exceptional results, don't apply to the average purchaser and are not intended to represent or guarantee that anyone will achieve the same or similar results. Each individual's success depends on his or her background, dedication, desire and motivation. As with any business endeavor, there is an inherent risk of loss of capital and there is no guarantee that you will earn any money.