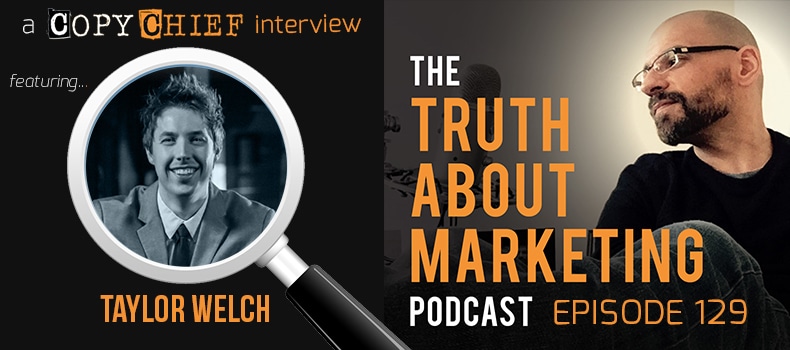 In This Episode
Here's the thing: Overwhelm is the #1 business killer for even top entrepreneurs and marketers.
There's too much you CAN do at any point in time…
… so it's easy to fall prey to the "long to-do list" trap, and neglect the critical stuff that actually multiplies your income.
So… how do you boost your revenue by doing LESS?
Taylor Welch returns to the show today. The last time we spoke about a year ago…
… Taylor was doing 250K a month in revenue running Trafficandfunnels.com with his partner Chris Evans. It's a consulting service helping clients launch their funnels and run profitable traffic.
Now, Taylor's company just cracked 500K a month…
… and he's got some valuable insights to share with you on HOW they doubled their revenue in about a year…
… and the money-making lessons learned along the way working with 6 and 7 figure companies.
As Taylor explains in the interview, when you run your ads the right way…
… you'll know within 72 hours if your marketing message is a hit. And the most important thing for you to do today is make sure your stuff is transparent, and different… because people's "scam alerts" are at an all time high.
Come find out how Taylor doubled his company's revenue, and what you absolutely must do today to grow your business, fast. (You'll want to hear Taylor's unique insights on why your long "to-do" lists are likely overwhelming you and killing your sales.)
"Can't Miss" Moments:
The ONE thing Taylor focuses on in the last 12 months that nearly doubles his company's revenue… and it's got NOTHING to do with aggressive marketing, daily emails, or bigger funnels.
The "scam alert" trap most online marketers fall prey to… and what Taylor advises you do to grow your following,

fast―

without slugging through endless to-do lists.
Taylor's trick to positioning yourself as a respected expert in your market… even if you don't have the long years of experience under your belt.
The "content machine" tactic to adding a big chunk of cash to your monthly revenue. (Taylor used

this

to add 250K to his revenue in just 60 days…

without

creating complicated offers.)
The ONE online medium that attracts your most attentive, eager-to-buy prospects. (Do

this

and your webinars or sales calls will close clients faster and easier than you imagined possible.)
Resources:
Visit Traffic & Funnels to learn about Taylor's business
The Smartest Guys In Marketing podcast
Listen to Taylor's story on TAM Ep 85 here
Show notes written by Max Hamm. You can reach Max at maxhammcopy.com. 
[podcast_optin]
Disclaimer: Every effort has been made to accurately represent our product and it's potential. Any claims made of actual earnings or examples of actual results can be verified upon request. The testimonials and examples used are exceptional results, don't apply to the average purchaser and are not intended to represent or guarantee that anyone will achieve the same or similar results. Each individual's success depends on his or her background, dedication, desire and motivation. As with any business endeavor, there is an inherent risk of loss of capital and there is no guarantee that you will earn any money.