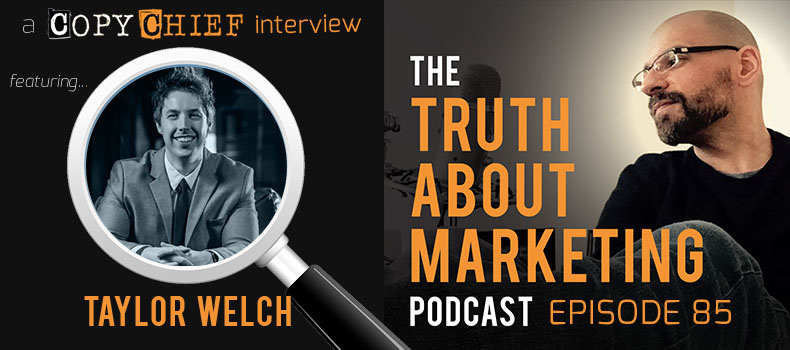 In This Episode
Great to have my friend (and a marketing superstar) Taylor Welch on today's episode.
He's living proof of someone who went from hand-copying ads to landing his first client. He got his first experience in marketing working for his wife's salon business, took off running with client work, and quit his 9-5 job during the process.
His success speaks for itself. These days, Taylor is a marketing funnel specialist and co-founder of Traffic and Funnels — an agency that helps business owners get in control of their lead flow and increase revenue by optimizing their funnels.
In today's episode, Taylor shares the lessons he learned from failing (like not knowing how to use Paypal or bombing his first major project), and how you can apply these principles in your business.
5 "Can't Miss" Moments:
3:08 – Discover how to get started and quickly succeed as a freelancer (Hint: lots of writing, hopping on planes, and learning involved)
6:36 – How to screw up big time, and end up getting paid more (Listen how Taylor dropped the ball on his first big client and why his client decided to hire him for more work)
8:40 – How to fix a product launch that bombed (and 12x your average lead value) by proposing a simple question to your audience
12:18 – The #1 mistake freelancers make when they try to specialize
18:17 – The step-by-step plan to go from a struggling copywriter to an in-demand freelancer (Plus Taylor's process for getting your head in the game)
Bullets written by Tim Woo. You can reach him at timothyhwoo.com.
What's the one thing Taylor's done that's produced the most surprising result?
Taylor shared his counterintuitive way of turning prospects into serious clients. He accidentally discovered it working with his first client, and now he uses these "barriers" to bring home a million bucks (and have 100% control of who he works with).
Check out his answer at 21:18.
Resources
John Carlton's Entrepreneur's Guide To Getting Your Shit Together
[podcast_optin]
Disclaimer: Every effort has been made to accurately represent our product and it's potential. Any claims made of actual earnings or examples of actual results can be verified upon request. The testimonials and examples used are exceptional results, don't apply to the average purchaser and are not intended to represent or guarantee that anyone will achieve the same or similar results. Each individual's success depends on his or her background, dedication, desire and motivation. As with any business endeavor, there is an inherent risk of loss of capital and there is no guarantee that you will earn any money.