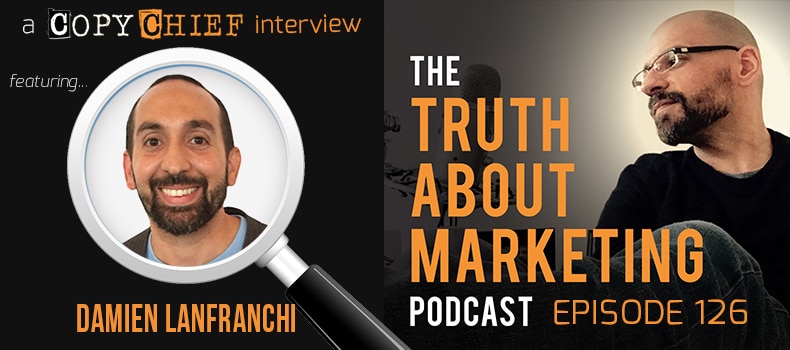 In This Episode
"I wanted to wake up everyday excited to start my day, but everyone I worked with was just waiting for Friday to come…" Damian said to me during our interview. "I never wanted to be one of those people who say 'oh well, life just flies by doesn't it?…'"
My guest today is Damian Lanfranchi. Damian is a former corporate slugger turned seasoned online marketer. He's the current COO of Todd Brown's Marketing Funnel Automation…
…and get this: lives in, and works out of, an airstream travel trailer.
Damian is on the road year round with his wife and three kids… exploring all the little-known eye-popping spots scattered all over the United States.
They document their exciting journey on their blog paperdollpioneers.com. (I couldn't help but plan a couple of trips of my own after seeing Damian's photos.)
As he explains in our conversation, you've got to COMMIT to injecting fresh experiences and rip-roaring adventures into your life as one of your value systems…
… and that's the moment you'll start making daily decisions that'll enrich your existence and ignite your creativity.
In this episode, Damian reveals the mindset stuff you'll need to live life on your terms… without sacrificing your money-making opportunities. (You'll want to hear Damian's insights on juggling life on the road, homeschooling his kids, AND steering the ship at Todd Brown's company.)
"Can't Miss" Moments:
The ONE thing distinguishing the "wannabes" from the real entrepreneurs with skin in the game. (You'll want to avoid falling prey to this common trap Damian describes if you're REALLY serious about your financial freedom.)
The single biggest mental block slamming the brakes on your business dreams… and what to do to finally bust the shackles off your inner entrepreneur.
The 4-word question you absolutely

must

ask yourself before making any move in your business… and Damian's advice on juggling a life jam-packed with adventure and your big responsibilities.
The "workout buddy" tactic Damian and Todd Brown adopt from their New Jersey days that catapults them to top-of-the-heap online marketers. (Forget shiny objects and fads…

this

is the time-tested, proven path to success.)
Are you still on the hunt for every new tip, tactic, and system… then spending a bunch of time applying them to your business? (You'll want to hear Damian's insights on why this actually

kills

your sales.)
What's the one thing Damian's done that's produced the most surprising result?
Damian's biggest needle-mover was doing this ONE contrarian thing…
… and it's so counter-intuitive you've likely overlooked its power to grow your business.
Check out Damian's biggest success factor at 44:20.
Resources:
Go here to see Damian's adventures around the world
Show notes written by Max Hamm. You can reach Max at maxhammcopy.com. 
[podcast_optin]
Disclaimer: Every effort has been made to accurately represent our product and it's potential. Any claims made of actual earnings or examples of actual results can be verified upon request. The testimonials and examples used are exceptional results, don't apply to the average purchaser and are not intended to represent or guarantee that anyone will achieve the same or similar results. Each individual's success depends on his or her background, dedication, desire and motivation. As with any business endeavor, there is an inherent risk of loss of capital and there is no guarantee that you will earn any money.